Hepatobiliary fascioliasis
Resumo
Hepatobiliary fascioliasis is a parasitic disease caused by Fasciola hepatica, which is a trematode that primarily infects cattle and sheep, but may also affect humans in endemic areas.
There are two phases of the disease: the acute one - where the parasites infect the liver parenchyma; and the subacute / chronic phase - when the parasites reach the biliary ducts and gallbladder, providing typical imaging findings.
Because this disease may mimic several hepatobiliary disorders, misdiagnosis or late diagnosis is a concern. Therefore, knowledge of the typical and specific imaging findings is important in accomplishing a correct diagnosis.
The authors describe a case of a 49-year-old male that presented with nonspecific liver symptoms. Liver ultrasound, computed tomography and magnetic resonance imaging showed several typical findings of the disease, which helped achieve the diagnosis.
Referências
Dusak A, Onur MR, Cicek M, Firat U, Ren T, Dogra VS. Radiological imaging features of fasciola hepatica infection - a pictorial review. J Clin Imaging Sci. 2012;2:2. doi: 10.4103/2156-7514.92372.
Lim JH, Kim SY, Park CM. Parasitic diseases of the biliary tract. AJR Am J Roentgenol. 2007 Jun;188(6):1596-603.
Calretas S, Laïz M, Simão A, Carvalho A, Rodrigues A, Sá A et al. Seis casos de fasciolíase hepática – Six cases of hepatic fascioliasis. Medicina Interna. 2003;10:185-192
Kabaalioglu A, Ceken K, Alimoglu E, Saba R, Cubuk M, Arslan G et al. Hepatobiliary fascioliasis: sonographic and CT findings in 87 patients during the initial phase and long-term follow-up. AJR Am J Roentgenol. 2007 Oct;189:824-8.
Cantisani V, Cantisani C, Mortelé K, Pagliara E, D'Onofrio M, Fernandez M, et al. Diagnostic imaging in the study of human hepatobiliary fascioliasis. Radiol Med. 2010 Feb;115:83-92. doi: 10.1007/s11547-009-0454-y.
Koç Z, Ulusan S, Tokmak N. Hepatobiliary fascioliasis: imaging characteristics with a new finding. Diagn Interv Radiol. 2009 Dec;15:247-51. doi: 10.4261/1305-3825.DIR.1851-08.2.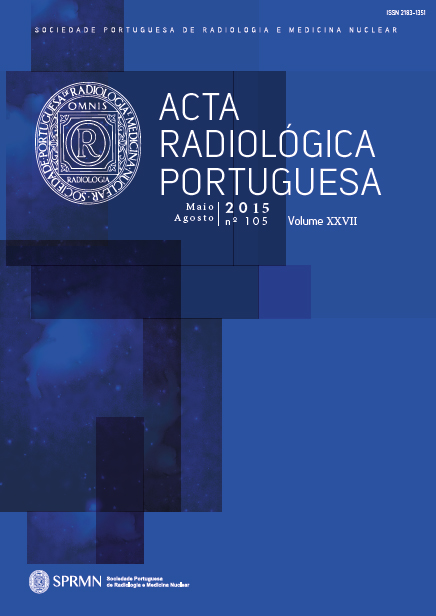 Downloads
Licença
Autor (es) (ou seu (s) empregador (es)) e ARP 2023. Reutilização permitida de acordo com CC BY-NC. Nenhuma reutilização comercial.