CO-4 SIMULATION AS A STRATEGY FOR TRAINING CARDIOPULMONARY RESUSCITATION SKILLS OF INTENSIVE CARE NURSING TEAMS
Palavras-chave:
Simulation
Resumo
Introduction and Objectives
Cardiac arrest (CA) is a major health problem as it represents one of the most common causes of death[1]. Prompt recognition and response are essential to improve patient outcome, especially in Intensive Care Units (ICUs), where the patients, although with continuous monitoring, present higher illness severity with organ dysfunctions, contributing to worst outcomes.
Considering that nursing teams are generally the first responders to an intra-hospital CA, regular training of these teams using Simulation has been pointed as a valuable strategy to optimize Cardiopulmonary Resuscitation (CPR) skills (technical and non-technical)[2].
The aim of this study was to assess the effect of simulation on nursing teams' performance in CPR technical and non-technical skills, thus emerging the following hypothesis: High-fidelity Simulation (HFS), as a training strategy, promotes the acquisition of CPR skills in ICU nurses.
Methods
The convenience sample of this study included 28 nurses from an ICU of a university hospital, which were later divided into teams of 4.
The different teams' CPR skills were assessed by exposing them to a simulated CA scenario before (pre-test) and after (post-test) attending a 2-days HFS-based course. This included a theoretical review of technical and non-technical skills and the resolution of a simulated CA scenario by each team, followed by debriefing.
The CA scenarios used in pre-test, training and post-test differed from each other but had a similar level of difficulty.
Both pre and post-test scenarios were video-recorded for later assessment of teams' skills through structured observation, using two observational tools (one for technical and the other for non-technical skills) with a scoring system.
The data obtained were then analysed by using the Wilcoxon signed-rank test.
Results & Discussion
The assessed skills and respective results are below in Table 1.
There was a significant improvement in the overall technical skills (TS) scores (74.3±10.4 pre-test and 85.8±5.6 post-test), being airway and ventilation, chest compressions, and rhythm analysis/defibrillation the ones that presented a significant increase in scores individually.
A more noticeable improvement was observed in non-technical skills (NTS), with overall means scores nearly doubling from the pre-test (66.7±28.7) to the post-test (112.3±20.1). All NTS expressed significant improvements, with the exception of leadership.
Conclusion
Considering these findings, it is possible to identify a positive effect on ICU nursing teams' performance after simulation-based training, with relevant gains in both technical and non-technical skills. Further investigation should explore the retention of these gains.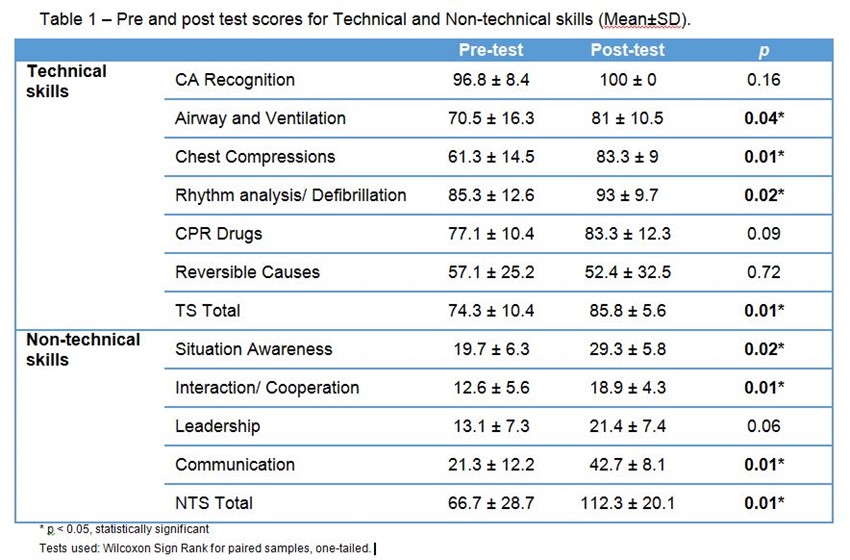 Downloads
Não há dados estatísticos.
Referências
PERKINS, Gavin [et al.] – European Resuscitation Council Guidelines for Resuscitation 2015. Section 2. Adult basic life support and automated external defibrillation. Resuscitation. [Em linha]. 95 (2015) 81-99. [Consultado 13 Nov. 2017]. Disponível na WWW: http://dx.doi.org/10.1016/j.resuscitation.2015.07.015>.
SULLIVAN, Nancy J. [et al.] – Simulation exercise to improve retention of cardiopulmonary resuscitation priorities for in-hospital cardiac arrests: A randomized controlled trial. Resuscitation. [Em linha]. 86 (2015) 6-13. [Consultado 12 Dez. 2017]. Disponível na WWW: http://dx.doi.org/10.1016/j.resuscitation.2014.10.021>.
Como Citar
de-Sousa, C., Pereira, M. A., Sousa, S., & Sá-Couto, C. (2023). CO-4 SIMULATION AS A STRATEGY FOR TRAINING CARDIOPULMONARY RESUSCITATION SKILLS OF INTENSIVE CARE NURSING TEAMS. Revista Da Sociedade Portuguesa De Anestesiologia, 31(3). https://doi.org/10.25751/rspa.27395
Secção
Resumos de Congresso
Licença
Direitos de Autor (c) 2022 Carolina de-Sousa, Maria Aurora Pereira, Samuel Sousa, Carla Sá-Couto
Este trabalho encontra-se publicado com a Creative Commons Atribuição-NãoComercial 4.0.
Os artigos estão livremente disponíveis para serem lidos, descarregados e partilhados a partir do momento da sua publicação.
A RSPA reserva-se o direito de comercialização do artigo enquanto parte integrante da revista (na elaboração de separatas, por exemplo). O autor deverá acompanhar a carta de submissão com a declaração de cedência de direitos de autor para fins comerciais.
Relativamente à utilização por terceiros a Revista da SPA rege-se pelos termos da licença Creative Commons "Atribuição – uso Não-Comercial (CC BY-NC).
Após publicação na RSPA, os autores ficam autorizados a disponibilizar os seus artigos em repositórios das suas instituições de origem, desde que mencionem sempre onde foram publicados.