Impacto da COVID-19 na cirurgia de transplantação corneana
Primeiro EuCornea Educational Webinar
Palavras-chave:
Eye Banks, Corneal Transplantation, first EuCornea Educational Webinar , COVID-19 , SARS-CoV-2
Downloads
Não há dados estatísticos.
Referências
Coelho NMV, Tavares-Ferreira J, Dutra-Medeiros M. O valor das redes sociais em Oftalmologia. Revista Sociedade Portuguesa De Oftalmologia. 2020 44(2).
Cunha JP, Moura-Coelho N, Proença RP, Santos AD, Ferreira JT. COVID-19: An Ophthalmologist's Perspective. Gazeta Médica. 2020;7(2).https://doi.org/10.29315/gm.v7i2.317.
Thuret G, Courrier E, Poinard S, et al. One threat, different answers: the impact of COVID-19 pandemic on cornea donation and donor selection across Europe [published online ahead of print, 2020 Nov 26]. Br J Ophthalmol. 2020;bjophthalmol-2020-317938.doi:10.1136/bjophthalmol-2020-317938
Busin M, Yu AC, Ponzin D. Coping with COVID-19: An Italian Perspective on Corneal Surgery and Eye Banking in the Time of a Pandemic and Beyond. Ophthalmology. 2020;127(9):e68-e69.doi:10.1016/j.ophtha.2020.04.031
Parekh M, Ferrari S, Ruzza A, et al. Biobanking corneal tissues for emergency procedures during COVID-19 era. Indian J Ophthalmol. 2021;69(1):167-168.doi:10.4103/ijo.IJO_2615_20
Gadhvi KA, Coco G, Pagano L, et al. Eye Banking: One Cornea for Multiple Recipients. Cornea. 2020;39(12):1599-1603.doi:10.1097/ICO.0000000000002476
Casagrande M, Fitzek A, Spitzer MS, et al. Presence of SARS-CoV-2 RNA in the Cornea of Viremic Patients With COVID-19. JAMA Ophthalmol. 2021;e206339.doi:10.1001/jamaophthalmol.2020.6339
Bayyoud T, Iftner A, Iftner T, et al. Absence of Severe Acute Respiratory Syndrome-Coronavirus-2 RNA in Human Corneal Tissues. Cornea. 2021;40(3):342-347.doi:10.1097/ICO.0000000000002479
Sawant OB, Singh S, Wright RE 3rd, et al. Prevalence of SARS-CoV-2 in human post-mortem ocular tissues. Ocul Surf. 2021;19:322-329.doi:10.1016/j.jtos.2020.11.002
Ferrari S, Del Vecchio C, Leonardi A, et al. Detection of severe acute respiratory syndrome coronavirus 2 in corneas from asymptomatic donors. Acta Ophthalmol. 2020;10.1111/aos.14692.doi:10.1111/aos.14692
Ocular Tissue Donation: European Eye Bank Association Guideline for donor screening for SARS-CoV-2 https://www.eeba.eu/files/pdf/Ocular%20Tissue%20Donation%20-%20EEBA%20Guideline%20for%20Donor%20Screening%20for%20SARS-Cov-2_Feb21.pdf, Accessed 11th March 2021
Toro M, Choragiewicz T, Posarelli C, Figus M, Rejdak R. European COVID-19 Cataract Group (#EUROCOVCAT). Early Impact of COVID-19 Outbreak on the Availability of Cornea Donors: Warnings and Recommendations. Clin Ophthalmol. 2020;14:2879-2882.doi:10.2147/OPTH.S260960
Ang M, Moriyama A, Colby K, et al. Corneal transplantation in the aftermath of the COVID-19 pandemic: an international perspective. Br J Ophthalmol. 2020;104(11):1477-1481.doi:10.1136/bjophthalmol-2020-317013
Desautels JD, Moshirfar M, Martheswaran T, Shmunes KM, Ronquillo YC. Risks Posed to Corneal Transplant Recipients by COVID-19-Affected Donors. Ophthalmol Ther. 2020;9(3):371-379.doi:10.1007/s40123-020-00254-w.
Jin SX, Juthani VV. Acute Corneal Endothelial Graft Rejection with Coinciding COVID-19 Infection. Cornea. 2021;40(1):123-124.doi:10.1097/ICO.0000000000002556.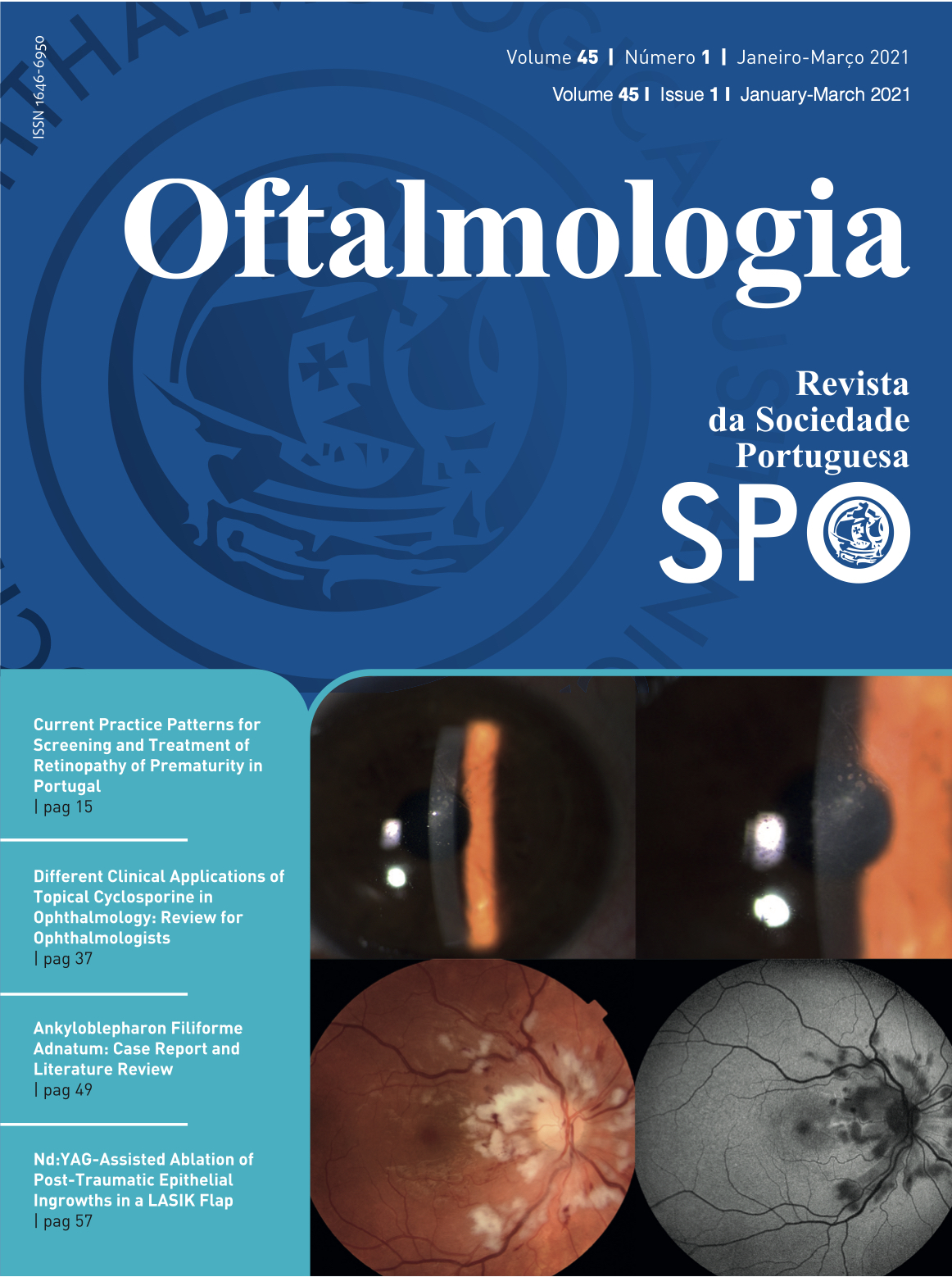 Downloads
Como Citar
Moura-Coelho, N., Cunha, J. P., & Güell, J. L. (2021). Impacto da COVID-19 na cirurgia de transplantação corneana: Primeiro EuCornea Educational Webinar . Revista Sociedade Portuguesa De Oftalmologia, 45(1), 45–47. Obtido de https://revistas.rcaap.pt/index.php/oftalmologia/article/view/23987
Licença
Os autores dos manuscritos submetidos para publicação deverão ceder, a título integral e permanente, os direitos de autor (copyright) à revista Oftalmologia da Sociedade Portuguesa de Oftalmologia. A cedeência de direitos de autor permite a publicação e divulgação do artigo em formato impresso ou electrónicoe entrará em vigor a partir da data de aceitação do manuscrito. Os autores concedem, ainda, os direitos para a revista Oftalmologia utilizar e explorar o respectivo artigo, nomeadamente para licenciar o seu conteúdo a bases de indexação.