Validation of the Portuguese Rome III Questionnaire for Diagnosis of Functional Dyspepsia in adults
Keywords:
dyspepsia, adult, validation studies, Portugal
Abstract
Introduction: The validation tools are essential in epidemiological research, especially for the consensus case definition and comparison of results. Currently, the instrument most commonly used to identify functional dyspepsia is the Rome III questionnaire, which is not validated for the Portuguese population.
Objectives: To validate the Rome III questionnaire for the assessment of functional dyspepsia in Portuguese adults.
Methods: The questionnaire was translated following the recommendations of Rome III. A total of 166 adults completed the questionnaire. The identification of the category of functional dyspepsia among adults was based on the presence of one or more symptoms from the total of 4 symptoms that the scale allows to assess from a total of 6 items. The internal consistency, reproducibility and contents analysis were evaluated using the program SPSS 23.0. Results: Alpha Cronbach coefficient from the total of 18 items measured was 0.89. For functional dyspepsia category (assessed by 6 items) was 0.76 and the alpha Cronbach's based on standardized items was 0.85.
Conclusions: We validated, for Portugal, the Rome III questionnaire for the diagnosis of functional gastrointestinal disorders, particularly for functional dyspepsia among adults. These results suggest that this tool will be useful for research in the Portuguese population.
Downloads
Download data is not yet available.
References
Chang, F.Y., Chen, P.H., Wu, T.C., Pan, W.H., Chang, H.Y., Wu, S.J., Yeh, N.H., Tang, R.B., Wu, L., & James, F.E. (2012). Prevalence of functional gastrointestinal disorders in Taiwan: questionnaire-based survey for adults based on the Rome III criteria. Asia Pacific Journal of Clinical Nutrition, 21(4), 594-600.
Grainger, S.L., Klass, H.J., Rake, M.O., & Williams, J.G. (1994). Prevalence of dyspepsia: the epidemiology of overlapping symptoms. Postgraduate Medical Journal, 70(821), 154-161. Retrieved from http://www.ncbi.nlm.nih.gov/pubmed/?term=Grainger%2C+S.L.%2C+Klass%2C+H.J.%2C+Rake%2C+M.O.%2C+1994
Kumar, A., Patel, J., & Sawant, P. (2012). Epidemiology of Functional Dyspepsia. Supplement Journal of the Association of Physicians of India, 60,9-12.
Park, J.M., Choi, M.G., Cho, Y.K., Lee, I.S., Kim, J.I., Kim, S.W., & Chung, I.S. (2011). Functional Gastrointestinal Disorders Diagnosed by Rome III Questionnaire in Korea. Journal of Neurogastroenterology and Motility, 17(3), 279-286. doi:10.5056/jnm.2011.17.3.279.
Perveen, I., Rahman, M.M., Saha, M., Rahman, M.M., & Hasan, M.Q. (2014). Prevalence of irritable bowel syndrome and functional dyspepsia, overlapping symptoms, and associated factors in a general population of Bangladesh. Indian Journal of Gastroenterology, 33(3),265-273.
Piessevaux, H., De Winter, B., Louis, E., Muls, V., De Looze, D., Pelckmans, P., Deltenre, M., Urbain, D., Tack, J. (2009). Dyspeptic symptoms in the general population: a factor and cluster analysis of symptoms groupings. Neurogastroenterology, 21(4):378–388.
Reisswitz, P.S.V., Mazzoleni, L.E., Sander, G.B., & Francisconi, C.F.M. (2010). Portuguese validation of the rome iii diagnostic questionnaire for functional dyspepsia. Arquivos de Gastroenterologia, 47(4), 354-360.
Seyedmirzaei, S.M., Haghdoost, A.A., Afshari, M., & Dehghani, A. (2014). Prevalence of Dyspepsia and its Associated Factors Among the Adult Population in Southeast of Iran in 2010. Iranian Red Crescent Medical Journal, 16(11), e14757. doi:10.5812/ircmj.14757.
Song, K.H., Jung, H.K., Min, B.H., Youn, Y.H., Choi, K.D., Keum, B.R., & Huh, K.C. (2013). Development and Validation of the Korean Rome III Questionnaire for Diagnosis of Functional Gastrointestinal Disorders. Journal of Neurogastroenterology and Motilityl, 19(4), 509–515.
Tack, J., & Lee, K.J. (2005). Pathophysiology and treatment of functional dyspepsia. Journal of Clinical Gastroenterology, 39(5 Suppl 3), S211-S216.
Tack, J., Talley, N.J., Camilleri, M., Holtmann, G., Hu, P., Malagelada, J.R., & Stanghellini, V. (2006). Functional gastroduodenal disorders. Gastroenterology, 130(5),1466-1479.
Talley, N.J., Stanghellini, V., Heading, R.C., Koch, K.L., Malagelada, J.R., & Tytgat, G.N. (1999). Functional gastroduodenal disorders. Gut, 45(Suppl 2), II37-42.
Talley, N.J., Vakil, N.B., & Moayyedi, P. (2005). American Gastroenterological Association technical review on the evaluation of dyspepsia. Gastroenterology, 129(5), 1756–1780.
Yazdanpanah, K., Moghimi, N., Yousefinejad, V., Ghaderi, E., Azizi, A., & Nazem, S.F. (2012). Dyspepsia prevalence in general population aged over 20 in the west part of Iran. Journal of Pakistan Medical Association, 62(7), 672-676. Retrieved from http://jpma.org.pk/full_article_text.php?article_id=3550
Zagari, R.M., Law, G.R., Fuccio, L., Cennamo, V., Gilthorpe, M.S., Forman, D., & Bazzoli, F. (2010). Epidemiology of functional dyspepsia and subgroups in the Italian general population: an endoscopic study. Gastroenterology, 138(4), 1302-1311. Retrieved from http://www.gastrojournal.org/article/S0016-5085(10)00009-0/pdf. doi:10.1053/j.gastro.2009.12.057.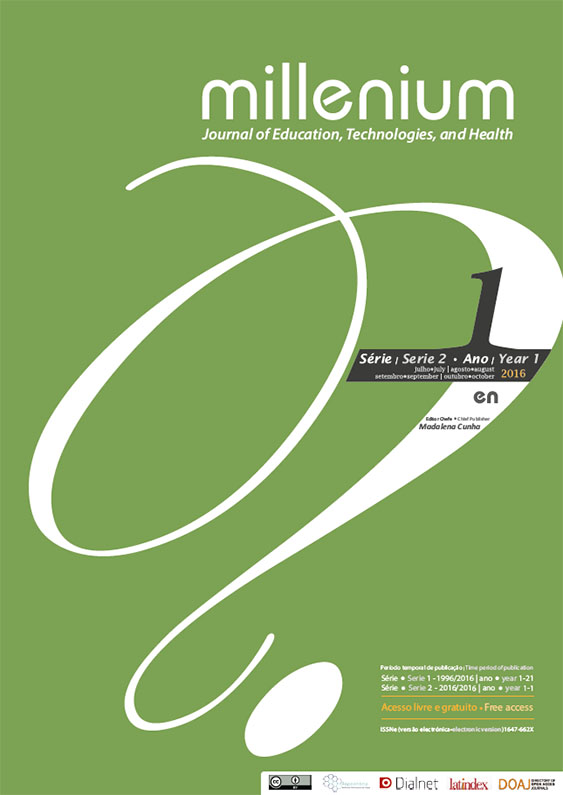 Downloads
How to Cite
Amaral, O., Veiga, N., Pereira, C., Coelho, I., & Pereira, J. (2016). Validation of the Portuguese Rome III Questionnaire for Diagnosis of Functional Dyspepsia in adults. Millenium - Journal of Education, Technologies, and Health, (1), 87–93. https://doi.org/10.29352/mill0201.07.00050
Section
Life and Healthcare Sciences
License
Authors who submit proposals for this journal agree to the following terms:
a) Articles are published under the Licença Creative Commons (CC BY 4.0), in full open-access, without any cost or fees of any kind to the author or the reader;
b) The authors retain copyright and grant the journal right of first publication, allowing the free sharing of work, provided it is correctly attributed the authorship and initial publication in this journal;

c) The authors are permitted to take on additional contracts separately for non-exclusive distribution of the version of the work published in this journal (eg, post it to an institutional repository or as a book), with an acknowledgment of its initial publication in this journal;
d) Authors are permitted and encouraged to publish and distribute their work online (eg, in institutional repositories or on their website) as it can lead to productive exchanges, as well as increase the impact and citation of published work
Documents required for submission
Article template (Editable format)