Pediatric hospitalizations due to SARS-CoV-2 infection with respiratory involvement
Keywords:
child, COVID-19, respiratory tract infection
Abstract
Introduction: SARS-CoV-2 may have several clinical presentations infection in children, with some requiring hospitalization. The published evidence is still scarce regarding the best approach and treatment for these cases.
Objective: To describe pediatric hospitalizations due to SARS-CoV-2 respiratory infection in a tertiary centre.
Material and methods: Retrospective observational study of SARS-CoV-2 admissions with respiratory involvement in the pediatric ward of a tertiary hospital between March 2020 and April 2022. Inclusion criteria comprised pediatric patients (0-17 years) hospitalized for SARS-CoV-2 infection, with a length of stay >24 hours and respiratory infection code from the International Classification of Diseases. Data were collected through patients' electronic clinical records.
Results: A total of 32 patients were included, 53% of whom females, with a higher proportion of hospitalizations in the Autumn-Winter season (n=21, 66%) and a mean length of hospital stay of 7 days. The median age was 18 months (interquartile range 4-135 months), and the mean days of disease was 4. The main symptoms reported were fever (n=31, 97%) and cough (n=25, 78%). Comorbidities were present in 14 patients (44%), who presented the highest length of stay (mean of 10 days). Most patients (n=29, 91%) had performed blood workup and biochemical analysis, and 25% had a viral coinfection. Chest x-ray was performed in almost all patients (n=29, 91%), and CT-scan in 9%. Low-flow oxygen therapy was used in 50% of patients, and high-flow nasal cannula (HFNC) in 13%. One patient required intensive care. Long COVID symptoms were reported in 25% of the study sample.
Conclusions: In two years of pandemic, only 32 patients required hospitalization. Most required oxygen therapy, with good clinical course. HFNC appears to be safe and should be considered in the treatment of these patients. Patients with comorbidities seem to have prolonged and more severe disease.
Downloads
Download data is not yet available.
References
Guan WJ, Ni ZY, Hu Y, Liang WH, Ou CQ, He JX, et al. Clinical Characteristics of Coronavirus Disease 2019 in China. N Engl J Med. 2020;382(18):1708-1720. https://doi.org/10.1056/NEJMoa2002032.
World Health Organization, 2021, World Health Organization website, accessed 20 July 2022. https://www.who.int/publications/i/item/WHO-2019-nCoV-Sci_Brief-Children_and_adolescents-2021.1.
Oualha M, Bendavid M, Berteloot L, Corsia A, Lesage F, Vedrenne M, et al. Severe and fatal forms of COVID-19 in children. Arch Pediatr. 2020;27(5):235-238. https://doi.org/10.1016/j.arcped.2020.05.010.
Xie J, Wang Z, Liang J, Lin H, Yang Z, Wang Y, et al. Critical Review of the Scientific Evidence and Recommendations in COVID-19 Management Guidelines. Open Forum Infect Dis. 2021;8(8):ofab376. https://doi.org/10.1093/ofid/ofab376.
COVID-19 Treatment Guidelines Panel. Coronavirus Disease 2019 (COVID-19) Treatment Guidelines. National Institutes of Health. Available at https://www.covid19treatmentguidelines.nih.gov/. Accessed 25 July 2022.
Zare-Zardini H, Soltaninejad H, Ferdosian F, Hamidieh AA, Memarpoor-Yazdi M. Coronavirus Disease 2019 (COVID-19) in Children: Prevalence, Diagnosis, Clinical Symptoms, and Treatment. Int J Gen Med. 2020;13:477-482. https://doi.org/10.2147/IJGM.S262098.
Miao H, Li H, Yao Y, Wu M, Lu C, Wang J, et al. Update on recommendations for the diagnosis and treatment of SARS-CoV-2 infection in children. Eur J Clin Microbiol Infect Dis. 2020;39(12):2211-2223. https://doi.org/10.1007/s10096-020-03973-x.
Lu X, Zhang L, Du H, Zhang J, Li YY, Qu J, et al. SARS-CoV-2 Infection in Children. N Engl J Med. 2020;382(17):1663-1665. https://doi.org/10.1056/NEJMc2005073.
Götzinger F, Santiago-García B, Noguera-Julián A, Lanaspa M, Lancella L, Calò Carducci FI, et al. COVID-19 in children and adolescents in Europe: a multinational, multicentre cohort study. Lancet Child Adolesc Health. 2020;4(9):653-661. https://doi.org/10.1016/S2352-4642(20)30177-2.
Preston LE, Chevinsky JR, Kompaniyets L, Lavery AM, Kimball A, Boehmer TK, et al. Characteristics and disease severity of us children and adolescents diagnosed with COVID-19. JAMA Netw Open. 2021;4(4):e215298. https://doi.org/10.1001/jamanetworkopen.
Pigny F, Wagner N, Rohr M, Mamin A, Cherpillod P, Posfay-Barbe KM, et al. Viral co-infections among SARS-CoV-2-infected children and infected adult household contacts. Eur J Pediatr. 2021;180(6):1991-1995. https://doi.org/10.1007/s00431-021-03947-x.
Foust AM, McAdam AJ, Chu WC, Garcia-Peña P, Phillips GS, Plut D, et al. Practical guide for pediatric pulmonologists on imaging management of pediatric patients with COVID-19. Pediatr Pulmonol. 2020;55(9):2213-2224. https://doi.org/10.1002/ppul.24870.
Expert Panel on Pediatric Imaging, Chan SS, Kotecha MK, Rigsby CK, Iyer RS, Alazraki AL, Anupindi SA, et al. ACR Appropriateness Criteria® Pneumonia in the immunocompetent child. J Am Coll Radiol. 2020;17(5S):S215-S225. https://doi.org/10.1016/j.jacr.2020.01.033.
Xia W, Shao J, Guo Y, Peng X, Li Z, Hu D. Clinical and CT features in pediatric patients with COVID-19 infection: Different points from adults. Pediatr Pulmonol. 2020;55(5):1169-1174. https://doi.org/10.1002/ppul.24718.
Li W, Cui H, Li K, Fang Y, Li S. Chest computed tomography in children with COVID-19 respiratory infection. Pediatr Radiol. 2020;50(6):796-799. https://doi.org/10.1007/s00247-020-04656-7.
Kache S, Chisti MJ, Gumbo F, Mupere E, Zhi X, Nallasamy K, Nakagawa S, et al. COVID-19 PICU guidelines: for high- and limited-resource settings. Pediatr Res. 2020;88(5):705-716. https://doi.org/10.1038/s41390-020-1053-9.
Rochwerg B, Granton D, Wang DX, Helviz Y, Einav S, Frat JP, et al. High flow nasal cannula compared with conventional oxygen therapy for acute hypoxemic respiratory failure: a systematic review and meta-analysis. Intensive Care Med. 2019;45(5):563-572. https://doi.org/10.1007/s00134-019-05590-5.
Norma No 004/2020 de 23/03/2020, Direção Geral de Saúde; 2020. Accessed August 05, 2022. https://www.omd.pt/content/uploads/2020/03/20200323-covid19-dgs-norma-0042020-mitigacao.pdf.
Lopez-Leon S, Wegman-Ostrosky T, Ayuzo Del Valle NC, Perelman C, Sepulveda R, Rebolledo PA, et al. Long-COVID in children and adolescents: a systematic review and meta-analyses. Sci Rep. 2022;12(1):9950. https://doi.org/10.1038/s41598-022-13495-5.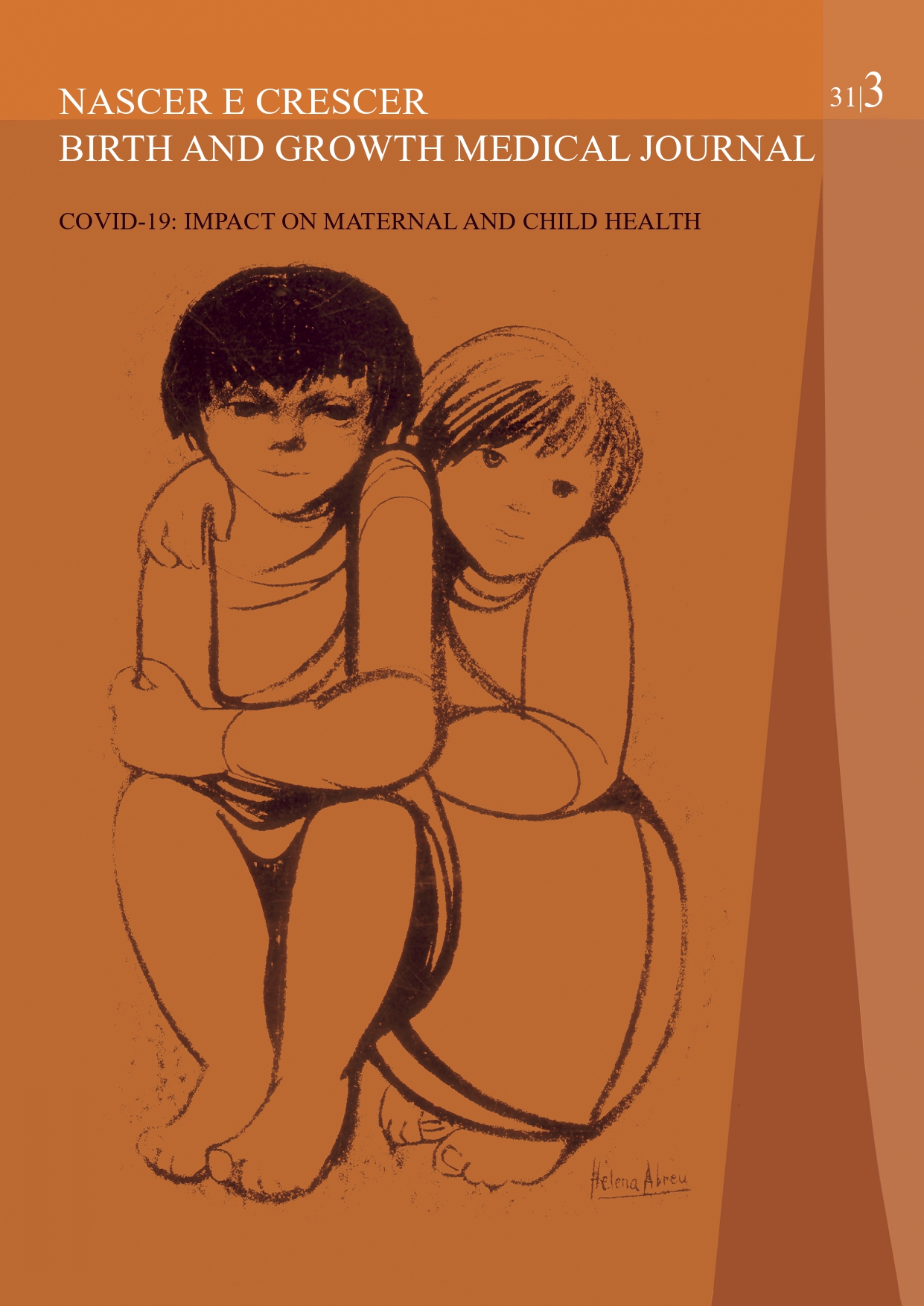 Downloads
How to Cite
1.
Monteiro S, Lima J, Barbosa T, Morais L, Reis MG, Ferreira-Magalhães M, Ramos A. Pediatric hospitalizations due to SARS-CoV-2 infection with respiratory involvement. REVNEC [Internet]. 2022Oct.19 [cited 2023Jun.4];31(3):234-40. Available from: https://revistas.rcaap.pt/nascercrescer/article/view/28014
Section
Original Articles
License
Copyright (c) 2022 Sara Monteiro
This work is licensed under a Creative Commons Attribution-NonCommercial 4.0 International License.
Copyright and access
This journal offers immediate free access to its content, following the principle that providing free scientific knowledge to the public provides greater global democratization of knowledge.
The works are licensed under a Creative Commons Attribution Non-commercial 4.0 International license.
Nascer e Crescer – Birth and Growth Medical Journal do not charge any submission or processing fee to the articles submitted.