CONSUMO DE DROGAS ENTRE ADOLESCENTES INSTITUCIONALIZADOS
Vera Baptista

Susana Carvalho

Teresa Pontes

Henedina Antunes
Abstract
Introdução: o consumo de drogas na adolescência é um problema preocupante. Pretendemos caraterizá-lo numa população de adolescentes institucionalizados do concelho de Braga.
Metodologia: aplicação de um inquérito a uma amostra de conveniência, constituída pelos adolescentes de 5 instituições de solidariedade social.
Resultados: o estudo incluiu 68 adolescentes, 42 de género feminino, com idade média 15,4 (12-18) anos. Todos afirmavam já ter ouvido falar de drogas, 41% em casa, 48% na instituição, 75% na escola, 57% na televisão, 54% com os amigos ou noutro contexto12%. Na amostra, 60 afirmaram ter amigos fumadores, 43 (63%) afirmaram já ter experimentado, com idade média de 12,5 (7-16) anos, dos quais 26 mantêm o consumo, 13 diariamente. Os que mantêm o consumo diariamente têm idade média 15,8 anos e fumam em média 5,1 cigarros/ dia. Relativamente ao álcool, 44 afirmaram ter amigos consumi- dores, 52 (76%) afirmaram ter experimentado, com idade média de 12,5 (9-17) anos. Destes, 13 mantêm o consumo, com idade média 16,2 anos. Relativamente a outras drogas, 32 afirmaram ter amigos consumidores, 21 (31%) tinham experimentado, dois não sabiam que droga estavam a consumir. A substância mais consumida foi o haxixe (20), um referiu ter consumido anfetaminas, um cocaína e um outro estimulantes. As substâncias foram preferencial- mente consumidas fumadas (23) e, menos frequentemente, em comprimidos (5). Tinham idade média 12,5 (10-16) anos. Destes, 9 mantêm o consumo, (diário em 3, 2 a 3 vezes por semana em 2, ou esporádico em 4). Os locais mais citados para estes consumos foram as escolas e a rua. As razões que motivaram o consumo mais referidas foram esquecer um acontecimento desagradável ou por diversão. No total, 9 já tinham sido submetidos a pesquisa de drogas no sangue/ urina e 31 afirmaram ter familiares consumidores de drogas.
Conclusão: nesta amostra, a maioria dos inquiridos afirmou já ter experimentado algum tipo de droga, com uma idade média mais precoce que a relatada noutros trabalhos. A primeira experiência ocorreu em idade semelhante independentemente do tipo de droga. O álcool foi a substância que mais afirmaram ter experimentado; o tabaco foi a mais associada ao consumo continuado. Entre as substâncias ilícitas, a cannabis foi, à semelhança de outros resultados nacionais, a mais consumida. O consumo ocorreu preferencialmente na escola.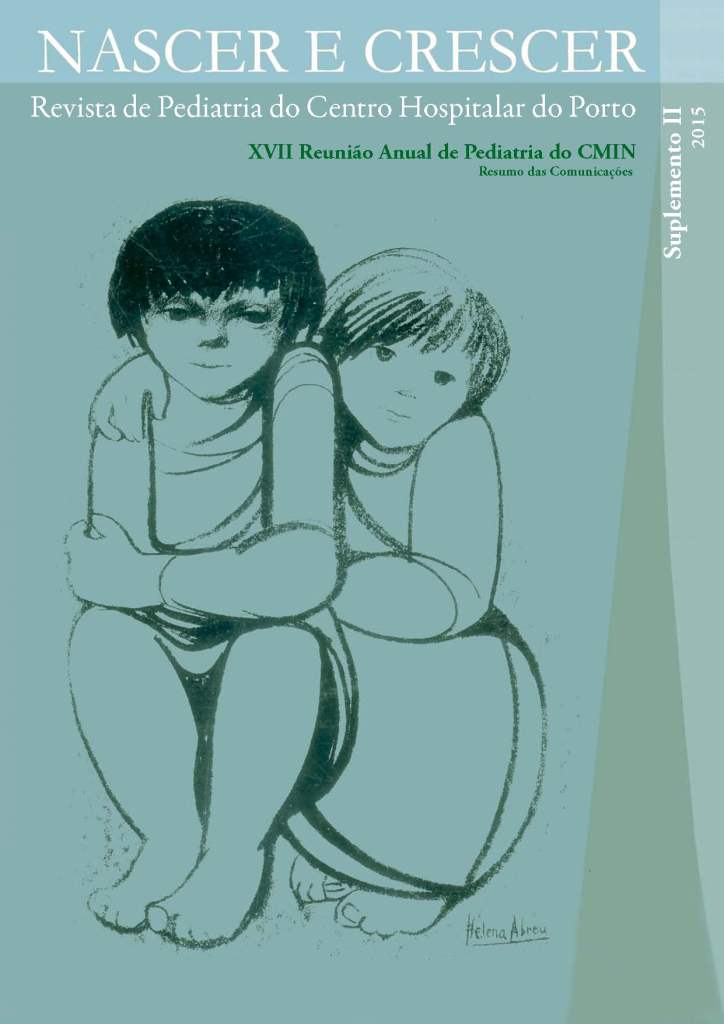 How to Cite
Baptista, V., Carvalho, S., Pontes, T., & Antunes, H. (2016). CONSUMO DE DROGAS ENTRE ADOLESCENTES INSTITUCIONALIZADOS. NASCER E CRESCER - BIRTH AND GROWTH MEDICAL JOURNAL, 24, S12. https://doi.org/10.25753/BirthGrowthMJ.v24.i0.9431
Section
Resumo das comunicações orais
Copyright (c) 2015 NASCER E CRESCER
This work is licensed under a Creative Commons Attribution-NonCommercial 4.0 International License.
Copyright and access
This journal offers immediate free access to its content, following the principle that providing free scientific knowledge to the public provides greater global democratization of knowledge.
The works are licensed under a Creative Commons Attribution Non-commercial 4.0 International license.
Nascer e Crescer – Birth and Growth Medical Journal do not charge any submission or processing fee to the articles submitted.