BRONQUIOLITE AGUDA – O QUE MUDOU NOS ÚLTIMOS 5 ANOS?
Ana Lachado

Sara Leite

Alexandre Fernandes

Maria Guilhermina Reis

Ana Ramos
Abstract
Introdução: A bronquiolite aguda (BA) é uma infeção do tra- to respiratório inferior, cujo diagnóstico é clínico, cujo tratamento é essencialmente de suporte. Na maioria dos casos, deve-se a infeção pelo vírus sincicial respiratório (VSR). Em Dezembro de 2012 a Direção Geral da Saúde (DGS) emitiu normas de orienta- ção clínica (NOCs) com o objetivo de reduzir a utilização desne- cessária de métodos de diagnóstico e terapêutica.
Objetivos: Caracterizar os doentes internados com BA no serviço de pediatria de um hospital central e analisar a evolução da abordagem diagnóstica e terapêutica, antes e após a NOC.
Métodos: Análise retrospetiva dos processos clínico dos doentes internados com BA, com menos de 24 meses, entre ju- lho de 2010 e junho de 2015. Foram analisados os fatores de risco e de gravidade, incluindo transferência para Cuidados In- tensivos (CI), os meios complementares de diagnóstico (ECD) e terapêuticas utilizadas.
Resultados: Incluídos 530 doentes, 55% do sexo masculi- no, com mediana de idades de 3.7 meses. Internamento com mediana de 5 dias. Presença de um ou mais fatores de risco associados em 92%. Foi efetuada a pesquisa de vírus no lava- do nasofaríngeo em 81.3% dos casos: VSR (n=272), adenoví- rus (n=52), rinovírus (n=49) e metapneumovírus (n=31). Hou- ve necessidade de transferência para CI em 9.2% dos casos. No 1º, 2º, 3º, 4º e 5º ano foram solicitados ECD em 93.4%; 92.3%; 80.8%; 72.8% e 68.3% dos doentes, respetivamente. O tratamento broncodilatador foi utilizado em 67.1%, 63.5%, 47.5%, 46.2% e 44,2% dos doentes do 1º ao 5º ano, respetiva- mente. A corticoterapia foi utilizada em 32.3%, 21.2%, 23.2%, 33,7% e 16,7% do 1º ao 5º ano, respetivamente. A antibioterapia foi utilizada em 25.1%, 17.3%, 14.1%, 18.5% e 9.2% dos doen- tes de 1º ao 5º ano, respetivamente. A cinesiterapia foi utilizada em 32.5%, 36.5%, 6.1%, 7.6% e 4.2%. dos doentes de 1º ao 5º ano, respetivamente. A radiografia torácica foi efetuada em 82.6%, 78.8%, 66,7%, 66.3% e 60% dos casos, respetivamente. Nos doentes sob cinesiterapia (17.2%), apenas em 41.8% havia registo de atelectasia.
Conclusão: Após a implementação da NOC assistiu-se a um decréscimo significativo no recurso a métodos de diagnóstico e terapêuticos, que continuam a ser utilizados em elevado número. Destaca-se a importância de proceder ao registo da justificação clínica para os procedimentos não recomendados na NOC.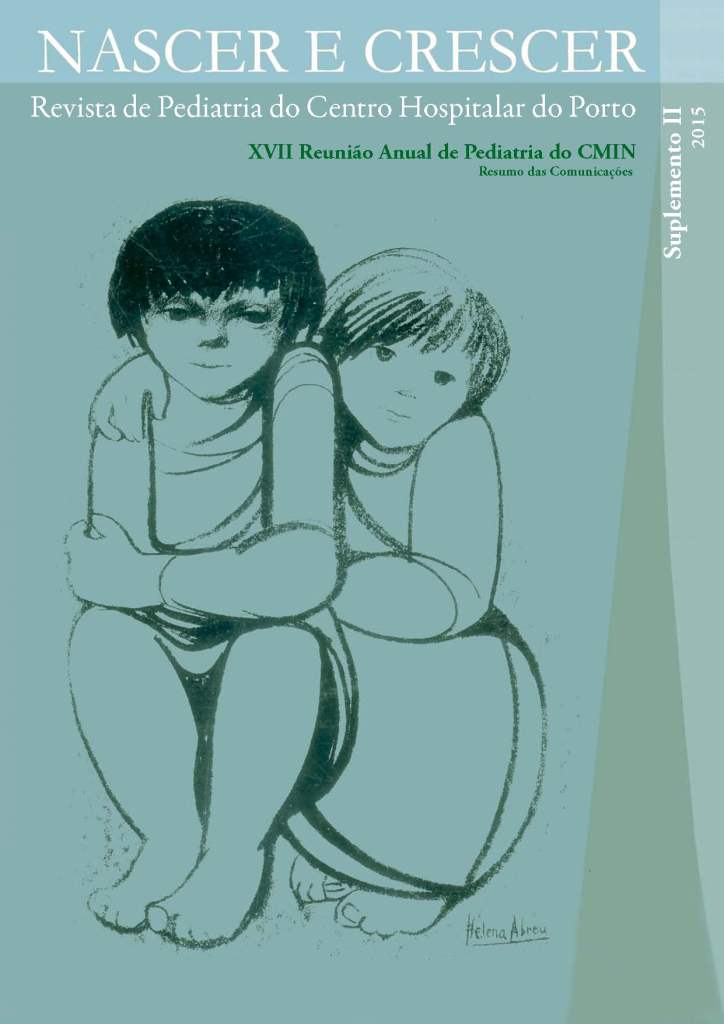 How to Cite
Lachado, A., Leite, S., Fernandes, A., Reis, M. G., & Ramos, A. (2016). BRONQUIOLITE AGUDA – O QUE MUDOU NOS ÚLTIMOS 5 ANOS?. NASCER E CRESCER - BIRTH AND GROWTH MEDICAL JOURNAL, 24, S16. https://doi.org/10.25753/BirthGrowthMJ.v24.i0.9443
Section
Resumo das comunicações orais
Copyright (c) 2015 NASCER E CRESCER
This work is licensed under a Creative Commons Attribution-NonCommercial 4.0 International License.
Copyright and access
This journal offers immediate free access to its content, following the principle that providing free scientific knowledge to the public provides greater global democratization of knowledge.
The works are licensed under a Creative Commons Attribution Non-commercial 4.0 International license.
Nascer e Crescer – Birth and Growth Medical Journal do not charge any submission or processing fee to the articles submitted.