Livros, fanzines e outras publicações independentes - um percurso pela 'cena' do Porto
Pedro Quintela

FEUC / CES - U. Coimbra

Marta Borges
Abstract
Na passagem para o século XXI, parece existir um emergente culto underground em torno da produção e consumo de fanzines e de outras publicações autoeditadas, especialmente no campo da ilustração e design gráfico. Inspirando-se, por um lado, na ética e estética do-it-yourself (DIY) proveniente do punk/hardcore e, por outro lado, na tradição oficinal das artes gráficas, muitos designers e artistas contemporâneos parecem estar interessados em utilizar os fanzines e publicações independentes relacionadas como meio para expressar e divulgar o seu trabalho. Trata-se de publicações de baixo custo, projetadas, produzidas e distribuídas em papel – frequentemente utilizando uma pluralidade de técnicas de produção (fotografia, ilustração, colagem, etc.) e reprodução (fotocópia, serigrafia, etc.). Seguindo estas recentes tendências, nos últimos anos, também em Portugal, um número crescente de designers e artistas têm vindo a criar e publicar várias obras editoriais segundo uma lógica DIY. Após um breve enquadramento internacional, este artigo foca a realidade portuguesa procurando compreender as principais tendências presentes em fanzines e outras publicações independentes autoeditadas fortemente ligadas aos campos artísticos do desenho e da ilustração e do design gráfico. Centramo-nos na análise do contexto específico da cidade do Porto (Portugal), destacando os circuitos de produção, distribuição e consumo deste tipo de objetos, bem como as suas conexões com o crescente interesse face à cidade como espaço de criatividade emergente em torno de uma 'movida' DIY. On the verge of the 21st century, there seems to be an emerging underground cult around the production and consumption of fanzines and other self-publishing publications, especially in the field of illustration and graphic design. Inspiring, on the one hand, by the ethics and aesthetics of DIY from punk / hardcore and, on the other hand, in the officinal tradition of the graphic arts, many contemporary designers and artists seem to be interested in using the fanzines and independent publications as a means to express and disseminate their work. They are low-cost publications, designed, produced and distributed on paper - often using a variety of production techniques (photography, illustration, collage, etc.) and reproduction (photocopying, screen printing, etc.). Following these recent trends, in recent years, also in Portugal, a growing number of designers and artists have been creating and publishing various editorial works according to a DIY logic. After a brief international background, this article focuses on the Portuguese reality, seeking to understand the main trends present in fanzines and other independent self-publishing publications strongly linked to the artistic fields of drawing and illustration and graphic design. We focus on the analysis of the specific context of the city of Porto (Portugal), highlighting the circuits of production, distribution and consumption of this type of objects, as well as their connections with the growing interest in the city as a space of creativity emerging around A 'move' DIY.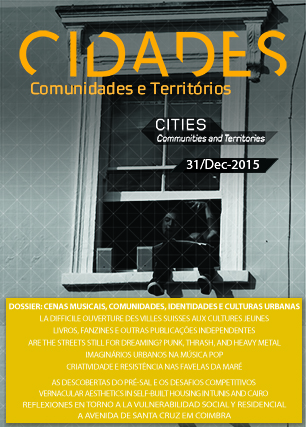 Copyright (c) 2016 Pedro Quintela, Marta Borges
This work is licensed under a Creative Commons Attribution-NonCommercial-NoDerivatives 4.0 International License.
Cidades, Comunidades e Territórios by
DINÂMIA'CET-IUL
is licensed under a
Creative Commons Atribuição-Uso Não-Comercial-Proibição de realização de Obras Derivadas 4.0 Unported License
.
Permissions beyond the scope of this license may be available at
mailto:cidades.dinamiacet@iscte.pt
.