Negotiating the middle-class city. Housing and equipping post-war Turin, 1950-1980.
Keywords:
middle-class housing, post-war Italy, Turin, urban facilities, building agreements
Abstract
The article investigates the patchwork of fragmented collective spaces and public facilities shaped in the Italian cities between the 1950s and the 1970s, as the result of processes of negotiation between public institutions, private developers and stakeholders, in relation to the construction of residential buildings and large-scale housing complexes devoted to the middle-class. This contribution deals with medium and small-sized public spaces/facilities as the typical outcome of the building process that marked the construction of the Italian cities between the 1950s and 1970s. They were shaped and produced through a variety of different policies, as well as through the encounter between a plurality of actors and initiatives (private, public, semi-public…): from the scale of the playground – originated close to the condominium – to the medium-sized public park at the edge of the new residential sectors, from the neighborhood's kindergartens and primary schools, to the community's and sport centres. The article will focus on Turin and will briefly present four case studies showing two prevailing scales of intervention, where houses devoted to middle-class and new public facilities were negotiated, designed and built simultaneously. This paper brings to the light the result of two ongoing researches that investigate the residential architecture for the middle classes on the one hand, and the construction of public services and facilities in post-war Italy on the other: together, they aim, at contributing to the development of a more nuanced narrative of the forms and the phases of the urban growth in Italy since WWII.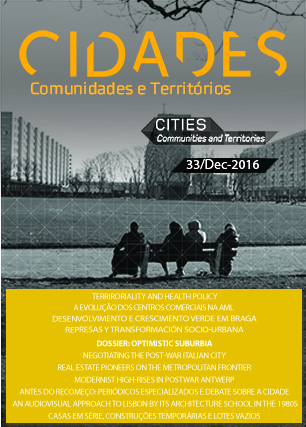 Downloads