Post-Graffiti in Lisbon: On spatial localization and market absorption
Rohit Revi

IIT Gandhinagar
Keywords:
street art, Lisbon, transgretion, market absorption, post-graffiti
Abstract
Graffiti-making as a disruptive art has been historically well located within the politics of territoriality/transgression, deindustrialization/decline, appropriation/affirmation and other inter-related frameworks. Such historicizations exist in parallel to the history of institutionalization of graffiti-making, leading up to the emergence of the phrase post-graffiti in the discourse. The post-graffiti has alternatively and independently also been used to describe an empirically observed shift in graffiti making practices; from the typographical to the iconographical.
In this context, the operationalization of a set of urban intervention policies by the Lisbon City Council, that were designed to institutionalize, sanction and take control of graffiti-making, provides an interesting inroad into the processes that underlie its market absorption. Through a field analysis of street art in Lisbon as well as an examination of the intervention policy and its consequences, this paper argues that the intervention policies and associated public rhetoric manufactured a binary of order-disorder within the practices of graffiti-making, enabling graffiti and graffiti-making practices in Lisbon to be spatially localized, facilitating market activities. For the graffiti and the graffiti-makers, state/administrative sanction and the emergence of market activities meant heightened security, safety and a greater audience field – conditions that made iconographical aesthetics a virtue and a necessity. Thus, the post-graffiti shift has to be understood within the context of institutionalization. These processes are to be looked at as particular conditions of the neoliberal capital.
References
Austin J, 2002 Taking the Train: How Graffiti Art Became an Urban Crisis in New York City (Columbia, New York)
Costa, Pedro. "Bairro Alto revisited: reputation and symbolic assets as drivers for sustainable innovation in the city." DINAMIA-CET Working Paper2013/14 (2013).
Costa, Pedro, and Ricardo Lopes. "Is street art institutionalizable? Challenges to an alternative urban policy in Lisbon." Métropoles 17 (2015).
Cresswell, Tim. In place-out of place: geography, ideology, and transgression. U of Minnesota Press, 1996.
Daniel, Diane. 2016. Graffiti was just the beginning: On the streets of Lisbon, the energized city becomes the canvas. National Post. http://news.nationalpost.com/life/travel/graffiti-was-just-the-beginning-on-the-streets-of-lisbon-the-energized-city-becomes-the-canvas/
Dickens, Luke. "The geographies of post-graffiti: Art worlds, cultural economy and the city." Unpublished PhD thesis, Department of Geography, University of London, London (2009).
Gablik, Suzi. "Has Modernity Failed." (1984): 103-13
Ganz N, 2004 Graffiti World: Street Art From Five Continents (Thames and Hudson, London)
Haden-Guest A, 2007, 'BIG ART Inc.' in New York Calling: from Blackout to Bloomberg Berman M and Berger B (Reaktion, London) pp.308-318
Hoban, Phoebe. Basquiat: A quick killing in art. Open Road Media, 2016.
Iveson, K. "The call to the streets II: London." (2002): 112-47.
Kimvall, Jacob. "Mapping an Institutional Story of Graffiti and Street Art." In Lisbon Street Art & Urban Creativity International Conference, vol. 1, pp. 92-95. 2014.
Lachmann, Richard. "Graffiti as career and ideology." American journal of sociology (1988): 229-250.
Manco T, 2004 Street Logos (Thames and Hudson, London)
Mirzoeff, Nicholas. "Bodyscape." Art, Modernity and the Ideal Figure, Visual Cultures, London, New York (1995). 147-149.
Reinecke J, 2007 Street-Art: Eine Subkultur zwischen Kunst und Kommerz (Transcript, Frankfurt)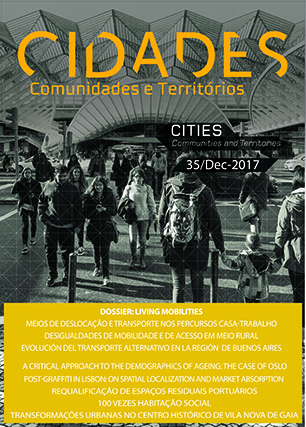 Copyright (c) 2018 Rohit Revi
This work is licensed under a Creative Commons Attribution-NonCommercial-NoDerivatives 4.0 International License.
Cidades, Comunidades e Territórios by
DINÂMIA'CET-IUL
is licensed under a
Creative Commons Atribuição-Uso Não-Comercial-Proibição de realização de Obras Derivadas 4.0 Unported License
.
Permissions beyond the scope of this license may be available at
mailto:cidades.dinamiacet@iscte.pt
.