The seeds were planted by hand
Keywords:
public art, city, gentrification, urban intervention
Abstract
This text proposes an exercise in reflection on the reconfigurations of meaning and intervention potential that an iconic work of public art (Wheatfield - A confrontation, Agnes Denes, 1982), realized three decades ago, acquires when 'reactivated' at present by initiative Of the leaders of a powerful process of gentrification. A reflection on its instrumentalization according to the interests of each of the sponsors, but also on the urban facts that are revealed through what has been lost in it.
References
Anselmi, G. (2015), in Condie, J. M., & Cooper, A. M. (Eds), Dialogues of Sustainable Urbanisation: Social Science Research and Transitions to Urban Contexts. Penrith, N.S.W.: University of Western Sydney, capítulo 41.
Disponível em:
https://ugec.org/files/2015/08/Dialogues-of-sustainable-urbanisation-Social-science-research-and-transitions-to-urban-contexts-6.pdf
Caselli, D.; Ferrari, M., "Acting in the emerging void. Notes on gentrification at Isola.", in Fight-Specific Isola: Art, Architecture, Activism and the Future of the City, Isola Art Center/Archive Books: Milan 2013 (pp. 335-361)
Denes, A. (1982), "The Dream", Critical Inquiry, Vol. 16, No. 4 (Summer 1990), The University of Chicago Press, pp. 919-939.
Disponível em:
https://feministartpractices.files.wordpress.com/2014/07/denes_dream.pdf
Obrist, H. U. (2010), "Avere Fame Di Vento", in M. Gioni (Ed.), What Good Is the Moon. The Exhibitions of the Fondazione Nicola Trussardi, Fondazione Nicola Trussardi and Hatje Cantz, Milan and Ostfildern, pp. 7-10.
Disponível em:
http://www.fondazionenicolatrussardi.com/the_foundation/creation_of_temporary_events.html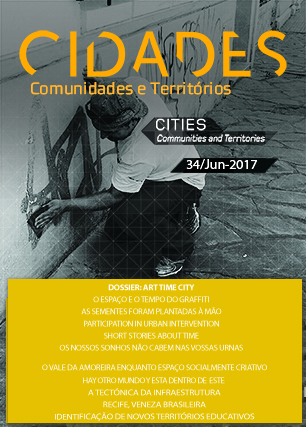 Copyright (c) 2017 Marta Traquino
This work is licensed under a Creative Commons Attribution-NonCommercial-NoDerivatives 4.0 International License.
Cidades, Comunidades e Territórios by
DINÂMIA'CET-IUL
is licensed under a
Creative Commons Atribuição-Uso Não-Comercial-Proibição de realização de Obras Derivadas 4.0 Unported License
.
Permissions beyond the scope of this license may be available at
mailto:cidades.dinamiacet@iscte.pt
.