The urban transformations in the last twelve years in the historical centre of Vila Nova de Gaia
Territorial continuity with the historical centre of Oporto and patrimonial challenges in the tourism process
Mariana Abrunhosa Pereira

Porto University
Keywords:
heritage, tourism, historical centres, Vila Nova de Gais, warehouses
Abstract
The historic centres of Porto and Vila Nova de Gaia while being divided by administrative borders have a territorial continuity. This paper aims to address the recent urban dynamics and transformations in Gaia, including the ones that occurred in the port wine cellars, which occupy about 60% of Gaia's historic center. In a short period of time, the fast spread of a large amount of accommodation, restaurants and other spaces of consumption is gradually leading to a new monofunctional urban zone. Besides, the intervention in buildings' structures also deserves a reflection: refurbishments have increased while the loss of authenticity and the demolition of buildings have been observed, with irreversible effects on the historic ensemble and on the loss of the identity of the historic centre.
References
Aguiar, J. (2016), "O avassalador consumo patrimonial", Pedra & Cal, (60), p.66.
Bauman, Z. (2000), Liquid Modernity, Cambridge: Polity Press.
Bismark (2017), "Treze (tristes) teses sobre o turismo", Jornal Punkto. Disponível em: http://www.revistapunkto.com/2017/01/treze-tristes-teses-sobre-o-turismo_18.html
Carta de Veneza (1964). Disponível em: 5cidade.files.wordpress.com/2008/03/carta-de-veneza.pdf
Choay, F. (2015), Alegoria do Património, Lisboa: Edições 70.
Dias, F. (2011), "Estatísticas de Turismo Urbano. O centro histórico do Porto e o Turismo", paper apresentado no Seminário Centros Históricos: Passado e Presente, FLUP, 10-12 de Março de 2010, Porto.
Domingues, A. (2016), Porto Património Mundial 20 Anos 20 Imagens 1996-2016, Lisboa: Imprensa Nacional-Casa da Moeda.
EU (2011), Territorial Agenda of the European Union 2020. Towards an Inclusive, Smart and Sustainable Europe of Diverse Regions. Disponível em www.nweurope.eu/media/1216/territorial_agenda_2020.pdf
Ferreira, L., Teixeira, J. L. (2011), "O valor patrimonial das alterações introduzidas no edificado habitacional da cidade histórica" paper apresentado na Conferência de Património em Construção - Contextos para a sua Reabilitação, Laboratório Nacional de Engenharia Civil, 25 - 26 de Novembro de 2011, Lisboa.
Gilman, R. (2015), "Turismo. Uma escatologia turístico-patrimonial", Jornal Punkto. Disponível em http://www.revistapunkto.com/2015/02/tornos-uma-escatologia-turistico_23.html
Giovannoni, G. (1913), Città vecchia ed edilizia nuova, Milão: Nuova Antologia.
Harvey, D. (2001). "Heritage Pasts and Heritage Presents: temporality, meaning and the scope of heritage studies", International Journal of Heritage Studies, (7-.4), pp. 319-338.
ICOMOS (1972). Convention concerning the protection of the World Cultural and Natural Heritage. Paris, General Conference of UNESCO. Disponível em: http://www.icomos.org
ICOMOS (1976). ICOMOS Charter on Cultural Tourism. Disponível em: https://ace-notebook.com/international-cultural-tourism-charter-free-related-pdf.html.
ICOMOS (1999). International Cultural Tourism Charter. Managing Tourism at Places of Heritage Significance. 12th General Assembly in Mexico, October 1999.
Magalhães, D. (2008), "Centros Históricos do Porto e de Vila Nova de Gaia: Continuidade ou Demarcação?", Revista da Faculdade de Letras – Sociologia, (17/18), pp.111-146. Disponível em: ler.letras.up.pt/uploads/ficheiros/5510.pdf
Massa, V., Almeida, R. (2015), Cidades como sonhos: um estudo comparativo sobre a liquidez da Rua Miguel Bombarda. Disponível em: http://isociologia.pt/publicacoes_ workingpapers.aspx. ISSN: 1647-9424
Medhurst F. and Lewis, J. P. (1969), Urban Decay: an analysis and a policy, London: Macmillan.
Ninot, R. P., Jiménez, C.J.R. (2013), Turismo Líquido, Barcelona: Oficina de Publicacions Acadèmiques Digitals de la UPC. ISBN: 978-84-9880-454-6
Rivera Blanco, J. (2001), De Varia Restauratione: Teoria e História de la Restauration Arquitectónica, Valladolid: Valladolid R&R.
Rocha, D., Amaral, R. (2016), Operação de reabilitação urbana da ARU CH Gaia, vol.1, Gaia: GAIURB. Disponível em:
https://issuu.com/gaiurb.info/docs/volume_1_oru_ch_2016
Short, J. R. (2007), Liquid City: Megalopolis and the Contemporary Northeast, Washington: Research for the Future.
World Travel & Tourism Council – WTTC (2016), Travel & Tourism Economic Impact 2016 Portugal, London: Oxford Economics.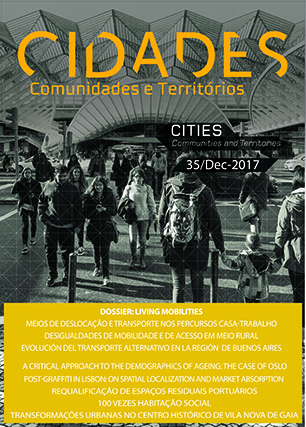 Copyright (c) 2018 Mariana Abrunhosa Pereira
This work is licensed under a Creative Commons Attribution-NonCommercial-NoDerivatives 4.0 International License.
Cidades, Comunidades e Territórios by
DINÂMIA'CET-IUL
is licensed under a
Creative Commons Atribuição-Uso Não-Comercial-Proibição de realização de Obras Derivadas 4.0 Unported License
.
Permissions beyond the scope of this license may be available at
mailto:cidades.dinamiacet@iscte.pt
.