La evolución del transporte alternativo en la Región Metropolitana de Buenos Aires: un indicador de procesos de estratificación de la movilidad
Susana Kralich

CONICET; Instituto de Geografia, UBA

Verónica Pérez

CONICET; IDAES/UNSAM
Keywords:
movilidad, transporte, alternativos
Abstract
Durante las últimas décadas se ha verificado en la Región Metropolitana de Buenos Aires (RMBA) un notable proceso de génesis y consolidación de formas alternativas de transporte. El mismo responde a un conjunto de factores, entre los que destaca el surgimiento de movilidades vulnerables ligadas tanto al deterioro de la accesibilidad, como a la degradación del transporte público. Sin embargo estas condiciones también derivan de procesos más amplios que modificaron profundamente la estructura socio-territorial metropolitana y nacional. Así se observa la consolidación de una sociedad marcadamente dual, con profundas brechas riqueza-pobreza y en la que los contrastes hipermovilidad - inmovilidad se constituyen en rasgos distintivos.
Nuestro trabajo presenta datos empíricos e inferencias que apoyan la hipótesis de que en la RMBA se ha consolidado una fase de movilidad estratificada, la que asociada a procesos de segregación socio-territorial, potencia las fragmentaciones preexistentes.
Tras el objetivo de describir e interpretar la aparición y consolidación del transporte alternativo en la región, el estudio ofrece un panorama general sobre las principales características de la movilidad diaria, desde los años 70 hasta la actualidad, referida tanto a modos masivos tradicionales como a los alternativos (legales e ilegales). Consideramos asimismo, grandes lineamientos políticos, procesos de urbanización y características sociodemográficas prevalecientes en los distintos sectores o distritos que conforman la metrópolis.
Para el sostén de los argumentos planteados analizamos articuladamente diversas fuentes secundarias y primarias: estadísticas sectoriales oficiales, observación de campo, entrevistas y estudios específicos sobre la temática.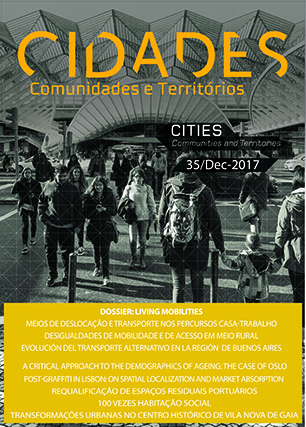 Copyright (c) 2018 Verónica Pérez, Susana Kralich
This work is licensed under a Creative Commons Attribution-NonCommercial-NoDerivatives 4.0 International License.
Cidades, Comunidades e Territórios by
DINÂMIA'CET-IUL
is licensed under a
Creative Commons Atribuição-Uso Não-Comercial-Proibição de realização de Obras Derivadas 4.0 Unported License
.
Permissions beyond the scope of this license may be available at
mailto:cidades.dinamiacet@iscte.pt
.