PROJECT DIALECTICS. The contributions of the Alvalade Neighbourhood to Lisbon's Green Structure
Keywords:
Alvalade Neighbourhood, Project Dialectics, Urban Space, Architecture, Landscape Architecture, Green Structure
Abstract
Alvalade neighborhood, built between 1945 and 1970, incorporates influences from the Modern Movement, which resulted in significant changes in the way of observing and project the urban space. The most important among all was opening the space inside block in a logical of common fruition and implementation of pedestrian paths, both essential to build the "neighborhood concept", which resulted on interstitial urban space network with particular characteristics.
This period matched with the professional and social affirmation of landscape architecture in Portugal and the beginning of first landscape architects activity at Lisbon Municipal authority, which resulted in intense project activity according to the artistic and deeply ecological doctrinal matrix of Francisco Caldeira Cabral.
Within a perspective of studding the design dialectic between architecture and landscape architecture, the article explores the circumstantial contributions of planning and design that acting on the definition and the design of urban spaces contributed, in a punctual or aggregated way, to the establishment of a significant spaces network in the Green Structure of the City.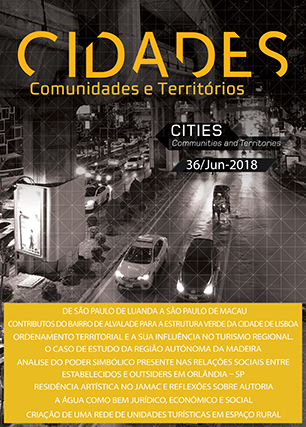 Downloads