Territorial Planning and its Influence on Regional Tourism. The Case Study of the Autonomous Region of Madeira (RAM)
Rui Alexandre Castanho

Environmental Resources Analysis Research Group (ARAM), University of Extremadura, 06071 Badajoz, Spain;

http://orcid.org/0000-0003-1882-4801

Sérgio Lousada

Faculty of Exact Sciences and Engineering (FCEE), Department of Civil Engineering and Geology (DECG), University of Madeira (UMa), Funchal, Portugal.

Rafael Camacho

Faculty of Exact Sciences and Engineering (FCEE), Department of Civil Engineering and Geology (DECG), University of Madeira (UMa), Funchal, Portugal.

Jóse Manuel Naranjo Gómez

Polytechnic School, University of Extremadura, Caceres, Spain; VALORIZA - Research Centre for Endogenous Resource Valorization, Portalegre

Luís Loures

Polytechnic Institute of Portalegre (IPP), Portalegre, Portugal; Research Centre for Tourism, Sustainability and Well-being (CinTurs), University of Algarve, Faro Portugal; VALORIZA - Research Centre for Endogenous Resource Valorization, Portalegre

José Cabezas

Environmental Resources Analysis Research Group (ARAM), University of Extremadura, 06071 Badajoz, Spain; VALORIZA - Research Centre for Endogenous Resource Valorization, Portalegre
Keywords:
Sustainable growth, Regional Planning, Territorial Planning, Urban Planning, Tourism, Socio-economics
Abstract
Nowadays a sustainable development and growth are one of the major concerning's and goals of regional territories. In fact, this typology of growth is no longer only a desire but an urgent necessity, not only to increase the life standards of the populations but also to guarantee a future for the next generations.
Taking into account this typology of growth, and mainly in regions socioeconomic dependents on the tourism, studies that allow analysing spatial and urban planning processes and their influence over this activity are seen as critical for a sustainable development of such territories.
Through exploratory methods and tools – i.e. case study research method, territorial impact assessment, or public perceptions surveys; has been carried out a deep study regarding the impacts that public spatial planning policies over the tourism on the Madeira Autonomous Region (RAM).
Through the research, it is possible to verify the relationship between spatial planning policies and their impact on regional tourism, as well as the unsustainable growth of the region.
References
• Amado, M., (2009): Planeamento Urbano Sustentável. Editora: Caleidoscópio ISBN 9789728801748 Lisboa, Portugal.
• Antrop, M. (2000): Changing patterns in the urbanized countryside of Western Europe. Landsc. Ecol. 2000, 15, 257–
• Antrop, M. (2004): Landscape change and the urbanization process in Europe. Landsc. Urban Plan. J. 2004, 67, 9–26.
• Araújo, D. F. & Ramos, M. C. P. (2014). Desafios interculturais e educacionais para um turismo sustentável. Revista Cenário, V. 2, nº 3, 89-105.
• Ballas, D. (2013): What makes a "happy city"? Cities J. 2013, 32, S39–S50.
• Baptista, J. (2005): A Evolução do turismo na Madeira no período de 1975 a 2000.
Funchal, Portugal.
• Baptista, T., et al., (2013): IDE-OTALEX C. The First Crossborder SDI between Portugal and Spain: Background and Development. Journal of Earth Science an Engineering. Volume 3, Number 6.
• Barretto, M. (2005) Planejamento responsável do turismo. Campinas, São Paulo: Papirus, 2005.
• Câmara, B. (2002): "A Economia da Madeira (1850-1914)". Imprensa de Ciências Sociais: Lisboa.
• Castanho, R., Loures, L., Fernández, J., and Fernández-Pozo, L., (2017). Cross Border Cooperation (CBC) in Southern Europe - An Iberian Case Study. The Eurocity Elvas-Badajoz. Sustainability, 9,360; DOI:10.3390/SU9030360.
• Castanho, R., Loures, L., Fernández, J. and Pozo, L., (2016): Identifying critical factors for success in Cross Border Cooperation (CBC) development projects. Habitat International (2016), http://dx.doi.org/10.1016/j.habitatint.2016.10.004.
• Comissão Europeia (2010). Europa 2020 – Estratégia para um crescimento inteligente, sustentável e inclusivo. Bruxelas, COM (2010) 2020.
• Costa, C. (2001). An emerging tourism planning paradigm? A comparative analysis between town and tourism planning. International Journal of Tourism Research, v. 3, n. 6, p. 425-441.
• Cro, S. & Martins, A. (2017). Structural breaks in international tourism demand: Are they caused by crises or disasters? Tourism Management. Vol. 69. pp. 3-9. DOI: 10.1016/j.tourman.2017.03.009.
• Fadigas, L., (2015): Urbanismo e Território – As políticas públicas. Lisboa, Portugal.
• Fadigas, L. (2017). Território e Poder. O uso, s políticas e o ordenamento. Ed. Sílabo. Lisbon, Portugal. ISBN: 978-972-618-889-6.
• Gama, J. (2011): "Arquitectura e Turismo na Cidade do Funchal no Século XX". Dissertação de Mestrado Integrado em Arquitectura, Universidade de Coimbra (Policopiado).
• Gunn, C. Emergence of effective tourism planning and development. In: SEATON, A. (Ed.) Tourism: the state of the art. Chichester: Wiley, 1994. p. 10-19.
• Gutiérrez Gallego, J., Naranjo Gómez, J., Jaraíz-Cabanillas, F., Ruiz Labrador, E. & Jeong, J. (2015). A methodology to assess the connectivity caused by a transportation infrastructure: Application to the high-speed rail in Extremadura. Case Studies on Transport Policy. Vol (3). pp. 392-401.
• Lippolis, L., (2016): Viaggio al Termine Della Cità – La Metropoli e le Arti Nell ́Áutumno PostModerno
(1972-2001). Genova, Italia.
• Marujo, M. N. & Carvalho, P. (2010). Turismo, Planeamento e Desenvolvimento Sustentável. Turismo & Sociedade, 3, n. 2, 147-161.
• Marujo, M. (2008): Turismo e comunicação. Castelo Branco: RVJeditores, 2008.
• Naranjo Gómez, J., (2016). Impacts on the Social Cohesion of Mainland Spain's Future Motorway and High-Speed Rail Networks. Sustainability. Vol (8). pp. 1-22.
• OMT Turismo internacional: uma perspectiva global. 2. ed. São Paulo: Bookman, 2003.
• Philippi JR, A. & Ruschmann, D. (2010). Gestão ambiental e sustentabilidade no turismo. Barueri, SP: Manole.
• Programa das Nações Unidas para o Desenvolvimento (2011). Sustentabilidade e equidade. Um futuro melhor para todos. Relatório do Desenvolvimento Humano 2011. New York: PNUD.
• Ramos, M. (2012). Ambiente, Educação e Interculturalidade. Revista Tempos e Espaços em Educação, nº 8, Janeiro/Junho 27-39
• Vulevic, A. (2016). Accessibility concepts and indicators in transportation strategic planning issues: theoretical framework and literature review. Logistics & Sustainable Transport, 7(1), 58–67. http://dx.doi.org/10.1515/jlst-2016-0006 ISSN.
Yin, R., (1994): Case Study Research – Design and Methods. Sage Publications, Londres, Inglaterra.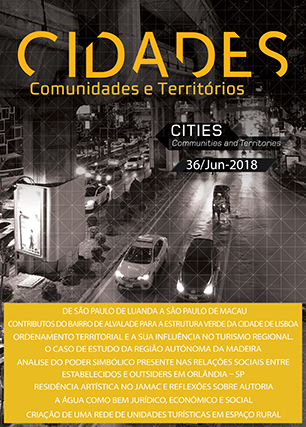 Copyright (c) 2018 Rui Alexandre Castanho, Sérgio Lousada, Rafael Camacho, Jóse Manuel Naranjo Gómez, Luís Loures, José Cabezas
This work is licensed under a Creative Commons Attribution-NonCommercial-NoDerivatives 4.0 International License.
Cidades, Comunidades e Territórios by
DINÂMIA'CET-IUL
is licensed under a
Creative Commons Atribuição-Uso Não-Comercial-Proibição de realização de Obras Derivadas 4.0 Unported License
.
Permissions beyond the scope of this license may be available at
mailto:cidades.dinamiacet@iscte.pt
.