Integrated management features of watershed: the case of the urban area of the Água Boa microbasin in the municipality of Dourados (MS), Brazil
José Henrique Pastorelli Junior

Universidade Estadual de Campinas - UNICAMP

André Munhoz de Argollo Ferrão

Universidade Estadual de Campinas
Keywords:
environment resources, terrirorial planning, watershed planning
Abstract
Water, an indispensable element for the physiological activities of living beings or as a way of life for plant and animal species, is probably the only natural resource existing in all aspects of human civilization, from agricultural and industrial development to cultural and society. Actions that can contribute to better territorial planning and management of environmental resources are necessary to safeguar it. In fact, sustainable development is based on competent planning and democratic governance of water use. In this sense, the integrated environmental management of watersheds is determinant since it requires a systemic analysis with interdependent variables and multidimensional processes that take place in the context of the basin. The objective of this article is to analyze the territorial organization of the Água Boa stream microbasin, located in the city of Dourados (MS), through a thorough review of the literature on political, institutional, economic, social, cultural and environmental aspects. integrated management of the territory. The evaluation grants a perception over the analyzed aspects are intrinsic and that the systemic approach is very efficient to understand from an integrative vision the current use of water and edaphic resources. Thus, an integrated river basin management plan can be shaped from the logic applied in the present work, using a systemic approach, complex thinking, process vision and transdiciplinarity as conceptual bases.
References
ARGOLLO FERRÃO, A. M.; BRAGA, L. M. M. Gestão Integrada de Bacias Hidrográficas: paisagem cultural e parques fluviais como instrumentos de desenvolvimento regional. Labor & Engenho, Campinas [Brasil], n. 23, 2015. Disponível em: https://confins.revues.org/10124?lang=pt#tocto1n6. Acesso em 24 de fev de 2016.
BRASIL. Decreto-Lei n° 5.942, de 28 de Outubro de 1943.
BRASIL. Lei complementar n° 008, de 30 de Dezembro de 1991.
BRITO, F. de L.; ROLIM, M. M. Comportamento do efluente e do solo fertirrigado com vinhaça. Agropecuária Técnica, Areia, v. 26, n. 1, p.60-67, 2005.
CARNEIRO, M.A.; DANIEL, O.; VITORINO, A.C.T.; COMUNELLO, E. Aptidão da Bacia do Rio Dourados para algumas espécies de eucaliptos. Floresta, v.36, n.3, p.331-342, 2006.
CENTENARO, N. Análise da Evolução da Indústria Sucroenergética do Estado de Mato Grosso do Sul. Anais do Encontro Científico de Administração, Economia e Contabilidade, V. 1, N. 1. 2011.
DOMINGUES, A. T.; JÚNIOR, A. T. A territorialização da cana-de-açucar no Mato Grosso do Sul. Caderno Prudentino de Geografia, Presidente Prudente, n.34, v.1, 2012.
FIGUEIREDO, A. de. A presença geoeconômica da atividade ervateira. Presidente Prudente: Tese de doutorado, 1967.
GONÇALVES, G.G.G. Procedimentos metodológicos para determinação da fragili-dade ambiental de bacias hidrográficas. 2010. 14p. Dissertação (Mestrado em Produção Vegetal) – Universidade Federal da Grande Dourados, 2010.
IBGE - Instituto Brasileiro de Geografia e Estatística. Levantamento Sistemático da Produção Agrícola. Rio de Janeiro v.29 n.6 p.1-81. 2015.
PAVÃO, E. S. da. Formação, estrutura e dinâmica da economia do Mato Grosso do Sul no contexto das transformações da economia brasileira. 2005. Dissertação (Mes-trado em economia industrial) – Universidade Federal de Santa Catarina, 2005.
PEREIRA, H.H.G. Conexão entre fragmentos de vegetação com base em sistemas de informações geográficas. 2010. 1p. Dissertação (Doutorado em Produção Vegetal) – Universidade Federal da Grande Dourados, 2010.
PEREIRA, N. A. Subsídios às políticas de atuação em meio ambiente urbano: Bacia do Córrego Água Boa Dourados – MS. 2007. Dissertação (Mestrado em Geografia) – Universidade Federal de Mato Grosso do Sul, 2007.
PIRES, J. S. R. & SANTOS, J. E. Bacias Hidrográficas - Integração entre meio ambien-te e desenvolvimento. CIÊNCIA HOJE, Rio de Janeiro, v. 19, n. 110, p. 40- 45, 1995.
SANTOS, J. E. dos.; SATO, M. A contribuição da educação ambiental à esperança de pandora. São Carlos: Rima, p.31-49. 2001.
SARTORI, R. C. O pensamento ambiental sistêmico: uma análise da comunicação cien-tífica da ESAL/USP. 2005. Dissertação (Mestrado em Ecologia de Agroecossistemas) – Escola Superior de Agricultura "Luiz de Queiroz", Universidade de São Paulo, Piraci-caba, 2005.
SECRETARIA DE ESTADO DE MEIO AMBIENTE E DESENVOLVIMENTO ECONÔMICO – SEMADE. Diagnósticos socioeconômico do Mato Grosso do Sul. 2015.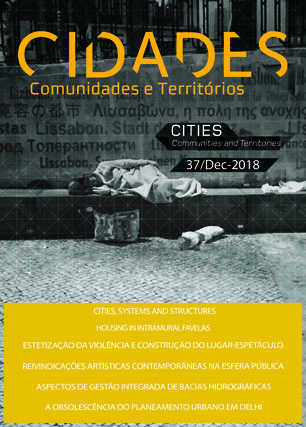 Copyright (c) 2018 José Henrique Pastorelli Junior
This work is licensed under a Creative Commons Attribution-NonCommercial-NoDerivatives 4.0 International License.
Cidades, Comunidades e Territórios by
DINÂMIA'CET-IUL
is licensed under a
Creative Commons Atribuição-Uso Não-Comercial-Proibição de realização de Obras Derivadas 4.0 Unported License
.
Permissions beyond the scope of this license may be available at
mailto:cidades.dinamiacet@iscte.pt
.