"I do not see them as different, I just do not see here as their place"
Analysis of the symbolic power in the social relations between established and outsiders in Orlândia - SP
Bruno César Pereira

Universidade do Centro-Oeste do Paraná

Alexandra Lourenço

Universidade do Centro-Oeste do Paraná - UNICENTRO, Campus Irati
Keywords:
Migration, Orlândia-São Paulo, Established & Outsiders, Symbolic Violence
Abstract
This paper analyzed the social relations between the Orlândia- São Paulo city natural families and the Brazilian northeast migrant families, in which migrant men and women went to work on sugar cane cutting, civil construction and extraction of straw for the manufacture of handmade cigarettes. We understand that this migratory movement reorganized the social structures in Orlândia city, which until then were guided by the stigma center-periphery, but with the entry of the new migrant families brought to the surface the construction of a new discourse based on the creation of the distinction between "us" (paulistas) and "they" (northeastern). We have observed that since their inception these relationships have been based in a series of symbolic disputes, whether in the day-to-day life of peripheral neighborhoods or in leisure places, such as clubs. To carry out this study we use the theoretical framework built by sociologists Norbert Elias, Henri Lefebvre and Pierre Bourdieu.
References
BOURDIEU, Pierre. O Poder Simbólico. Trad. Fernando Tomaz. Rio de Janeiro: BERTRAND, 1989.
COSTA, Sérgio. Regimes de Coexistência interétnica no Brasil e na Alemanha: contribuições a um debate inexistente. Revista da Faculdade de Letras da Universidade do Porto. Número temático: Imigração, Diversidade e Convivência Cultural, 2012, p. 235-259.
IBGE - Instituto Brasileiro de Geografia e estatística. Dados demográficos da cidade de Orlândia 1990-2010. Disponível em: https://cidades.ibge.gov.br/xtras/perfil.php?codmun=353430. Acesso em: 20/09/2017.
LEFEBVRE, Henri. A produção do espaço. Trad. Doralice Barros Pereira e Sérgio Martins (do original: La production de l'espace . 4e éd. Paris: Éditions Anthropos, 2000). Primeira versão : início - fev. 2006.
LOBODA, Carlos Roberto. Espaço Público e periferia na cidade contemporânea: entre as necessidades e as possibilidades. Espaço Geográfico em Análise, Curitiba, v. 37, ago/2016, p. 37-63. Disponível Em http://revistas.ufpr.br/raega/article/view/40382. Acesso em: 20/09/2017.
ELIAS, Norbert. Os Estabelecidos e os Outsiders. Trad. Vera Ribeiro. Rio de Janeiro: ZAHAR, 2000.
SILVA, Maria Aparecida de Moraes. Trabalho e trabalhadores na região do "mar de cana e do rio de álcool. Agrária, São Paulo: n. 02, p. 2-39, 2005. Disponível em: https://www.revistas.usp.br/agraria/article/view/103. Acesso em: 20/09/2017.
SILVA, Rafael Santos; BAESSO, Daniel Cesário; TEÓFILO, Sandro. Espaço Urbano: exclusão, segregação e os vários níveis de habitação em juiz de fora. Porto Alegre – RS: XVI ENG, 2010. Disponível em: http://www.ufjf.br/nugea/files/2010/09/ENG-ESP-URB.pdf. Acesso: 20/09/2017.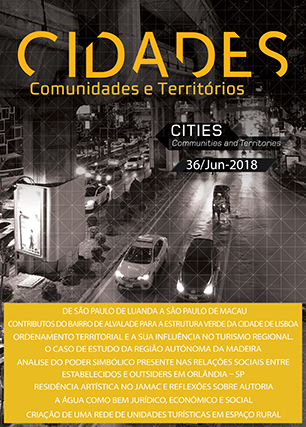 Copyright (c) 2018 Bruno César Pereira, Alexandra Loureço
This work is licensed under a Creative Commons Attribution-NonCommercial-NoDerivatives 4.0 International License.
Cidades, Comunidades e Territórios by
DINÂMIA'CET-IUL
is licensed under a
Creative Commons Atribuição-Uso Não-Comercial-Proibição de realização de Obras Derivadas 4.0 Unported License
.
Permissions beyond the scope of this license may be available at
mailto:cidades.dinamiacet@iscte.pt
.