Artistic residence at JAMAC and reflections on authorship
Keywords:
JAMAC, artistic residence, authorship
Abstract
The JAMAC- Jardim Miriam Arte Clube is an artist initiative put forth by Mônica Nador, who since 2004 has been solving diverse cultural problems creatively with the support of the South Zone of São Paulo residents. The project Paredes Pinturas (Wall Paintings) is best known for the actions developed by JAMAC's team, but there are also partnerships with other organizations and people. Based on the analysis of this visual intervention project, this article discusses how some of the partnerships established among artistic peers and the residency process funded by CCSP - Centro Cultural São Paulo in 2016 contributed to the understanding of contemporary concepts such as co-authorship, shared authorship and others.
 Keywords: JAMAC, Art Residency, creative solutions
References
BOURRIAUD, Nicolas. Estética relacional. São Paulo: Martins, 2009.
HOLMES, Brian. Eventwork: The fourfold matrix of contemporary social movements, In: THOMPSON, Nato (ed.). Living as form: Socially Engaged Art From 1991-2011. New York- EUA; Cambridge- UK (co-published): Creative Time Books; MIT Press, 2012. - p. 72-85.
CANAL JAMAC. Autoria Compartilhada - Mônica Nador. Enviado em 9 de out de 2011. Disponível em: https://www.youtube.com/watch?v=v2fYQTlzDwY Acesso em 15 jul. 2016.
CAUQUELIN, Anne. Freqüentar os incorporais: contribuição a uma teoria da arte contemporânea. São Paulo: Martins, 2008.
CENTRO CULTURAL SÃO PAULO. Editais: Edital de Concurso Programa de Exposições 2016. Disponível em: http://www.centrocultural.sp.gov.br/editais/edital_programa_exposicoes_2016.pdf Acesso em 12 jul. 2016.
JAMAC CINEMA DIGITAL. Projeto. Disponível em: https://jamacdigital.wordpress.com/projeto/ Acesso 05 jul.2016.
KIKANTE. Campanhas: JAMAC. Capacitação. Manutenção Comunidade - São Paulo, SP. Disponível em: http://www.kickante.com.br/campanhas/jamac-capacitacao-de-professores-manutencao Acesso em 12 jul. 2016.
METRÔ DE SÃO PAULO. Mapa da rede. Disponível em: http://www.metro.sp.gov.br/mobile/mapas/mapa.jpg Acesso em 15 jul. 2016.
PALAVRAS-CHAVE. Notícias: Residências: JAMAC e AURORA. Publicado em 12 mai. 2016. Disponível em: http://www.palavraschavearte.com/#!Residências-JAMAC-e-AURORA/cd23/573522e90cf2e405158dcd34 Acesso em 15 jul. 2016.
RIVITTI, Thais (org.). Jamac. São Paulo: Pinacoteca do Estado de São Paulo: Luciana Brito Galeria, 2012.
SÃO PAULO (ESTADO) SECRETARIA DA EDUCAÇÃO. Material de apoio ao Currículo do Estado de São Paulo: Caderno do professor Arte Ensino Médio 1ª série Vol. 1. - nova edição 2014-2017 -. São Paulo: SEE, 2014.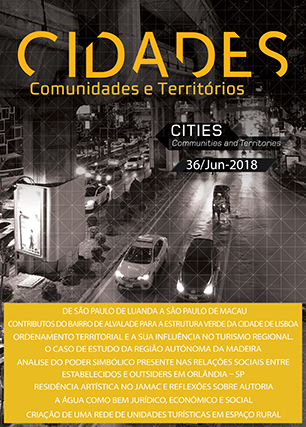 Copyright (c) 2018 Fellipe Eloy Teixeira Albuquerque
This work is licensed under a Creative Commons Attribution-NonCommercial-NoDerivatives 4.0 International License.
Cidades, Comunidades e Territórios by
DINÂMIA'CET-IUL
is licensed under a
Creative Commons Atribuição-Uso Não-Comercial-Proibição de realização de Obras Derivadas 4.0 Unported License
.
Permissions beyond the scope of this license may be available at
mailto:cidades.dinamiacet@iscte.pt
.