Governance of housing policies
(co) production of institutional knowledge and capacity building
Marco Allegra

Instituto de Ciências Sociais da Universidade de Lisboa

Alessandro Colombo

DINÂMIA'CET-IUL, Instituto Universitário de Lisboa
References
Ferrão, J. (2018) "A Habitação regressa à agenda política?", Blogue ATS, 18 Janeiro 2018. Disponível em: https://ambienteterritoriosociedade-ics.org/2018/01/17/a-habitacao-regressa-a-agenda-politica/
Ferreira, A.F. (1993), Livro Branco sobre a Política da Habitação em Portugal, Lisboa: ENH.
Guerra, I. (org.) (2008a) Diagnostico e proposta para uma estratégia de habitação - Sumário Executivo para Debate Público, Lisboa: IHRU.
Guerra, I. (org.) (2008b) Contributos para o Plano Estratégico de Habitação 2008-2013 - Estratégia e modelo de intervenção, Lisboa: IHRU.
Guerra, I. (org.) (1999) Diagnóstico sobre a implementação do programa PER nos municípios das Áreas Metropolitanas de Lisboa e Porto, Lisboa: Instituto Nacional de Habitação.
Monteiro, S., Romão, N. (2018), "Governança Multinível em Portugal: Descentralização sub-regional e local e o papel dos Fundos Europeus", Working Paper n.04, Agência para o Desenvolvimento e Coesão I.P, Unidade de Política Regional, Núcleo de Estudos e Políticas Territoriais, Outubro 2018.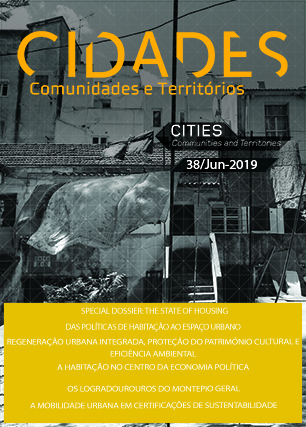 Copyright (c) 2019 Alessandro Colombo, Marco Allegra
This work is licensed under a Creative Commons Attribution-NonCommercial-NoDerivatives 4.0 International License.
Cidades, Comunidades e Territórios by
DINÂMIA'CET-IUL
is licensed under a
Creative Commons Atribuição-Uso Não-Comercial-Proibição de realização de Obras Derivadas 4.0 Unported License
.
Permissions beyond the scope of this license may be available at
mailto:cidades.dinamiacet@iscte.pt
.