(Mis)matches between Academia and Politics
Knowledge, Involvement and Housing in Portugal
Keywords:
Academia, Política, Habitação
References
Alves, A.R. (2013), Para uma compreensão da segregação residencial: o Plano Especial de Realojamento e o (Anti)Racismo, Dissertação de Mestrado em Migrações, Inter-etnicidades e Transnacionalismos, Faculdade de Ciências Sociais e Humanas, Universidade Nova de Lisboa (FCSH-UNL).
Bourdieu, P. (2001), Contrafogos 2: por um movimento social europeu, Rio de Janeiro: Jorge Zahar.
Cachado, R. (2013), "O Programa Especial de Realojamento. Ambiente histórico, político e social", Análise Social, 48 (206), pp. 134-152.
Cardoso de Oliveira, R., Cardoso de Oliveira, L. R. (1996), Ensaios Antropológicos sobre moral e ética, Rio de Janeiro: Tempo Universitário.
Falanga, R. (2013), Developing Change. A Psychosociological action research with Civil Servants engaged in Participatory Processes, Dissertação de Doutoramento em Democracia no Século XXI, Centro de Estudos Sociais, Universidade de Coimbra.
Falanga, R. (2018), "Frontline Bureaucrat", Global Encyclopedia of Public Administration, Public Policy, and Governance, Springer.
Falanga, R., Tulumello, S., Inch, A., Alves, A.R., Jorge, S.; Kühne, J., Silva, R. (2019), "The 'Caravana pelo Direito à Habitação': towards a new movement for housing in Portugal?", Radical Housing Journal, 1(1), pp. 171-187.
Freitas, M. J. (1994), "Os paradoxos do realojamento", Sociedade e Território, 20, pp. 26-34.
Forester, F. (1999), The deliberative practitioner: encouraging participatory planning processes, Cambridge: Cambridge University Press.
Guerra, I. (coord.) (1997), Diagnóstico sobre a Implementação do Programa PER nos Municípios das Áreas Metropolitanas de Lisboa e Porto, Lisboa, Instituto Nacional de Habitação.
Leite, I. B. (org.) (2005), Laudos Periciais Antropológicos em debate. Florianópolis: NUER/ABA.
Santos, A.C. (2006), "Entre a academia e o activismo: Sociologia, estudos queer e movimento LGBT em Portugal", Revista Crítica de Ciências Sociais, 76, pp. 91-108.
Portas, N. (1986), "O Processo SAAL: entre o Estado e o Poder Local", Revista Crítica de Ciências Sociais, 18/19/20, pp. 635-644.
Schön, D.A., Rein, M. (1994), Frame Reflection: Toward the Resolution of Intractable Policy Controversies, New York: Basic Books.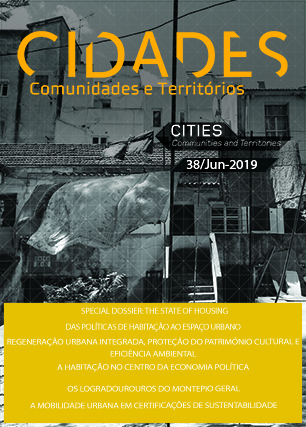 Downloads