Civic participation and housing policies
What challenges for Portugal?
Keywords:
Participação cívica, políticas habitacionais
References
Allegretti, G. (2013), "Participatory Budgeting and Social Justice - Implications of Some Cases in Spain and Italy", in R. Traub-Merz, Y. Sintomer, J. Zhang (Orgs.), Participatory Budgeting in Asia and Europe: Key Challenges of Participation, Basingstoke: Palgrave-McMillan, pp. 166-178
Allegretti, G. (2017), "When Citizen Participation Unexpectedly Grows in Quality and Quantity", in I. David (Org.), Crisis, Austerity, and Transformation. How Disciplinary Neoliberalism is Changing Portugal, London: Lexington Books, pp. 157-178.
Allegretti, G. (2018), "Cercando radici di futuro? Recupero di memoria di un 'sistema partecipativo' incompleto", in A. Coppola, G. Punziello (Orgs.), Roma in transizione. Governo, strategie, metabolismi e quadri di vita di una metropoli, Roma: Planum, pp. 317-335.
Blas, A., Ibarra, P. (2006), "La participación: estado de la cuestión", Cuadernos Hegoa 39, pp. 5-35.
Dias, N. (Org.) (2018), Hope for Democracy - 30 Years of Participatory Budgeting Worldwide, Faro: Oficina.
Falanga, R. (2018), Como aumentar a escala dos orçamentos participativos? O Orçamento Participativo Portugal (OPP) e o Orçamento Participativo Jovem Portugal (OPJP). Policy Brief Observa. Disponível em: http://repositorio.ul.pt/handle/10451/34461.
Guerra, I. (2011), "As políticas de habitação em Portugal: à procura de novos caminhos", Cidades, Comunidades e Territórios, 22, pp. 41-68.
Marini, S. (Org.) (2015), Giancarlo De Carlo. L'architettura della partecipazione, Macerata: Quodlibet.
Morais, P. (2013), Da Corrupção à Crise, Lisboa: Gradiva.
Moreno, C. (2010), Como o Estado Gasta o Nosso Dinheiro, Alfragide: Caderno.
Osmont, A. (1995), La Banque Mondiale et les villes. Du développement à l'ajustement, Paris : Karthala.
Parkinson, J. (2004), "Why deliberate? The encounter between deliberation and new public man-agers", Public Administration, 82 (2), pp. 377–395
Raposo, I., Valente, A. (2010), "Diálogo social ou dever de reconversão? As Áreas Urbanas de Génese Ilegal (AUGI) na Área Metropolitana de Lisboa", Revista Crítica de Ciências Sociais, 91, pp. 221-235.
Sintomer, Y. (2010), "Saberes dos cidadãos e saber político", Revista Crítica de Ciências Sociais, 91, pp. 135-153.
Sintomer, Y., Blondiaux, L. (2002), «L'impératif délibératif », Politix. Revue des sciences sociales du politique, 57, pp. 17-35.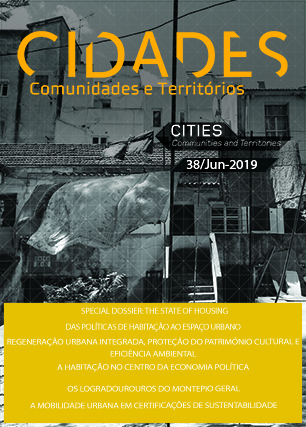 Downloads