Urban family agriculture
Limits of public policy and social representations
Keywords:
agroecology, public arena, Rio de Janeiro, urban agriculture, food safety
Abstract
The article describes the obstacles to the application of family farming public policy in urban areas in Brazil. We show that a series of representations associated with rural-agricultural have been shaping the classification criteria of rural technical assistance technicians (ATER) and in practice define the limits of application of this policy in urban areas. The mobilization of social movements linked to urban agriculture, specifically in the city of Rio de Janeiro, resulted in the construction of a public arena that denounced the lack of access of Rio de Janeiro family farmers to agrarian policies. As a result of this reciprocal effort between debate and action, the criteria for urban agrarian classification were made explicit, and urban family farming was recognized as a public problem and the possibility of intersection between family and urban agriculture policies, designing the theme nationally.
References
Almeida, Daniela Adil (2016), "Isto e aquilo: agriculturas e produção do espaço na Região
Metropolitana de Belo Horizonte (RMBH) ". Tese de Doutorado em Geografia, Belo Horizonte, Universidade Federal de Minas Gerais.
Autor (2018).
DFDA-RJ/SEAD (2017), "Não convencionalidade da atividade agrária urbana e critérios para reconhecimento do agricultor familiar urbano", Nota técnica n.07.
ERÊ – ENCONTRO REGIONAL SUDESTE DE AGROECOLOGIA (2017), "Agriculturas e resistências na Região Metropolitana de Belo Horizonte". Folder.
Fuks, Mário (2001), "Conflitos ambientais no Rio de Janeiro: ação e debate nas arenas públicas", Rio de Janeiro: UFRJ.
Haguette, Teresa Maria Frota (1992), "Metodologias qualitativas na Sociologia", Petrópolis: Vozes.
Hannigan, John (2009), "Sociologia ambiental", Petrópolis-RJ: Vozes.
Kingdon, W. John (2001), "A model of agenda-setting, with applications", Law Review, pp.331-337.
Mattos, Claudemar et al. (2015), "Panorama da agricultura urbana e a construção de políticas públicas no Brasil", Advir, n.34, pp.7-17.
Monte-Mór, Roberto Luis de Melo (1994), "Urbanização extensiva e lógicas de povoamento: um olhar ambiental", In Milton Santos; Maria Adélia Aparecida de Souza; María Laura Silveira (Orgs.),Território, globalização e fragmentação, São Paulo: Hucitec/Anpur, pp. 169-181.
Mougeot, Luc (2000), "Agricultura urbana: conceitos e definições", Revista de agricultura urbana: conceitos e definições.
Available at: https://pt.scribd.com/document/91451973/Mougeot-Luc-Agricultura-urbana-conceito-e-definicao.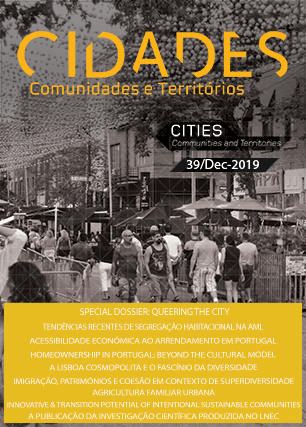 Downloads