Youth and creativity: Between bleak futures and times of conquest
References
Bergson, H. (1985 [1907]). La evolución creadora, Madrid: Espasa-Calpe.
Darder, A. (2017). Decolonizing interpretive research: subaltern sensibilities and the politics of voice, Qualitative Research Journal, 18(2), 94-104.
Dubar, C. (2007). Polyphonie et métamorphoses de la notion d'identité, Revue Française des Affaires Sociales, 2, 11-25.
Ehrenberg, A (1995). L'Individu incertain, Paris: Calmann-Lévy.
Faria, I.; Ferreira, V. S. & Dayrel, J. T. (2018). A arte como arte de existência: experiências de socialização de jovens de origem popular em Salvador, Bahia. Reflexão e Ação, 26, 130–148.
Ferreira, V. S. (2011). Tatuar o corpo jovem hoje: rito de passagem ou rito de impasse? Revista Vivência, 36, 137–156.
Giddens, A. (1997). Modernidad e identidad del yo, Barcelona: Península.
Guerra, P. (2021). So close yet so far: DIY cultures in Portugal and Brazil. Cultural Trends, 30(2), 122–138.
Guerra, P. (2018). Vozes da raiva, punk e subculturas: um roteiro pelas culturas juvenis no Portugal contemporâneo. In Pereira, C. & Beleza, J. (Orgs.). A cultura material nas (sub)culturas juvenis: do DIY às trocas digitais (pp. 25–46). São Paulo: Editora PUC e Editora Mauad.
Guerra, P. (2010). A instável leveza do rock: génese, dinâmica e consolidação do rock alternativo em Portugal, Porto: Faculdade de Letras da Universidade do Porto.
Guerra, P.& & Figueredo, H. G. (2020). Prosopografias clubbers em São Paulo e Londres: Moda, estilo, estética e cenas musicais contemporâneas. Revista TOMO, 37(1), 215–252.
Guerra, P.; Moreira, T. & Silva, A. S. (2016). Estigma, experimentação e risco: a questão do álcool e das drogas na cena punk, Revista Crítica de Ciências Sociais, 109, 33–62.
Guerra, P.& Quintela, P. (Eds.) (2020). Punk, fanzines and DIY Cultures in a global world. Fast, Furious and Xerox, London: Palgrave Macmillan.
Guerra, P. & Quintela, P. (2016a). From Coimbra to London: to live the punk dream and 'meet my tribe'. In Sardinha, J. & Campos, R. (Eds.). Transglobal sounds: music, youth and migration (pp. 31–50), New York/ London: Bloomsbury Publishing.
Guerra, P.& Quintela, P. (2016b). Culturas urbanas e sociabilidades juvenis contemporâneas: um (breve) roteiro teórico. Revista de Ciências Sociais, Fortaleza, 47(1), 193–217.
Guerra, P.; Feixa Pàmpols, C.; Blackman, S. & Ostegaard, J. (2020). Introduction: Songs that Sing the Crisis: Music, Words, Youth Narratives and Identities in Late Modernity. YOUNG: Nordic Journal of Youth Research, 28(1), 5–14.
Hebdige, D.; Feixa Pàmpols, C.; Guerra, P.; Bennett, A., & Quintela, P. (2020). Subcultura, arte y poder: revisitando los cultural studies. ENCRUCIJADAS. Revista Crítica de Ciencias Sociales, 18, 5–13.
McCloud, S. (1993). Understanding comics. The invisible art, New York: Harper Collins Publishers.
Muggleton, D. (2000). Inside subculture: The postmodern meaning of style, Oxford: Berg.
Negrin, L. (1999). The self as image: a critical appraisal of postmodern theories of fashion, Theory, Culture and Society, 16(3), 99–118.
Pais, J. M. (2020). Jóvenes y creatividad: Entre futuros sombrios y tempos de conquista, Madrid: Ned Editions.
Pais, J.M. (2012). A esperança em gerações de futuro sombrio. Estudos avançados, 26, 267–280.
Pais, J.M. (2006). Afetos virtuais: em busca de conexão. In Pais, J.M. (Ed.). Nos rastos da solidão. Deambulações sociológicas (pp. 171–212), Porto: Âmbar.
Pais, J.M. (2005). Jovens e cidadania. Sociologia, Problemas e Práticas, 49, 53–70.
Pais, J.M. (1993). Culturas juvenis, Lisboa: Imprensa de Ciências Sociais.
Pàmpols, C.F. & Pais, J.M. (2020). "Perseguindo os ventos do tempo": Jovens, passados compostos e futuros possíveis. Revista Todas as Artes. Revista Luso-brasileira de Artes e Cultura, 3, 1, 10–22.
Pancot, C. & Lusiani, M. (2021). Beyond dualism? Exploring the polyphonic dimension of cultural productions, The Journal of Arts Management, Law, and Society, 51(1), 73–91.
Plummer, K. (2003). Intimate citizenship: Private decisions and public dialogues, Seattle: University of Washington Press.
Sandoval, J. (2003). Ciudadanía y juventud: el dilema entre la integración social y la diversidad cultural, Última Década, 11(19), 31–45.
Schütz, A. (1962). Collected Papers I: The Problem of Social Reality, La Haya: Martinus Nijhoff.
Smelser, J.M. (1963). Theory of Collective Behavior, Nueva York: The Free Press of Glencoe.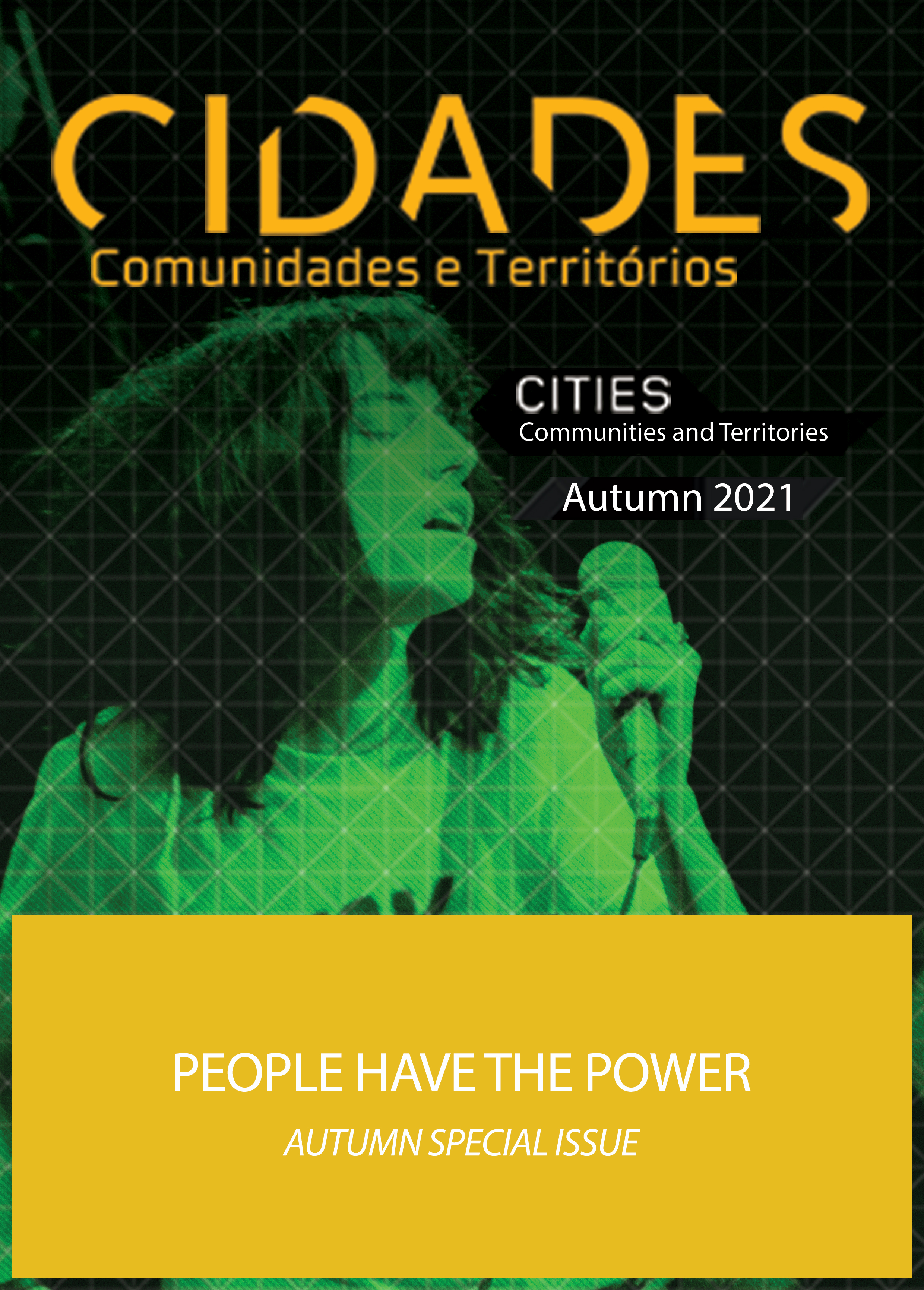 Downloads
License
Copyright (c) 2021 Paula Guerra
This work is licensed under a Creative Commons Attribution-NonCommercial-NoDerivatives 4.0 International License.
Cidades, Comunidades e Territórios by
DINÂMIA'CET-IUL
is licensed under a
Creative Commons Atribuição-Uso Não-Comercial-Proibição de realização de Obras Derivadas 4.0 Unported License
.
Permissions beyond the scope of this license may be available at
mailto:cidades.dinamiacet@iscte.pt
.