Book review of: MORE. Expanding architecture from a gender-based perspective
References
Álvarez Lombardero, N. (Ed.) (2015). ArquitectAs: Redefiniendo la profesión. Málaga: Recolectores Urbanos Editorial. http://ilibri.casalini.it/toc/3154413
Álvarez Lombardero, N. (2020). MORE and LARGER. The network as a vindication tool. Em S. Amoroso, E. Saree, D. Saldanã, H. Cardona, J. Goula, M. Novas, & A. Vilaplana (Eds.). MORE. Expanding architecture from a gender-based perspective (pp. 25–30). Didapress. Dipartimento di Architettura DIDA dell'Università degli Studi di Firenze. https://issuu.com/dida-unifi/docs/more._expanding_architecture_from_a_gender-based_p
Amoroso, S., Saree, E., Saldanã, D., Cardona, H., Goula, J., Novas, M., & Vilaplana, A. (2020). MORE. Expanding architecture from a gender-based perspective. Didapress. Dipartimento di Architettura DIDA dell'Università degli Studi di Firenze. https://issuu.com/dida-unifi/docs/more._expanding_architecture_from_a_gender-based_p
Pedrosa, P. S., Oliveira, C., Santos, E. S., Antunes, L., Paiva, L., Sequeira, J., & Souto, M. H. (Eds.). (2021). Acção! V CIAG V Congresso Internacional Arquitectura e Género. Acção! Feminismos e a espacialização das resistências. Livro de Resumos. CIEG/ISCSP-Universidade de Lisboa. https://warch.iscsp.ulisboa.pt/wp-content/uploads/2021/04/v-ciag-2021-book-abstracts.pdf
Puleo, A. (2011). Ecofeminismo para otro mundo posible. Cátedra.
Reisinger, K. (2020). Connective Oscillations: Wondrous architectures between the devil and the deep blue sea. Em S. Amoroso, Saree, E., D. Saldanã, H. Cardona, J. Goula, M. Novas, & A. Vilaplana (Eds.). MORE. Expanding architecture from a gender-based perspective (pp. 439–452). Didapress. Dipartimento di Architettura DIDA dell'Università degli Studi di Firenze. https://issuu.com/dida-unifi/docs/more._expanding_architecture_from_a_gender-based_p.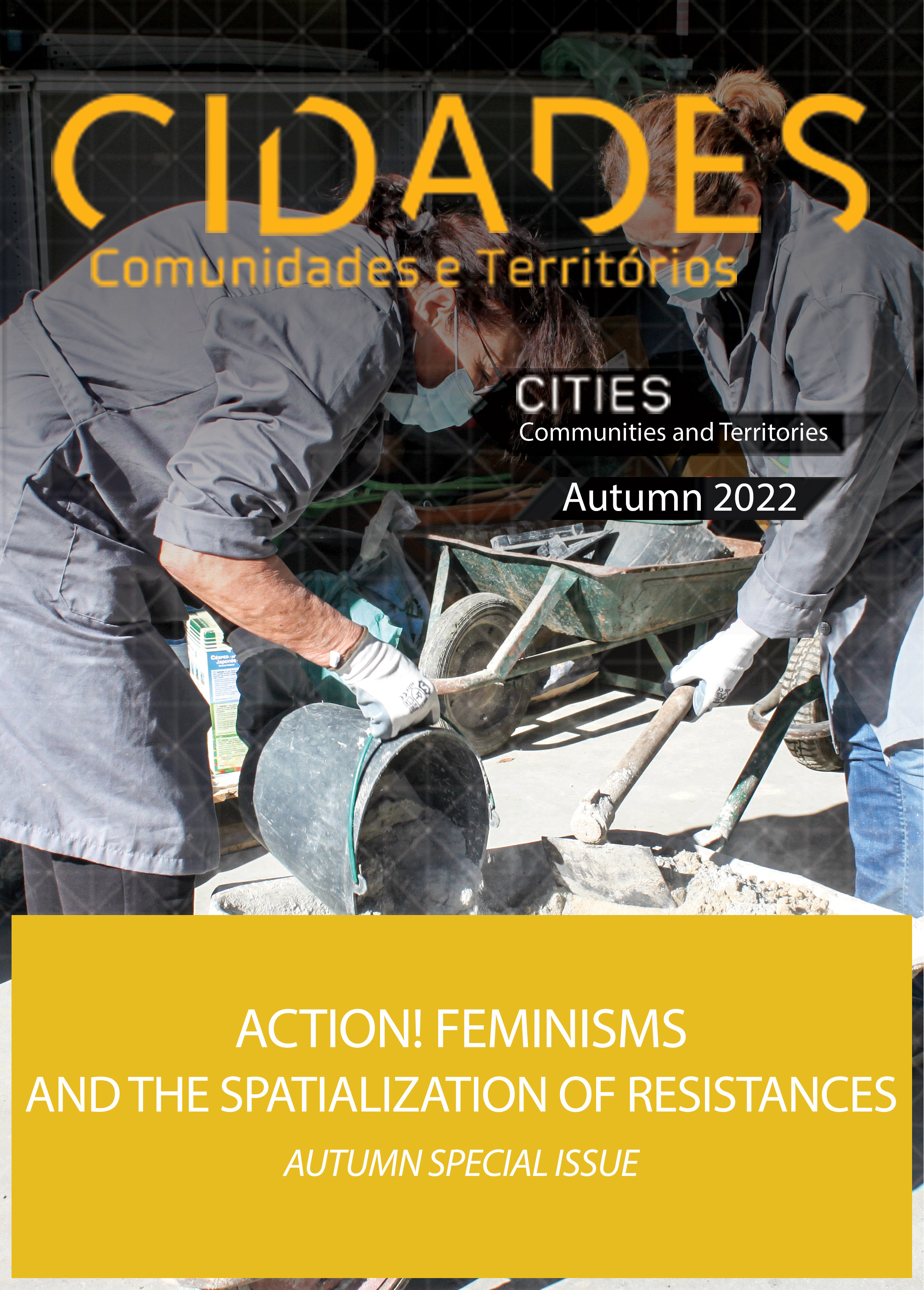 Downloads
License
Copyright (c) 2022 Lia Antunes
This work is licensed under a Creative Commons Attribution-NonCommercial-NoDerivatives 4.0 International License.
Cidades, Comunidades e Territórios by
DINÂMIA'CET-IUL
is licensed under a
Creative Commons Atribuição-Uso Não-Comercial-Proibição de realização de Obras Derivadas 4.0 Unported License
.
Permissions beyond the scope of this license may be available at
mailto:cidades.dinamiacet@iscte.pt
.