Book review of: Advanced Introduction to Social Innovation
Keywords:
Inovação social
Abstract
O termo inovação social é ubíquo nos dias de hoje. Apesar de o termo e a sua teorização remeter para a fundação da sociologia, só recentemente a academia se dedicou ao estudo da inovação social enquanto fenómeno social, em não pequena parte devido ao considerável investimento que instituições nacionais e europeias têm feito nesta linha de investigação. Se estes esforços permitiram que a inovação social crescesse e se consolidasse num surpreendente intervalo temporal, também tiveram o efeito adverso de produzirem tanta variedade de abordagens, modelos, teorias, definições e narrativas, ao ponto de ser virtualmente impossível conciliar e sintetizar tanta diversidade. Esta introdução avançada tem o mérito de ser apelativa na forma como introduz a inovação social, sem qualquer prajuízo para a sua complexidade científica, ao mesmo tempo que não de coibe de abordar algunas dos elementos mais complexos do campo, convidando o leitor a explorar bibliografia adicional. Uma obra particularmente útil para iniciantes no campo ou para quem instrui sobre inovação social e procura uma obra atualizada, convidativa, resumida e cientificamente robusta.
References
European Commission (2019). Report from the Commission on the mid-term evaluation of the European Union Programme for Employment and Social Innovation (EaSI), Bruxelas.
Godin, B. (2012). Social Innovation: Utopias of Innovation from c.1830 to the Present, Project on the Intellectual History of Innovation Working Paper, 11.
Godin, B. & Vinck, D. (eds.) (2017). Critical Studies of Innovation: Alternative Approaches to the Pro-Innovation Bias. Cheltenham: Edward Elgar Publishing.
MacCallum, D., Moulaert, F., Hillier, J. & Haddock, S. (eds.) (2009). Social Innovation and Territorial Development, Surrey: Ashgate.
McGowan, K., Westley, F. & Tjornbo, O. (2017). The History of Social Innovation. In F. Westley, K. McGowan, & O. Tjornbo (eds.), The Evolution of Social Innovation: Building Resilience Through Transitions (pp. 1–17). Cheltenham: Edward Elgar Publishing,.
Moulaert, F., MacCallum, D., & Hillier, J. (2013), Social innovation: intuition, precept, concept, theory and practice. In F. Moulaert, D. MacCallum, A. Mehmood, & A. Hamdouh (eds.), The International Handbook on Social Innovation (pp. 13–24). Cheltenham: Edward Elgar Publishing.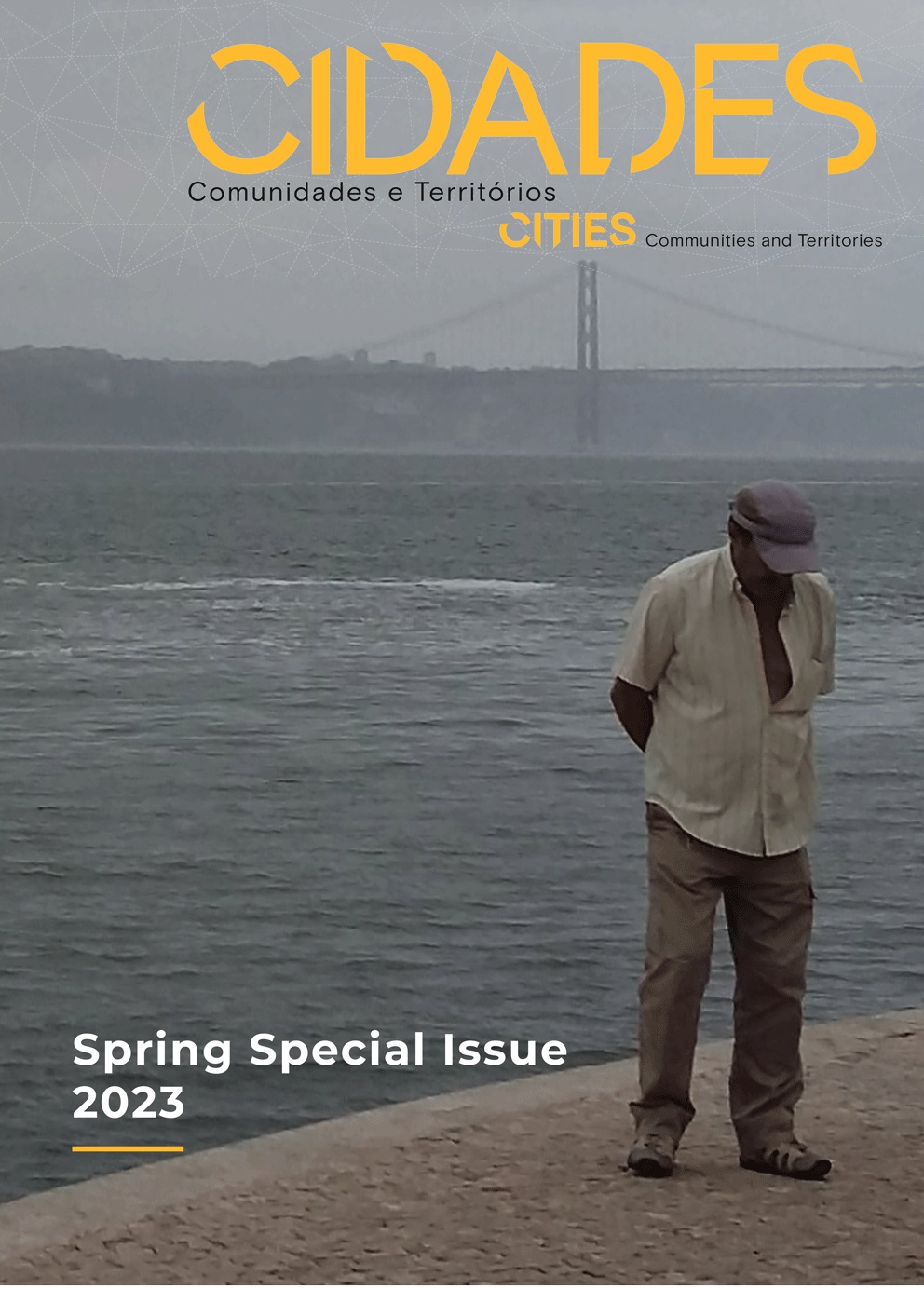 Downloads
License
Copyright (c) 2023 André Guerreiro
This work is licensed under a Creative Commons Attribution-NonCommercial-NoDerivatives 4.0 International License.
Cidades, Comunidades e Territórios by
DINÂMIA'CET-IUL
is licensed under a
Creative Commons Atribuição-Uso Não-Comercial-Proibição de realização de Obras Derivadas 4.0 Unported License
.
Permissions beyond the scope of this license may be available at
mailto:cidades.dinamiacet@iscte.pt
.