Neighborhood relations in social support networks in a social housing
A study with residents in the Barrio de Santiago in Aveiro
Ana Paula Caetano

IPSS Florinhas do Vouga

Sónia Guadalupe

Instituto Superior Miguel Torga e Centro de Estudos da população, Economia e Sociedade
Keywords:
social support network, social housing, neighbour relations
Abstract
The present study describes the relationships networks with neighbours and the perceived social support by the residents of Santiago neighbourhood in Aveiro. The sample consists of 80 local residents, 50 women and 30 men aged between 18 and 83 years old. To assess the studied variables we used a questionnaire to characterize the socio-demographic and socio-professional situations, the residence, and the perceived relationship with the neighbourhood, the Instrument of Social Ego-Network Analysis in a modified version (Guadalupe, 2009), and the eco-map for the characterization of the relationship observed with a secondary network (Hartman & Laird, 1983). About half of the sample reported that they like living in the neighbourhood, characterizing it as their ideal place of residence and indicating that they have a very close relationship with their neighbours. The older residents of the neighbourhood have smaller support networks, but with a higher quadrant of neighbourly relations within the network. The ideal place of residence and close neighbourly relations appear to be decisive in the perceived quality of support, particularly in the frequency of contact with the quadrant of the social network neighbourhood. This study offers us an approach to how networks are woven in this neighbourhood, leading us to rethink social intervention in order to leverage the resources of neighbourly relations and foreign affairs to the neighbourhood.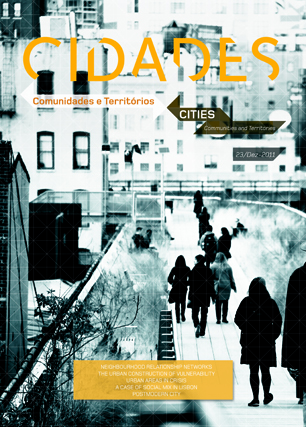 Copyright (c) 2012 Ana Paula Caetano, Sónia Guadalupe
This work is licensed under a Creative Commons Attribution-NonCommercial-NoDerivatives 4.0 International License.
Cidades, Comunidades e Territórios by
DINÂMIA'CET-IUL
is licensed under a
Creative Commons Atribuição-Uso Não-Comercial-Proibição de realização de Obras Derivadas 4.0 Unported License
.
Permissions beyond the scope of this license may be available at
mailto:cidades.dinamiacet@iscte.pt
.