Retinal structural changes before and after idiopathic epiretinal membrane peeling - a study using OCT segmentation
Filipa Rebordão Caiado Sousa

Hospital Santa Maria
Resumo
Abstract
Purpose: We aim to study the microstructural changes and thickness of individual retinal layers in patients with idiopathic epiretinal membrane (ERM) treated with peeling.
Methods: 47 eyes of 46 patients underwent macular SD-OCT scan before and after ERM peeling. Visual acuity (VA) and central retinal layers thickness were recorded before and at the last follow up visit.
Results: The layers that most have changed and contributed to the reduction of central thickness treated with peeling were the Internal Retinal Layers (IRL): Retinal Nerve Fiber Layer (RNFL), Ganglionar Cell Layer (GCL) and Internal Plexiform Layer (IPL).
Conclusions: Visual acuity improvement was not statistically correlated with CMT or IRL thickness reduction, probably due to a small number of patients. However. alterations in the thickness of each retinal layers are easily obtained and its value as a noninvasive  biomarker of VA warrants further investigation.
Keywords: idiopathic epiretinal membrane, individual retinal layers, thickness changes, automated segmentation, optical coherence tomography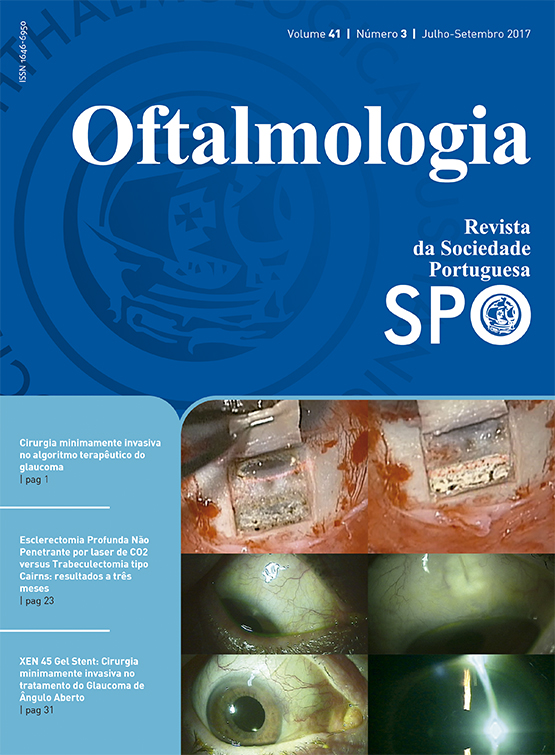 Os autores dos manuscritos submetidos para publicação deverão ceder, a título integral e permanente, os direitos de autor (copyright) à revista Oftalmologia da Sociedade Portuguesa de Oftalmologia. A cedeência de direitos de autor permite a publicação e divulgação do artigo em formato impresso ou electrónicoe entrará em vigor a partir da data de aceitação do manuscrito. Os autores concedem, ainda, os direitos para a revista Oftalmologia utilizar e explorar o respectivo artigo, nomeadamente para licenciar o seu conteúdo a bases de indexação.