Idiopathic choroidal neovascularization in a 10 year-old child treated with intravitreal bevacizumab injections
Rita Couceiro

Hospital de Santa Maria, CHLN

Miguel Amaro

Hospital Vila Franca de Xira

Ana Ferreira

Hospital Vila Franca de Xira

Diogo Cavalheiro

Hospital Vila Franca de Xira
Resumo
Purpose: to report a case of idiopathic choroidal neovascularization (CNV) in a pediatric patient successfully treated with intravitreal bevacizumab injections.  Methods: case report of a 10 year-old patient, who presented with reduced unilateral visual acuity during a visual screening. Complete ophthalmological examination was performed, along with fluorescein angiography, spectral domain optic coherence tomography (SD-OCT), fundus autofluorescence, ocular ultrasound, magnetic resonance imaging (MRI) of the brain and orbits and infectious serologies. Results: visual acuity was 20/400 in the left eye (OS) and 20/20 in the right eye (OD). No significant refractive error was detected. Fundoscopy in OS revealed a subretinal macular lesion associated with subretinal hemorrhage and fluid. Fluorescein angiography and SD-OCT confirmed the presence of NVC. Retinal hereditary dystrophies, along with infectious and neoplastic causes were excluded. The patient underwent two intravitreal bevacizumab injections in OS with a 3 months interval. Treatment resulted in progressive fibrosis of NVC, resolution of subretinal fluid and improvement of visual acuity in OS to 20/125, which remained stable 4 years after treatment. Conclusions: In the case of pediatric NVC, retinal hereditary dystrophies along with infectious and neoplastic causes should be excluded after a thorough investigation. No standard treatment for CNV in children has yet been validated. In our patient anti-vascular endothelial growth factor (VEGF) treatment induced regression of the CNV and resolution of subretinal fluid with a modest recovery in visual acuity and no reported ocular or systemic side effects.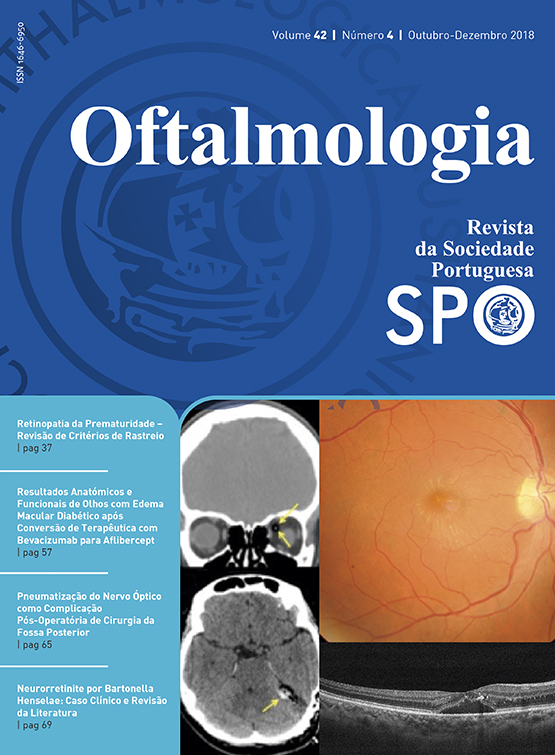 Secção
Comunicações curtas e casos clínicos
Os autores dos manuscritos submetidos para publicação deverão ceder, a título integral e permanente, os direitos de autor (copyright) à revista Oftalmologia da Sociedade Portuguesa de Oftalmologia. A cedeência de direitos de autor permite a publicação e divulgação do artigo em formato impresso ou electrónicoe entrará em vigor a partir da data de aceitação do manuscrito. Os autores concedem, ainda, os direitos para a revista Oftalmologia utilizar e explorar o respectivo artigo, nomeadamente para licenciar o seu conteúdo a bases de indexação.