SHAKEN BABY SYNDROME – 10 YEARS EXPERIENCE IN A PAEDIATRIC INTENSIVE CARE SERVICE
Keywords:
Retinal haemorrhages, shaken baby syndrome, subdural haematomas
Abstract
Introduction: Shaken baby syndrome is one of the causes of non-accidental injury most difficult to diagnose.
Objectives: To characterize the patients hospitalized in the intensive care unit with shaken baby syndrome.
Material and Methods: Retrospective study of patients admitted at the Paediatric Intensive Care Unit with shaken baby syndrome from 1 January 1999 to 31 December 2009.
Results: There were eight children with shaken baby syndrome. The mean age was 4.1 months and five patients were male. One patient had a history of trauma. The most frequent cause of admission were epileptic seizures with cardiorespiratory/ respiratory arrest (50%). Bilateral retinal haemorrhages were present in six patients (75%). The CT scan showed subdural haematomas in all patients. Seven patients (87.5%) required mechanical ventilation, and five (62.5%) required inotropic support. The mean length of hospitalization was 5.25 days (1 -11 days). One patient died. Three patients showed no sequelae. There was a transient hemiparesis in one patient. Three patients presented epilepsy and deficits in visual acuity or hearing and in one case there was loss of prior acquisitions with a moderate to severe retardation of psychomotor development.
Conclusion: In our study Shaken Baby Syndrome resulted in high morbidity with long-term sequelae in five patients (62,5%), consistent with data published in other series. The mortality rate was lower than in previous studies (12.5%). The presence of traumatic history was mentioned only in one case and, although all of them presented subdural haematomas, 25% of cases had no retinal haemorrhages. The clinical presentation was very severe and in most cases a high degree of suspicion is necessary in the diagnosis.
References
Matschke J, Herrmann B, Sperhake J, Körber F, Bajanowski T, Glatzel M. Shaken Baby Syndrome – a common variant of non -accidental head injury in infants. Dtsch Arztebl Int 2009; 106: 211 -17.
Forbes B. Abusive head trauma in infants and young children: anatomy and pathogenesis of retinal hemorrhages. In: UpTo-Date, Paysse, E (Ed), UpToDate, Waltham, MA, 2009.
Togioka BM, Arnold MA, Bathurst MA, Ziegfeld SM, Nabaweesi R, Colombani PM, et al. Retinal Hemorrhages and Shaken Baby Syndrome: an evidence -based review. J Emerg Med 2009; 37:98 -106.
Christian C, Endom E. Evaluation and diagnosis of abusive head injury in infants and children. In: UpToDate, Wiley, J (Ed), UpToDate, Waltham, MA, 2010
Christian C, Greenbaum V. Epidemiology, mechanisms and types of abusive head injury in infants and children. Acedido em: 2009. Disponível em: UpToDate.
Squier W. Shaken baby syndrome: the quest for evidence. Dev Med Child Neurol 2008; 50:10 -4.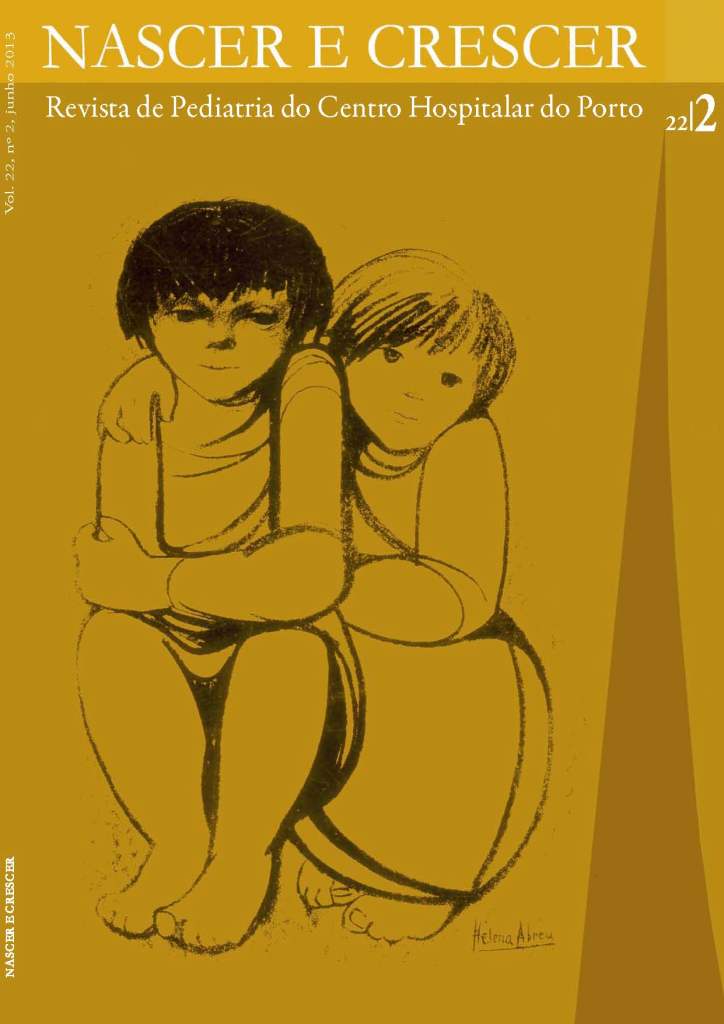 Downloads
How to Cite
Lourenço, L., Silva, M., Lisboa, L., da Mota, T. C., & Ribeiro, A. (2017). SHAKEN BABY SYNDROME – 10 YEARS EXPERIENCE IN A PAEDIATRIC INTENSIVE CARE SERVICE. NASCER E CRESCER - BIRTH AND GROWTH MEDICAL JOURNAL, 22(2), 72–74. https://doi.org/10.25753/BirthGrowthMJ.v22.i2.10751
Section
Original Articles
License
Copyright and access
This journal offers immediate free access to its content, following the principle that providing free scientific knowledge to the public provides greater global democratization of knowledge.
The works are licensed under a Creative Commons Attribution Non-commercial 4.0 International license.
Nascer e Crescer – Birth and Growth Medical Journal do not charge any submission or processing fee to the articles submitted.