Treatment interruption in small for age term-born children
Keywords:
growth hormone, growth impairment, small-for-gestational-age
Abstract
Small-for-gestational-age children have been associated with up to 20% delayed growth and delayed development, increased childhood morbimortality, and poor quality of life. Prepubertal growth hormone administration results in increased growth and musculoskeletal development. The present case report illustrates the negative impact of growth hormone disruption in a 6-year-old patient, resulting in impaired growth and development. Close clinical and laboratory monitoring is recommended for small-for-gestational-age children receiving growth hormone treatment, and family counselling should be encouraged.
Downloads
Download data is not yet available.
References
Hofman PL, Regan F, Jackson WE, Jefferies C, Knight DB, Robinson EM, et al. Premature birth and later insulin resistance. N Engl J Med. 2004; 351:2179-86.
Griffin IJ, Lee HC, Profit J, Tancedi DJ. The smallest of the small: short-term outcomes of profoundly growth restricted and profoundly low birth weight preterm infants. J Perinatol. 2015; 35:503-10.
Boguszewski MC, Mericq V, Bergada I, Damiani D, Belgorosky A, Gunczler P, et al. Latin American consensus: children born small for gestational age. BMC Pediatr. 2011; 11:66.
Stalman SE, Solanky N, Ishida M, Aleman-Charlet C, Abu-Amero S, Alders M, et al. Genetic Analyses in Small for Gestational Age Newborns. J Clin Endocrinol Metab. 2018; 103:917-25.
Lee AC, Katz J, Blencowe H, Cousens S, Kozuki N, Vogel JP, et al. National and regional estimates of term and preterm babies born small for gestational age in 138 low-income and middle-income countries in 2010. Lancet Glob Health. 2013; 1:e26-36.
Taha TE, Dadabhai SS, Rahman MH, Sun J, Kumwenda J, Kumwenda NI. Trends in birth weight and gestational age for infants born to HIV-infected, antiretroviral treatment-naive women in Malawi. Pediatr Infect Dis J. 2012; 31:481-6.
Spracklen CN, Ryckman KK, Harland K, Saftlas AF. Effects of smoking and preeclampsia on birth weight for gestational age. J Matern Fetal Neonatal Med. 2015; 28:679-84.
Bogaerts A, Ameye L, Martens E, Devlieger R. Weight loss in obese pregnant women and risk for adverse perinatal outcomes. Obstet Gynecol. 2015; 125:566-75.
Gauthier TW, Guidot DM, Kelleman MS, McCracken CE, Brown LA. Maternal Alcohol Use During Pregnancy and Associated Morbidities in Very Low Birth Weight Newborns. Am J Med Sci. 2016; 352:368-75.
Puertas A, Magan-Fernandez A, Blanc V, Revelles L, O'Valle F, Pozo E, et al. Association of periodontitis with preterm birth and low birth weight: a comprehensive review. J Matern Fetal Neonatal Med. 2018; 31:597-602.
Clayton PE, Cianfarani S, Czernichow P, Johannsson G, Rapaport R, Rogol A. Management of the child born small for gestational age through to adulthood: a consensus statement of the International Societies of Pediatric
Endocrinology and the Growth Hormone Research Society. J Clin Endocrinol Metab. 2007; 92:804-10.
Albertsson-Wikland K, Karlberg J. Natural growth in children born SGA with and without catch up growth. Horm Res. 2003; 59:129.
Boonstra V, van Pareren Y, Mulder P, Hokken-Koelega A. Puberty in growth hormone-treated children born small for gestational age (SGA). J Clin Endocrinol Metab. 2003; 88:5753-8.
Methusalemsdottir HF, Egilson S, Guethmundsdottir R, Valdimarsdottir UA, Georgsdottir I. Quality of life of adolescents born with extremely low birth weight. Acta Paediatr. 2013; 102:597-601.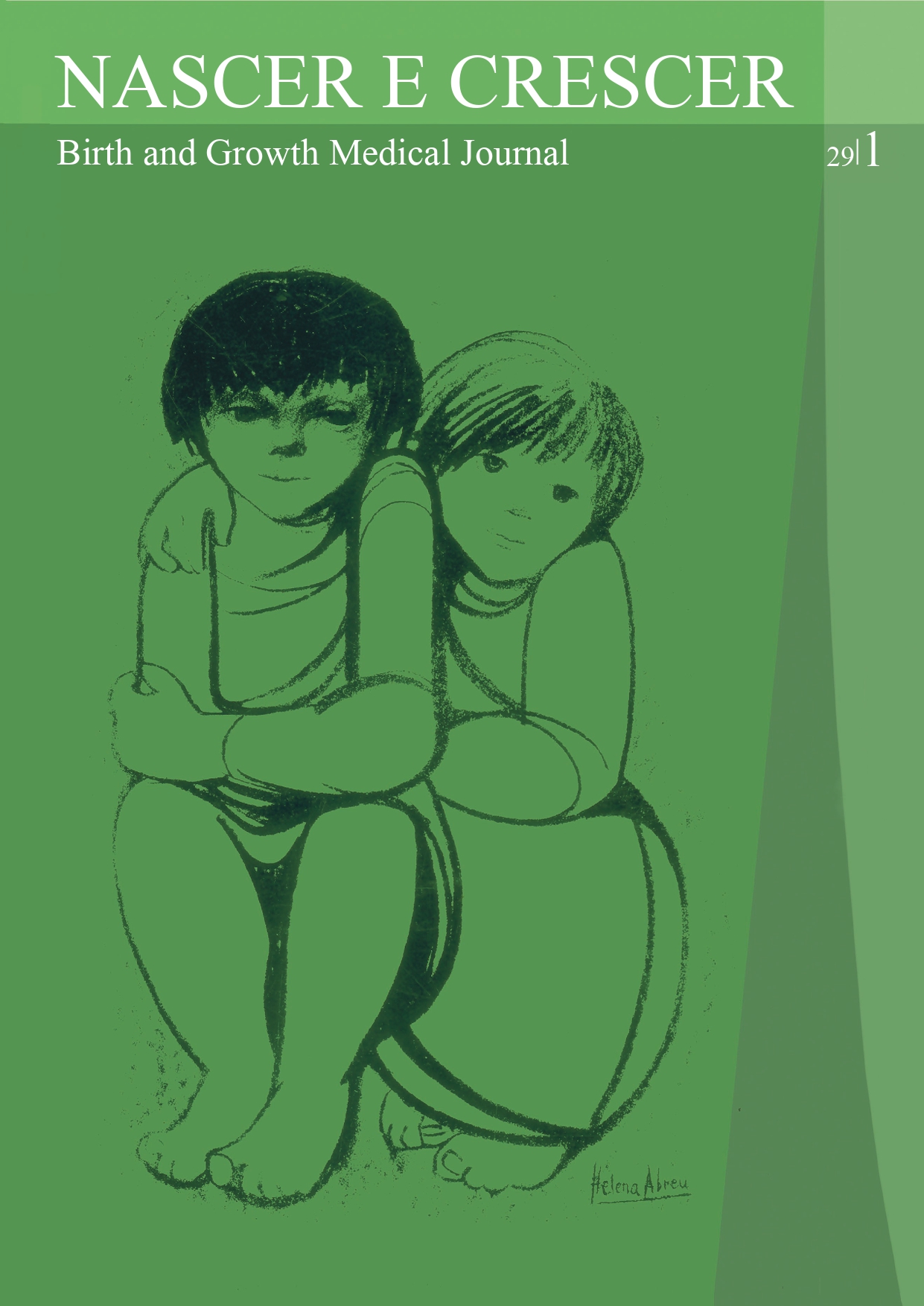 Downloads
How to Cite
1.
Frascino A, Cominato L. Treatment interruption in small for age term-born children. REVNEC [Internet]. 2020Mar.24 [cited 2022Jul.7];29(1):47-50. Available from: https://revistas.rcaap.pt/nascercrescer/article/view/15101
License
Copyright and access
This journal offers immediate free access to its content, following the principle that providing free scientific knowledge to the public provides greater global democratization of knowledge.
The works are licensed under a Creative Commons Attribution Non-commercial 4.0 International license.
Nascer e Crescer – Birth and Growth Medical Journal do not charge any submission or processing fee to the articles submitted.