Small deletion in the critical region of Cri-du-chat syndrome associated with cat-like cry
Keywords:
cat-like cry, chromosome 5, Cri-du-chat, facial dysmorphism, microcephaly
Abstract
Cri-du-chat syndrome is a rare disorder caused by a deletion of part of the short arm of chromosome 5. It is characterized by the presence of clinical features at birth, namely cat-like cry, low weight, microcephaly, and facial dysmorphism. The corresponding phenotypes vary from minimal features to a complete phenotype.
Herein is described the case of an infant who presented from birth with cat-like cry and a peculiar face with a wide nasal bridge and thin upper lip. The genetic study revealed a very small deletion on the short arm of chromosome 5, which has not been described in the literature and may represent a novel variant of this recurrent deletion. Furthermore, since the main feature of this case is the cat-like cry, the considered deletion (detected only by microarray analysis) could be associated with this specific feature.
Downloads
Download data is not yet available.
References
Santo LDE, Moreira LMA, Riegel M. Cri-Du-Chat Syndrome: Clinical Profile and Chromossomal Microarray Analysis in Six Patients. Biomed Res Int. 2016; 2016:5467083.
Mainardi PC. Cri du Chat syndrome. Orphanet J Rare Dis. 2006; 1:33.
Liverani ME, Spano A, Danesino C, Malacarne M, Cavani S, Spunton M, et al. Children and adults affected by Cri du Chat syndrome: Care's recommendations. Pediatr Rep. 2019; 11(1):7839.
Mainardi P, Perfumo C, Cali A, Coucourde G, Pastore G, Cavani S, et al. Clinical and molecular characterisation of 80 patients with 5p deletion: genotype-phenotype correlation. J Med Genet. 2001; 38(3):151-8.
Corrêa T, Feltes BC, Riegel M. Integrated analysis of the critical region 5p15.3-p15.2 associated with cri-du-chat syndrome. Genet Mol Biol. 2019; 42(1 suppl 1):186-96.
Wu Q, Niebuhr E, Yang H, Hansen L. Determination of the 'critical region' for cat-like cry of Cri-du-chat syndrome and analysis of candidate genes by quantitative PCR. Eur J Hum Genet. 2005; 13(4):475-85.
JM Nguyen, Qualmann KJ, Okashah R, Reilly AS, Alexeyev MF, Campbell DJ. 5p Deletions: Current knowledge and future directions. Am J Med Genet C Semin Med Genet. 2015; 169(3):224-38.
Zhang B, Willing M, Grange DK, Shinawi M, Manwaring L, Vineyard M, et al. Multigenerational autosomal dominant inheritance of 5p chromosomal deletions. Am J Med Genet A. 2016; 170(3):583-93.
Elmakky A, Carli D, Lugli L, Torelli P, Guidi B, Falcinelli C, et al. A three-generation family with terminal microdeletion involving 5p15.33-32 due to a whole-arm 5;15 chromosomal translocation with a steady phenotype of atypical cri du chat syndrome. Eur J Med Genet. 2014; 57(4):145-50.
Chehimi SN, Zanardo ÉA, Ceroni JRM, Nascimento AM, Madia FAR, Dias AT, et al. Breakpoint delineation in 5p- patients leads to new insights about microcephaly and the typical high-pitched cry. Mol Genet Genomic Med. 2020; 8(2):957.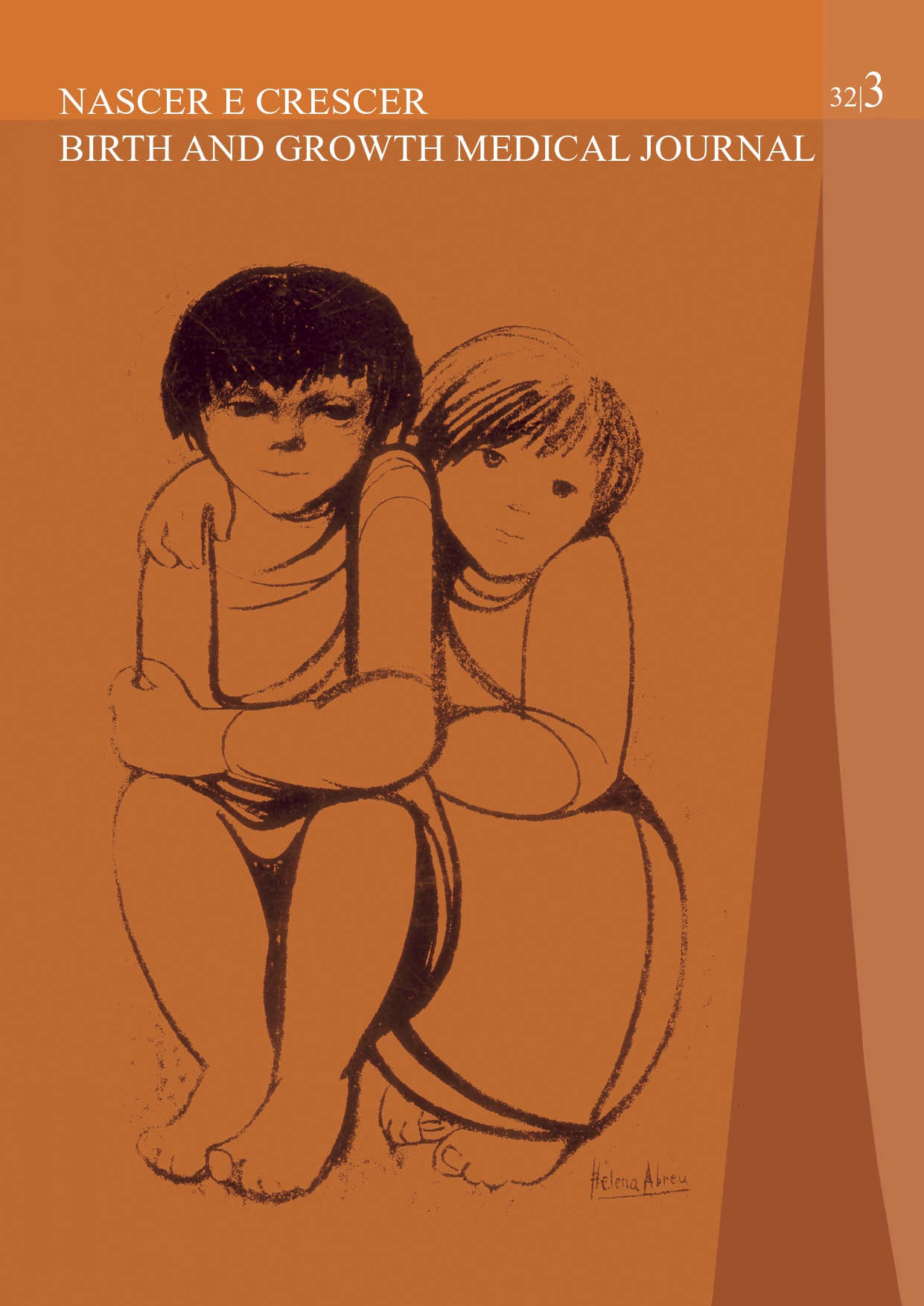 Downloads
How to Cite
1.
Freitas C, Rendeiro P, Costa MJ. Small deletion in the critical region of Cri-du-chat syndrome associated with cat-like cry. REVNEC [Internet]. 2023Nov.16 [cited 2023Dec.10];32(3):228-31. Available from: https://revistas.rcaap.pt/nascercrescer/article/view/25666
License
Copyright (c) 2023 Catarina Freitas, Paula Rendeiro, Maria José Costa
This work is licensed under a Creative Commons Attribution-NonCommercial 4.0 International License.
Copyright and access
This journal offers immediate free access to its content, following the principle that providing free scientific knowledge to the public provides greater global democratization of knowledge.
The works are licensed under a Creative Commons Attribution Non-commercial 4.0 International license.
Nascer e Crescer – Birth and Growth Medical Journal do not charge any submission or processing fee to the articles submitted.