Venous thromboembolism in children
Keywords:
Adolescence, prophylaxis, thrombophilia, thrombophlebitis
Abstract
Introduction: Venous thromboembolism is rare among children and has a multi-factorial aetiology. It's important to establish the diagnosis and evaluate the functional prognosis.
Case report: A previously healthy 11 year old adolescent was observed in the emergency room with clinical signs of superficial venous thrombosis of the upper limb. Laboratorial evaluation showed a sedimentation rate, coagulation study, autoimmune antibodies and homocysteine with normal values. Testing for heritable thrombophilia revealed prothrombin mutation (G20210A, heterozigosity) and mutation of PAI-1 (4G e -844A), both of which are associated with hypercoagulable state and indication to do prophylaxis with low molecular weight heparin in higher risk situations.
Discussion/Conclusion: The rarity of thromboembolic events at this age and the atypical localization lead to an exhaustive laboratorial evaluation. Thrombophilia mutations may clinically become evident in adolescence, and its detection is important because of children's lifestyle and the need of prophylactic treatment in some situations.
Downloads
Download data is not yet available.
References
Andrew M, David M, Adams M, Ali K, Anderson R, Barnard D, et al. Venous thromboembolic complications (VTE) in children: first analyses of the Canadian Registry of VTE. Blood 1994; 83:1251-7.
Chan AK, Deveber G, Monagle P, Brooker LA, Massicotte PM. Venous thrombosis in children. J Thromb Haemost 2003; 1:1443-55.
Maffei FH, Yoshida WB, Lastória S. Venous thromboembolism in children and adolescents. J Vasc Br 2002; 1:121-8.
Kalodiki E, Nicolaides AN. Superfi cial thrombophlebitis and low-molecular-weight heparins. Angiology 2002; 53:659-63.
Bagot CN, Arya R. Virchow and his triad: a question of attribution. Br J Haematol 2008; 143:180-90.
Kuhle S, Massicotte P, Chan A, Adams M, Abdolell, de Veber G, et al. Systemic thromboembolism in children. Data from the 1-800-NO-CLOTS Consultation Service. Thromb Haemost 2004; 92:722-8.
Loureiro C, Rezende T. Tromboembolismo venoso aos 6 anos. Acta Pediatr Port 2007; 38:265-7.
Van Weert H, Dolan G, Wichers I, de Vries C, ter Riet G, Buller H. Spontaneous superfi cial venous thrombophlebitis: does it increase risk for thromboembolism? J Fam Pract 2006; 55:52-7.
Sobreira ML, Yoshida WB, Lastória S. Superfi cial thrombophlebitis: epidemiology, physiopathology, diagnosis and treatment. J Vasc Bras 2008; 7:131-43.
Tuckuviene R, Christensen AL, Helgestad J, Johnsen SP, Kristensen SR. Pediatric venous and arterial noncerebral thromboembolism in Denmark: a nationwide population based study. J Pediatr 2011; 159:663-9.
Silva AS, Brazão ML, Granito S, Escórcio S, Jardim M, Silva S, et al. Distúrbios pró-trombóticos e trombofi lias. Rev Med Int 2010; 17:49-64.
Baglin T, Gray E, Greaves M, Hunt B, Keeling D, Machin S, et al. Clinical guidelines for testing for heritable thrombophilia. Br J Haematol 2010; 149:209-20.
Young G, Albisetti M, Bonduel M, Brandão L, Chan A, Friedrichs F, et al. Impact of inherited thrombophilia on venous thromboembolism in children: A systematic review and meta-analysis of observational studies. Circulation 2008; 118:1373-82.
Khan S, Dickerman JD. Hereditary thrombophilia. Thromb J 2006; 4:15.
Segal JB, Streiff MB, Hoffman LV, Thornton K, Bass EB. Management of Venous Thromboembolism: a systematic review for a practice Guideline. Ann Intern Med 2007; 146:211-22.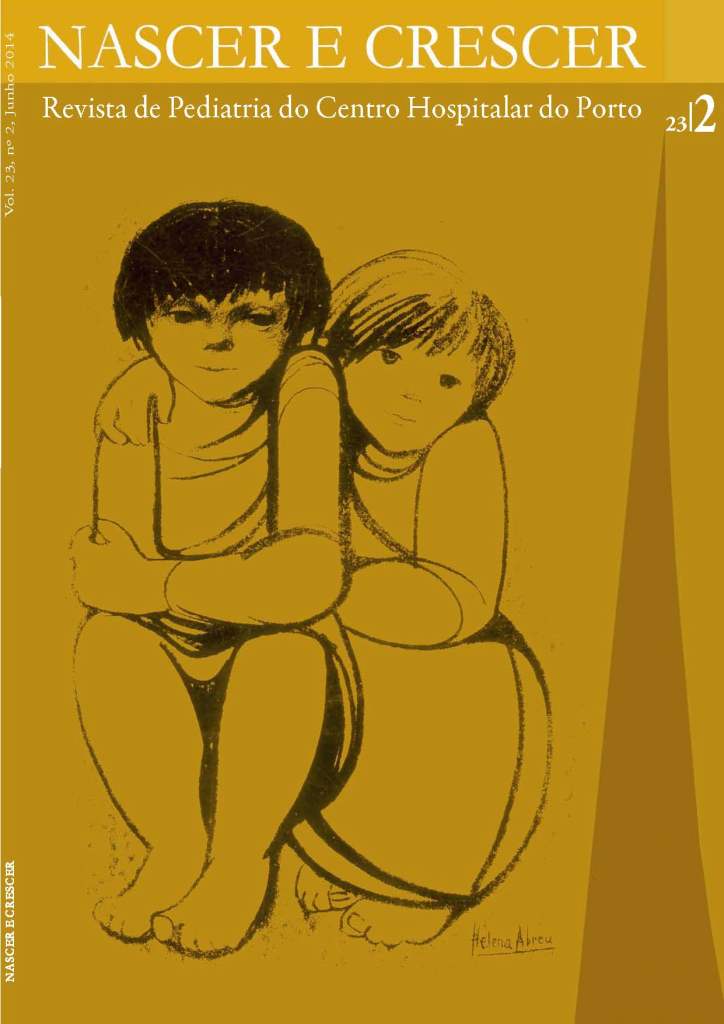 Downloads
How to Cite
1.
Pereira H, Sousa M, Isvarlal P, Ferreira N. Venous thromboembolism in children. REVNEC [Internet]. 2016Feb.24 [cited 2023Sep.27];23(2):83-6. Available from: https://revistas.rcaap.pt/nascercrescer/article/view/8604
License
Copyright and access
This journal offers immediate free access to its content, following the principle that providing free scientific knowledge to the public provides greater global democratization of knowledge.
The works are licensed under a Creative Commons Attribution Non-commercial 4.0 International license.
Nascer e Crescer – Birth and Growth Medical Journal do not charge any submission or processing fee to the articles submitted.