PTOSE PALPEBRAL – A IMPORTÂNCIA DE VALORIZAR
Raquel Oliveira

Catarina Valpaços

Ariana Teles

Filipa Raposo

Mariana Costa

Suzana Figueiredo

Hugo Rodrigues
Abstract
Introdução: A miastenia gravis (MG) é uma patologia autoimune pouco frequente em idade pediátrica, que constitui um desafio diagnóstico pelo carácter flutuante da sintomatologia e pela variedade de manifestações.
Caso Clínico: Adolescente de 15 anos, sexo feminino, trazida ao serviço de urgência (SU) por ptose palpebral esquerda com uma semana de evolução e cefaleias parietais direitas com 3 dias de evolução. Exame físico irrelevante, exceto a ptose. Foi observada por Oftalmologia e teve alta (fez tomografia compu- torizada cranioencefálica que estava normal). Após 2 semanas, por manutenção da ptose que agravava ao longo do dia e melhorava com o repouso, recorreu ao SU e foi orientada para consulta de Pediatria. Realizou eletromiografia dos músculos faciais bilateralmente, que estava normal e foram pedidos os níveis de anticorpos anti-receptores da acetilcolina (anti-AchR), que estavam aumentados. Foi efetuado o diagnóstico de MG ocular. Iniciou terapêutica com brometo de piridostigmina e foi orientada para a consulta de Neurologia Pediátrica. Assistiu-se a uma melhoria da ptose palpebral, que posteriormente agravou por descontinuação terapêutica contra parecer médico pelo aparecimento de náuseas. Após ajuste da dose, reiniciou medicação que atualmente cumpre, com melhoria sintomática significativa.
Comentários: A MG é um distúrbio neuromuscular cujo diagnóstico constitui um desafio nesta faixa etária. Neste caso clínico a manutenção da sintomatologia após a primeira vinda ao SU, motivou uma observação clínica cuidadosa que, apoiada pela deteção de anticorpos anti-AchR, permitiu confirmar o diagnóstico. O diagnóstico precoce é fundamental uma vez que a terapêutica instituída é eficaz.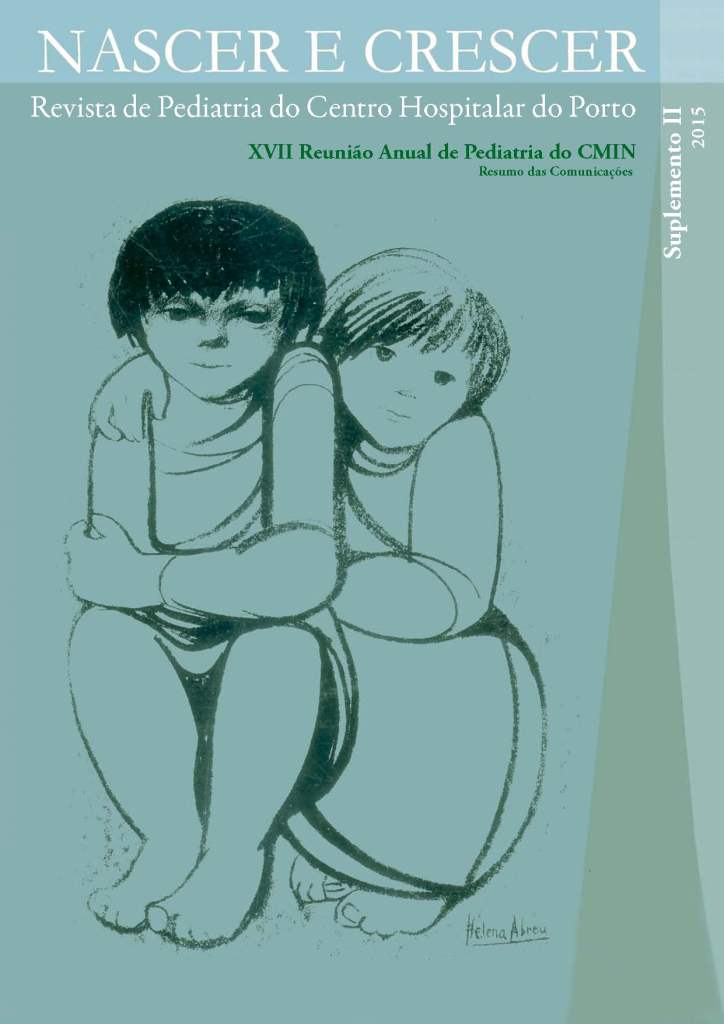 How to Cite
Oliveira, R., Valpaços, C., Teles, A., Raposo, F., Costa, M., Figueiredo, S., & Rodrigues, H. (2016). PTOSE PALPEBRAL – A IMPORTÂNCIA DE VALORIZAR. NASCER E CRESCER - BIRTH AND GROWTH MEDICAL JOURNAL, 24, S22. https://doi.org/10.25753/BirthGrowthMJ.v24.i0.9456
Section
Resumo dos posters
Copyright (c) 2015 NASCER E CRESCER
This work is licensed under a Creative Commons Attribution-NonCommercial 4.0 International License.
Copyright and access
This journal offers immediate free access to its content, following the principle that providing free scientific knowledge to the public provides greater global democratization of knowledge.
The works are licensed under a Creative Commons Attribution Non-commercial 4.0 International license.
Nascer e Crescer – Birth and Growth Medical Journal do not charge any submission or processing fee to the articles submitted.