RED BLOOD CELL TRANSFUSION IN VERY LOW BIRTH WEIGHT INFANTS AND/OR INFANTS LESS THAN 32 WEEKS OF GESTATIONAL AGE – 4 YEARS EXPERIENCE IN A NEONATAL INTENSIVE CARE UNIT
Keywords:
anemia, erythrocyte transfusion, premature
Abstract
Introduction: Anemia is a common problem in preterm infants; red blood cell (RBC) transfusion is the most quick and efficient treatment. The aim of this study was the evaluation of the 2004 National Neonatal Guidelines application in the neonatal intensive care unit and the evaluation of morbidity of transfused or non-transfused preterm.
Materials and Methods:Retrospective chart review of preterm infants with birth weight (BW) ≤1500 g and/or gestational age (GA) ≤32 weeks admitted in NICU between January 2010 and December 2013. Patients were divided into two groups according to RBC transfusions (transfusion group and non-transfusion group). BW, GA, gender and Apgar score <7 at 1st and 5th minutes were analyzed. Morbidity indicators included bron chopulmonary dysplasia (BPD), sépsis, persistence of ductus arteriosus (PDA), necrotizing enterocolitis, peri-intraventricular hemorrhage (PIVH), periventricular leukomalacia (PVL) and reti nopathy of prematurity.
Results: 160 infants were enrolled in the study: 88 in the transfusion group and 72 in the non-transfusion group. In the transfusion group, GA and BW were lower and length of stay in hospital was higher. RBC transfusions were prescribed for higher haemoglobin levels in neonates in invasive ventilation and with less days of life. BPD, sépsis, PDA, PVL and PIVH were more common in the transfusion group.
Discussion and Conclusion: RBC transfusions were more frequently used in preterm infants with lower GA and BW. Transfusion criteria applied were consistent with National Neonatal Guidelines in 2004. The transfused preterm infants had higher morbidity.
Downloads
Download data is not yet available.
References
Guedes MB, Pinto R, Vasconcellos G, Portela A. Consenso Clínico – Anemia da prematuridade. Secção de Neonatologia da SPP. 2013.
Jeon GW, Sin JB. Risk factors of transfusion in anemia of very low birth weight infants. Yonsei Med J. 2013; 54:366-73.
Garcia-Prats JA. Anemia of prematurity. UpToDate. 2013.
Whyte R, Kirpalani H. Low versus high haemoglobin concentration threshold for blood transfusion for preventing morbidity and mortality in very low birth weight infants. Cochrane Database Syst Rev. 2011: 11.
Kirpalani H, Whyte RK, Andersen C, Asztalos EV, Heddle N, Blachman MA, et al. The premature infants in need of transfusion (PINT) study: a randomized, controlled trial of a restrictive (low) versus liberal (high) transfusion threshold for extremely low birth weight infants. J Pediatr. 2006; 149: 301-7.
Valieva OA, Strandjord TP, Mayock DE, Juul SE. Effects of transfusions in extremely low birth weight infants: a retrospective study. J Pediatr. 2009;155: 331-7.
Bell EF, Strauss RG, Widness JA, Mahoney LT, Mock DM, Seward VJ, et al. Randomized trial of liberal versus restrictive guidelines for red blood cell transfusion in preterm infants. Pediatrics. 2005; 115: 1685-91.
Balegar KK, Kluckow M. Furosemide for packed red cell transfusion in preterm infants: a randomized controlled trial. J Pediatr. 2011; 159: 913-8.
Kinsella JP, Greenough A, Abman SH. Bronchopulmonary dysplasia. Lancet 2006; 367: 1421-31.
Stoll BJ, Hansen NI, Adams-Chapman I, Fanaroff AA, Hintz SR, Vohr B, et al. Neurodevelopmental and growth impairment among extremely low-birth-weight infants with neonatal infection. JAMA. 2004; 292: 2357-65.
Stritzke A, Smyth J, Synnes A, Lee SK, Shah PS. Transfusionassociated necrotizing enterocolitis in neonates. Arch Dis Child Fetal Neonatal Ed. 2013; 98: 10-4.
Christensen RD. Associations Between "Early" Red Blood Cell Transfusion and Severe Intraventricular Hemorrhage, and between "early" red blood cell transfusion and severe intraventricular hemorrhage, and between "late" red blood cell transfusion and necrotizing enterocolitis. 2012; 36: 283- 9.
Fortes Filho JB, Eckert GU, Procianoy L, Barros CK, Procianoy RS. Incidence and risk factors for retinopathy of prematurity in very low and in extremely low birth weight infants in a unit-based approach in southern Brazil. Eye. 2009; 23: 25-30.
Guedes MB, Vasconcellos G, Fraga G, Pinto R. Anemia neonatal – Política transfusional, in Consensos Nacionais em Neonatologia. Secção de Neonatologia da Sociedade Portuguesa de Pediatria. 2004.
Mohamed A, Shah PS. Transfusion associated necrotizing enterocolitis: a meta-analysis of observational data. Pediatrics. 2012; 129: 529-40.
Blau J, Calo JM, Dozor D, Sutton M, Alpan G, Gamma EF. Transfusion-related acute gut injury: necrotizing enterocolitis in very low birth weight neonates after packed red blood cell transfusion. J Pediatr. 2011; 158: 403-9.
Mally P, Golombek SG, Mishra R, Nigam S, Mohandas K, Depalhma H, et al. Association of necrotizing enterocolitis with elective packed red blood cell transfusions in stable, growing premature neonates. Am J Perinatol. 2006; 23: 451–8.
Christenses RD. Association between red blood cell transfusions and necrotizing enterocolitis. J Pediatr. 2011;158:349–50.
Gephart SM. Transfusion-associated Necrotizing Enterocolitis (TANEC): evidence and uncertainty. Adv Neonatal Care. 2012; 12: 232-6.
Wan-Huen P, Baterman D, Shapiro DM, Parravicini E. Packed Red Blood Cell transfusion is an independent risk factor for necrotizing enterocolitis in premature infants. J Perinatol. 2013; 33(10): 788-90.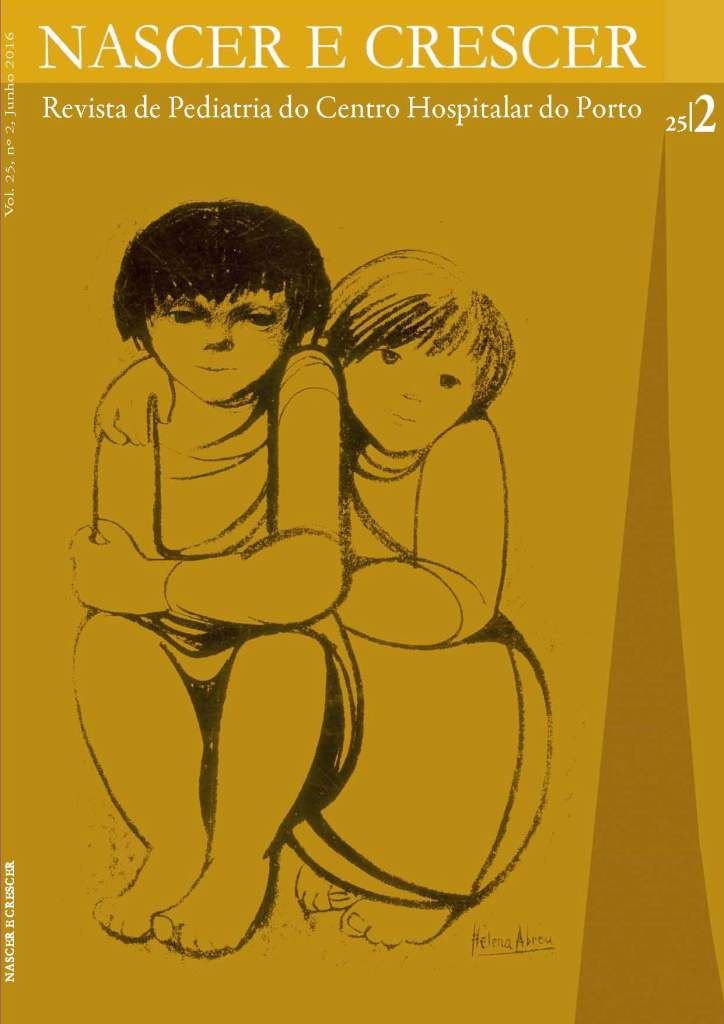 Downloads
How to Cite
1.
Correia CR, Parreira L, Aguiar M, Tuna ML. RED BLOOD CELL TRANSFUSION IN VERY LOW BIRTH WEIGHT INFANTS AND/OR INFANTS LESS THAN 32 WEEKS OF GESTATIONAL AGE – 4 YEARS EXPERIENCE IN A NEONATAL INTENSIVE CARE UNIT. REVNEC [Internet]. 2016Jun.21 [cited 2023Sep.22];25(2):77-82. Available from: https://revistas.rcaap.pt/nascercrescer/article/view/9516
Section
Original Articles
License
Copyright and access
This journal offers immediate free access to its content, following the principle that providing free scientific knowledge to the public provides greater global democratization of knowledge.
The works are licensed under a Creative Commons Attribution Non-commercial 4.0 International license.
Nascer e Crescer – Birth and Growth Medical Journal do not charge any submission or processing fee to the articles submitted.