Alterações Epiteliais da Córnea Após Descontinuação de Coçar os Olhos em Crianças Atópicas
Resumo
Introdução: O nosso objetivo foi fazer a avaliação do efeito de parar de coçar os olhos no perfil epitelial da córnea através de análise com tomografia de coerância ótica do segmento anterior (AS-OCT) em crianças atópicas sem sinais tomográficos de ectasia. 
Métodos: Rapazes dextros (idade média 11,2 anos) com hábito de coçar os olhos e tomografia de córnea (Pentacam, Oculus; Wetzlar, Germanh) sem alterações foram incluídos. Foi realizado AS-OCT (Zeiss Cirrus 5000 HD-OCT, Carl Zeiss Meditec, Dublin, CA, USA) na baseline e após 8 semanas de tratamento com cetotifeno tópico sem conservantes (0,25 mg/mL). A espessura epitelial e a espessura total da córnea foram comparadas através de testes não paramétricos emparelhados de Wilcoxon. Um p-value inferior a 0,05 foi considerado estatisticamente significativo. 
Resultados: Vinte e cinco rapazes completaram o estudo. Nenhum olho apresentou critérios tomográficos de ectasia (Belin-Ambrosio Deviation Value < 1,22). A espessura epitelial mínima deslocou-se  da região inferotemporal para a região inferotemporal após o tratamento. As diferenças entre a espessura epitelial minima e máxima (-2,8 µm vs -5,2 µm; p<0,01) e entre as regiões nasal e temporal (N-T) (3,1 µm vs 1.4 µm; p<0,01) foram superiores na baseline. A diferença entre as regiões inferior e superior (I-S) (1,1 µm vs 2,7 µm; p<0,01) foi inferior na baseline. 
Conclusão: A análise do epitélio da córnea atráves de OCT do segmento anterior revelou um espessamento inferotemporal após tratamento antialérgico e consequente descontinuação do ato de coçar os olhos.  Estes resultados parecem ilustrar o dano deste ato repetido sobre a córnea e salientam a importância de educação da população acerca dos riscos associados ao mesmo.
Downloads
Não há dados estatísticos.
Referências
Hashemi H, Heydarian S, Hooshmand E, Saatchi M, Yekta A, Aghamirsalim M, et al. The Prevalence and Risk Factors for Keratoconus: A Systematic Review and Meta-Analysis. Cornea. 2020;39:263-70. doi: 10.1097/ICO.0000000000002150.
Gordon-Shaag A, Millodot M, Kaiserman I, Sela T, Barnett Itzhaki G, Zerbib Y, et al. Risk factors for keratoconus in Israel: a case-control study. Ophthalmic Physiol Opt. 2015;35:673-81. doi: 10.1111/opo.12237
Galvis V, Tello A, Carreño NI, Berrospi RD, Niño CA. Risk Factors for Keratoconus: Atopy and Eye Rubbing. Cornea. 2017;36:e1. doi: 10.1097/ICO.0000000000001052.
Hashemi H, Khabazkhoob M, Yazdani N, Ostadimoghaddam H, Norouzirad R, Amanzadeh K, et al. The prevalence of keratoconus in a young population in Mashhad, Iran. Ophthalmic Physiol Opt. 2014;34:519-27. doi:10.1111/opo.12147
Gatinel D. Eye rubbing , a sine Qua Non for Keratoconus ? Int J Keratoconus Ectatic Corneal Dis. 2016;5:6-12
Gomes JA, Tan D, Rapuano CJ, Belin MW, Ambrósio R Jr, Guell JL, et al; Group of Panelists for the Global Delphi Panel of Keratoconus and Ectatic Diseases. Global consensus on keratoconus and ectatic diseases. Cornea. 2015;34:359-69. doi: 10.1097/ICO.0000000000000408.
Ambrósio R. Violet June: The Global Keratoconus Awareness Campaign. Ophthalmol Ther. 2020;9:685-688. doi:10.1007/s40123-020-00283-5
Silverman RH, Urs R, Roychoudhury A, Archer TJ, Gobbe M, Reinstein DZ. Epithelial remodeling as basis for machine-based identification of keratoconus. Investig Ophthalmol Vis Sci. 2014;55:1580-7.. doi:10.1167/iovs.13-12578
Reinstein DZ, Archer TJ, Gobbe M. Corneal epithelial thickness profile in the diagnosis of keratoconus. J Refract Surg. 2009;25:604-10. doi:10.3928/1081597X-20090610-06
Kanellopoulos AJ, Aslanides IM, Asimellis G. Correlation between epithelial thickness in normal corneas, untreated ectatic corneas, and ectatic corneas previously treated with CXL; is overall epithelial thickness a very early ectasia prognostic factor? Clin Ophthalmol. 2012;6:789-800. doi:10.2147/OPTH.S31524
Akcay EK, Uysal BS, Sarac O, Ugurlu N, Yulek F, Cagil N, et al. The Effect of Corneal Epithelium on Corneal Curvature in Patients with Keratoconus. Semin Ophthalmol. 2015;30:364-71. doi: 10.3109/08820538.2013.874490.
Li Y, Tan O, Brass R, Weiss JL, Huang D. Corneal epithelial thickness mapping by fourier-domain optical coherence tomography in normal and keratoconic eyes. Ophthalmology. 2012;119:2425-33. doi:10.1016/j.ophtha.2012.06.023
Li Y, Meisler DM, Tang M, Lu AT, Thakrar V, Reiser BJ, et al. Keratoconus diagnosis with optical coherence tomography pachymetry mapping. Ophthalmology. 2008;115:2159-66. doi: 10.1016/j.ophtha.2008.08.004.
Li Y, Tang M, Zhang X, Salaroli CH, Ramos JL, Huang D. Pachymetric mapping with Fourier-domain optical coherence tomography. J Cataract Refract Surg. 2010;36:826-31. doi: 10.1016/j.jcrs.2009.11.016.
Prakash G, Agarwal A, Mazhari AI, Chari M, Kumar DA, Kumar G, et al. Reliability and reproducibility of assessment of corneal epithelial thickness by fourier domain optical coherence tomography. Invest Ophthalmol Vis Sci. 2012;53:2580-5. doi: 10.1167/iovs.11-8981.
Balasubramanian SA, Pye DC, Willcox MD. Effects of eye rubbing on the levels of protease, protease activity and cytokines in tears: relevance in keratoconus. Clin Exp Optom. 2013;96:214-8. doi:https://doi.org/10.1111/cxo.12038
Alio JL, Vega-Estrada A, Sanz P, Osman AA, Kamal AM, Mamoon A, et al. Corneal Morphologic Characteristics in Patients With Down Syndrome. JAMA Ophthalmol. 2018;136:971-8. doi:10.1001/jamaophthalmol.2018.2373
Shajari M, Eberhardt E, Müller M, Al Khateeb G, Friderich S, Remy M, et al. Effects of Atopic Syndrome on Keratoconus. Cornea. 2016;35:1416-20. doi: 10.1097/ICO.0000000000000935.
Sharma N, Rao K, Maharana PK, Vajpayee RB. Ocular allergy and keratoconus. Indian J Ophthalmol. 2013;61:407-9. doi:10.4103/0301-4738.116063
Francoz M, Karamoko I, Baudouin C, Labbé A. Ocular surface epithelial thickness evaluation with spectral-domain optical coherence tomography. Investig Ophthalmol Vis Sci. 2011;52:9116-23. doi:10.1167/iovs.11-7988
Ma XJ, Wang L, Koch DD. Repeatability of corneal epithelial thickness measurements using fourier-domain optical coherence tomography in normal and post-LASIK eyes. Cornea. 2013;32:1544-8. doi:10.1097/ICO.0b013e3182a7f39d
Ge L, Yuan Y, Shen M, Tao A, Wang J, Lu F. The role of axial resolution of optical coherence tomography on the measurement of corneal and epithelial thicknesses. Investig Ophthalmol Vis Sci. 2013;54:746-55. doi:10.1167/iovs.11-9308
Azartash K, Kwan J, Paugh JR, Nguyen AL, Jester J V, Gratton E. Pre-corneal tear film thickness in humans measured with a novel technique. Mol Vis. 2011;17:756-67.
Chen Q, Wang J, Tao A, Shen M, Jiao S, Lu F. Ultrahigh-resolution measurement by optical coherence tomography of dynamic tear film changes on contact lenses. Invest Ophthalmol Vis Sci. 2010;51:1988-93. doi:10.1167/iovs.09-4389
Cui L, Wang J, Perez VL, Shen M, Yuan Y, Wang MR. Visualization of the Precorneal Tear Film Using Ultrahigh Resolution Optical Coherence Tomography in Dry Eye. Eye Contact Lens Sci Clin Pract. 2012;38:240-4. doi:10.1097/icl.0b013e318257a108
Reinstein DZ, Yap TE, Archer TJ, Gobbe M, Silverman RH. Comparison of corneal epithelial thickness measurement between fourier-domain OCT and very high-frequency digital ultrasound. J Refract Surg. 2015;31:438-45. doi:10.3928/1081597X-20150623-01
Belin M, Khachikian S. Keratoconus / Ectasia Detection with the Oculus Pentacam. Highl Ophthalmol. 2008;35:5-12.
Ambrósio R, Valbon BF, Faria-Correia F, Ramos I, Luz A. Scheimpflug imaging for laser refractive surgery. Curr Opin Ophthalmol. 2013;24:310-20. doi:10.1097/ICU.0b013e3283622a94
Hafezi F, Hafezi NL, Pajic B, Gilardoni F, Randleman JB, Gomes JP, et al. Assessment of the mechanical forces applied during eye rubbing. BMC Ophthalmol. 2020;20:301. doi:10.1186/s12886-020-01551-5
Loureiro T de O, Rodrigues-Barros S, Lopes D, Carreira AR, Gouveia-Moraes F, Vide-Escada A, et al. Corneal Epithelial Thickness Profile in Healthy Portuguese Children by High-Definition Optical Coherence Tomography. Clin Ophthalmol. 2021;15:735-43. doi:10.2147/OPTH.S293695
Auffarth GU, Wang L, Völcker HE. Keratoconus evaluation using the Orbscan Topography System. J Cataract Refract Surg. 2000;26:222-8. doi: 10.1016/s0886-3350(99)00355-7.
Wang X, McCulley JP, Bowman RW, Cavanagh HD. Contact Lens-Induced Corneal Warpage in Patients Scheduled for Photorefractive Surgery . Invest Ophthalmol Vis Sci. 2002;43:3103.
Rocha KM, Perez-Straziota CE, Stulting RD, Randleman JB. SD-OCT analysis of regional epithelial thickness profiles in keratoconus, postoperative corneal ectasia, and normal eyes. J Refract Surg. 2013;29:173-9. doi: 10.3928/1081597X-20130129-08. Erratum in: J Refract Surg. 2013;29:234. Perez-Straziota, E [corrected to Perez-Straziota, Claudia E].
Reinstein DZ, Srivannaboon S, Gobbe M, Archer TJ, Silverman RH, Sutton H,et al. Epithelial thickness profile changes induced by myopic LASIK as measured by artemis very high-frequency digital ultrasound. J Refract Surg. 2009;25:444-50.. doi:10.3928/1081597X-20090422-07
Reinstein DZ, Archer TJ, Gobbe M. Change in epithelial thickness profile 24 hours and longitudinally for 1 year after myopic LASIK: Three-dimensional display with artemis very high-frequency digital ultrasound. J Refract Surg. 2012;28:195-201. doi:10.3928/1081597X-20120127-02
Reinstein DZ, Archer TJ, Gobbe M, Silverman RH, Coleman DJ. Epithelial thickness after hyperopic LASIK: Three-dimensional display with artemis very high-frequency digital ultrasound. J Refract Surg. 2010;26:555-64. doi:10.3928/1081597X-20091105-02
Reinstein DZ, Archer T. Combined Artemis very high-frequency digital ultrasound-assisted transepithelial phototherapeutic keratectomy and wavefront-guided treatment following multiple corneal refractive procedures. J Cataract Refract Surg. 2006 ;32:1870-6. doi:10.1016/j.jcrs.2006.07.016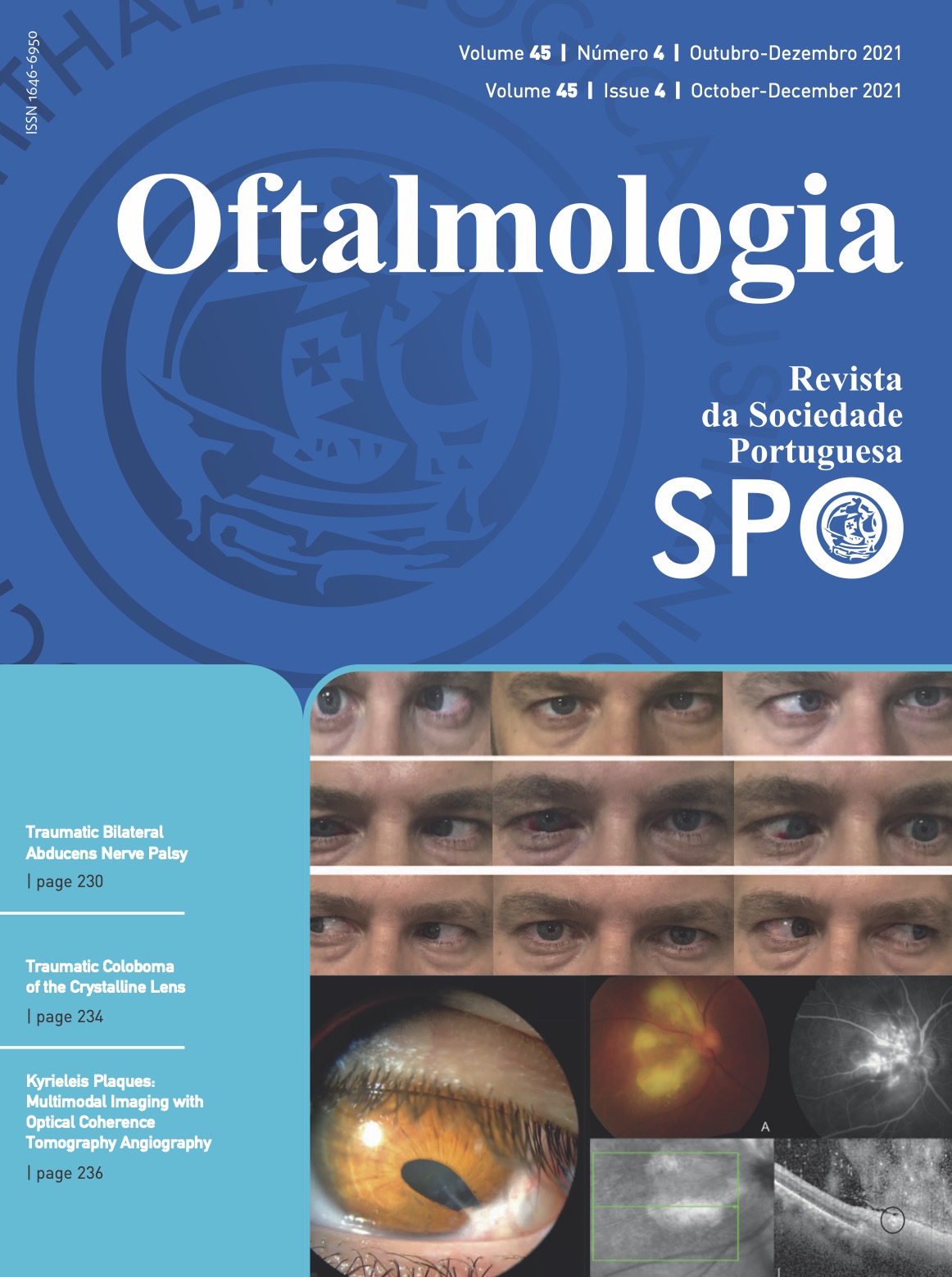 Ficheiros Adicionais
Como Citar
Loureiro, T., Rodrigues-Barros, S., Carreira, A. R., Moraes, F., Carreira, P., Vide Escada, A., Campos, P., Machado, I., Campos, N., & Ambrósio Jr, R. (2021). Alterações Epiteliais da Córnea Após Descontinuação de Coçar os Olhos em Crianças Atópicas. Revista Sociedade Portuguesa De Oftalmologia, 45(4), 210–217. https://doi.org/10.48560/rspo.25443
Licença
CC BY-NC
Não se esqueça de fazer o download do ficheiro da Declaração de Responsabilidade Autoral e Autorização para Publicação e de Conflito de Interesses
O artigo apenas poderá ser submetido com esse dois documentos.
Para obter o ficheiro da Declaração de Responsabilidade Autoral, clique aqui
Para obter o ficheiro de Conflito de Interesses, clique aqui