Conceito de Síndrome de Olho Seco e Blefarite e Implicações Terapêuticas
Palavras-chave:
Blefarite/tratamento, Síndromes do Olho Seco/tratamento
Resumo
Segundo as regras da revista, as Comunicações Curtas não têm resumo.
Downloads
Não há dados estatísticos.
Referências
Isteitiya J, Gadaria-Rathod N, Fernandez KB, Asbell PA. Blepharitis. In: Yanoff M, Duker JS. Ophthalmology. 5th ed. Amsterdam: Elsevier; 2019. p. 177-179.e1
Daniel Nelson J, Shimazaki J, Benitez-del-Castillo JM, Craig JP, McCulley JP, Den S, et al. The international workshop on meibomian gland dysfunction: Report of the definition and classification subcommittee. Investig Ophthalmol Vis Sci. 2011;52:1930-7. doi:10.1167/iovs.10-6997b
Salmon JF. Kanski's Clinical Ophthalmology – A Systematic Approach. 9th ed. Amsterdam: Elsevier; 2020.
Bron AJ, de Paiva CS, Chauhan SK, Bonini S, Gabison EE, Jain S, et al. TFOS DEWS II pathophysiology report. Ocul Surf. 2017;15:438-510. doi:10.1016/j.jtos.2017.05.011
Amescua G, Akpek EK, Farid M, García-Ferrer FJ, Lin A, Rhee MK, et al. Blepharitis Preferred Practice Pattern®. Ophthalmology. 2019;126:P56-P93. doi:10.1016/j.ophtha.2018.10.019
Rynerson JM, Perry HD. DEBS - a unification theory for dry eye and blepharitis. Clin Ophthalmol. 2016;10:2455-67. doi:10.2147/OPTH.S114674
Tong CM, Kurki K. Blepharitis: Overview and Classification. In: Mannis MJ and Holland EJ. Cornea – Fundamentals, Diagnosis and Management. 5th ed. Amsterdam: Elsevier; 2022. p. 308e1-311.
Tashbayev B, Yazdani M, Arita R, Fineide F, Utheim TP. Intense pulsed light treatment in meibomian gland dysfunction: A concise review. Ocul Surf. 2020;18:583-94. doi:10.1016/j.jtos.2020.06.002
Lam PY, Shih KC, Fong PY, Chan TCY, Ng ALK, Jhanji V, et al. A Review on Evidence-Based Treatments for Meibomian Gland Dysfunction. Eye Contact Lens. 2020;46:3-16. doi:10.1097/ICL.0000000000000680
Cote S, Zhang AC, Ahmadzai V, Maleken A, Li C, Oppedisano J, et al. Intense pulsed light (IPL) therapy for the treatment of meibomian gland dysfunction. Cochrane Database Syst Rev. 2020;2020. doi:10.1002/14651858.CD013559
Pang SP, Chen YT, Tam KW, Lin IC, Loh EW. Efficacy of Vectored Thermal Pulsation and Warm Compress Treatments in Meibomian Gland Dysfunction. Cornea. 2019;38:690-7.
Greiner JV. Long-Term (3 Year) Effects of a Single Thermal Pulsation System Treatment on Meibomian Gland Function and Dry Eye Symptoms. Eye Contact Lens. 2016;42:99-107. doi:10.1097/ICL.0000000000000166
Murphy O, O'Dwyer V, Lloyd-McKernan A. The efficacy of tea tree face wash, 1, 2-Octanediol and microblepharoexfoliation in treating Demodex folliculorum blepharitis. Contact Lens Anterior Eye. 2018;41:77-82. doi:10.1016/j.clae.2017.10.012
Epstein IJ, Rosenberg E, Stuber R, Choi MB, Donnenfeld ED, Perry HD. Double-Masked and Unmasked Prospective Study of Terpinen-4-ol Lid Scrubs With Microblepharoexfoliation for the Treatment of Demodex Blepharitis. Cornea. 2020;39:408-16. doi:10.1097/ICO.0000000000002243
B Choi M, Stein R. Lid Hygiene Versus Lid Hygiene Plus Microblepharoexfoliation for the Treatment of Demodex folliculorum Blepharitis. Acta Sci Ophthalmol. 2020;3:29-35. doi:10.31080/asop.2020.03.0159
Durand ML. ESCRS Guidelines for Prevention and Treatment of Endophthalmitis Following Cataract Surgery. Clin Microbiol Infect. 2013;19:227-34.
Connor C, Choat C, Narayanan S, Kyser K, Rosenberg B, Mulder D. Clinical Effectiveness of Lid Debridement with BlephEx Treatment. Invest Ophthalmol Vis Sci. 2015;56:4440.
Byeon HJ, Jun I, Seo KY, Kim EK, Kim TI. Clinical efficacy of microblepharoexfoliation in meibomian gland dysfunction patients. J Korean Ophthalmol Soc. 2020;61:603-9. doi:10.3341/jkos.2020.61.6.603
Moon SY, Han SA, Kwon HJ, Park SY, Lee JH, Chung HS, et al. Effects of lid debris debridement combined with meibomian gland expression on the ocular surface MMP-9 levels and clinical outcomes in moderate and severe meibomian gland dysfunction. BMC Ophthalmol. 2021;21:1-9. doi:10.1186/s12886-021-01926-2
Ferrari G, Colucci A, Barbariga M, Ruggeri A, Rama P. High frequency electrotherapy for the treatment of meibomian gland dysfunction. Cornea. 2019;38:1424-9. doi:10.1097/ICO.0000000000002063
Pedrotti E, Bosello F, Fasolo A, Frigo A, Marchesoni I, Ruggeri A, et al. Transcutaneous periorbital electrical stimulation in the treatment of dry eye. Br J Ophthalmol. 2017;101:814-9. doi:10.1136/bjophthalmol-2016-308678
Cai M-M, Zhang J. Effectiveness of transcutaneous electrical stimulation combined with artificial tears for the treatment of dry eye: A randomized controlled trial. Exp Ther Med. 2020;20:1-1. doi:10.3892/etm.2020.9305
Ruggeri A, Trivli A, Dalianis G, Terzidou K. Improvement in mixed-type dry eye patients after treatment with the QMR-based electrotherapy device Rexon-Eye. ARVO 2021 Annual Meeting Presentation, 2021. https://www.resono.it/arvo-2021-trial-presentation. Accessed 10 september 2021.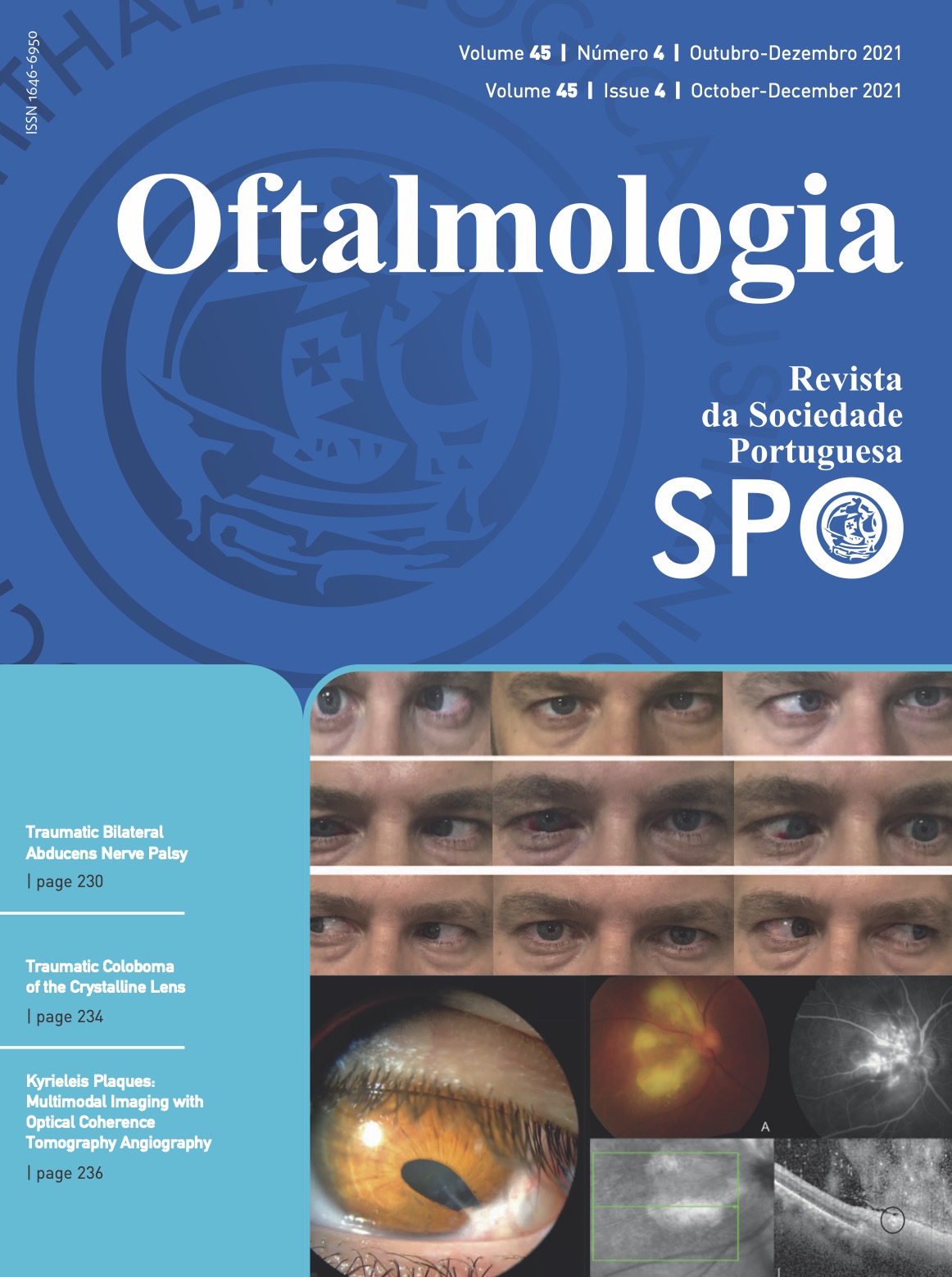 Ficheiros Adicionais
Como Citar
Moura-Coelho, N., Papa, R., Cunha, J. P., Gris, O., & Güell, J. L. (2021). Conceito de Síndrome de Olho Seco e Blefarite e Implicações Terapêuticas. Revista Sociedade Portuguesa De Oftalmologia, 45(4), 225–229. https://doi.org/10.48560/rspo.25497
Secção
Comunicações Curtas e Imagens em Oftalmologia
Licença
Os autores dos manuscritos submetidos para publicação deverão ceder, a título integral e permanente, os direitos de autor (copyright) à revista Oftalmologia da Sociedade Portuguesa de Oftalmologia. A cedeência de direitos de autor permite a publicação e divulgação do artigo em formato impresso ou electrónicoe entrará em vigor a partir da data de aceitação do manuscrito. Os autores concedem, ainda, os direitos para a revista Oftalmologia utilizar e explorar o respectivo artigo, nomeadamente para licenciar o seu conteúdo a bases de indexação.