Intraosseous Ameloblastoma – an aggressive lesion of the jaw
Resumo
The ameloblastomas are the most common odontogenic benign tumours, locally aggressive and with clinical significance. We report a case of an old woman with a mixed cystic and solid ameloblastoma. We also review the clinical, imagiologic and surgical state of art of ameloblastomas.
Referências
Cankurtaran CZ, Branstetter BF 4th, Chiosea SI, Barnes EL Jr. Ameloblastoma and Dentigerous Cyst Associated with Impacted Mandibular Third Molar Tooth. Radiographics. 2010 Sep;30(5):1415-20.
Sham E, Leong J, Maher R, Schenberg M, Leung M, Mansour AK. Mandibular ameloblastoma: clinical experience and literature review. ANZ J Surg 2009; 79:739–744.
Devenney-Cakir B, Subramaniam RM, Reddy SM, Imsande H, Gohel A, Sakai O. Cystic and Cystic-Appearing Lesions of the Mandible: Review. AJR Am J Roentgenol. 2011 Jun;196(6 Suppl):WS66-77.
Scholl RJ, Kellett HM, Neumann DP, Lurie AG. Cysts and cystic lesions of the mandible: clinical and radiologic-histopathologic review. RadioGraphics 1999; 19:1107–1124.
Carlson ER, Marx RE. The ameloblastoma: primary, curative surgical management. J Oral Maxillofac Surg 2006; 64:484–494.
Dunfee BL, Sakai O, Pistey R, Gohel A. Radiologic and Pathologic Characteristics of Benign and Malignant Lesions of the Mandible. Radiographics. 2006 Nov-Dec;26(6):1751-68.
Barnes L, Eveson J, Reichart P, Sidransky D. Pathology and genetics of head and neck tumours. World Health Organization classification of tumours; IARC Press. 2005; p. 378-421.
Dunn J, Wayne J, WilliamB, Narang, K, Schwartz A. Giant Ameloblastoma: Radiologic Diagnosis and Treatment1. RadioGraphics; 1997; 17:53 1-536.
Chapman MN, Nadgir RN, Akman AS, Saito N, Sekiya K, Kaneda T, et al. Periapical Lucency around the Tooth: Radiologic Evaluation and Differential Diagnosis. Radiographics. 2013 Jan-Feb;33(1):E15-32.
Torres-Lagares D, Infante-Cossío P, Hernández- Guisado JM, Gutiérrez-Pérez JL. Mandibular am¬eloblastoma: a review of the literature and presen-tation of six cases. Med Oral Patol Oral Cir Bucal 2005;10(3):231–238.
Kaneda T, Minami M, Kurabayashi T. Benign odontogenic tumours of the mandible and maxilla. Neuroimaging Clin N Am Aug; 2003; 13(3):495-507.
Minami M, Kaneda T, Yamamoto H. Ameloblastoma in the maxillomandibular region: MR imaging. Radiology Aug;1992; 184(2):389-93.
Meyer KA, Bancroft LW, Dietrich TJ, Kransdorf MJ, Peterson JJ. Imaging Characteristics of Benign, Malignant, and Infectious Jaw Lesions: A Pictorial Review. AJR Am J Roentgenol. 2011 Sep;197(3):W412-21.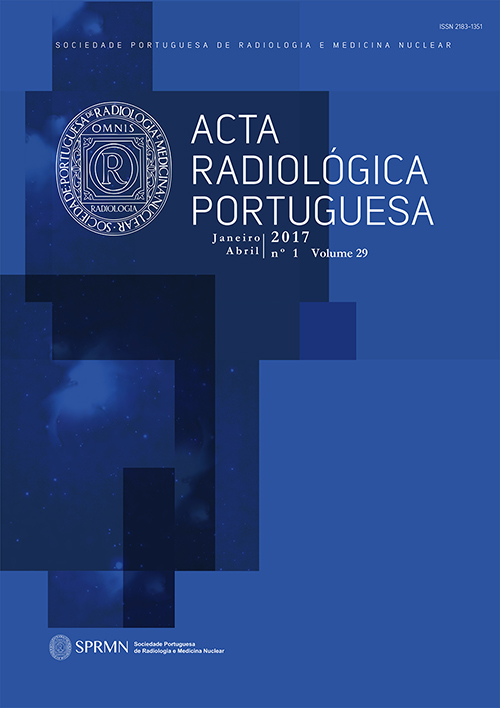 Downloads
Licença
Autor (es) (ou seu (s) empregador (es)) e ARP 2023. Reutilização permitida de acordo com CC BY-NC. Nenhuma reutilização comercial.