Transplante pancreático: o que o Radiologista deve saber
Resumo
O transplante pancreático representa uma alternativa cirúrgica para o tratamento de casos selecionados de doentes diabéticos, com o objetivo de evitar as complicações sistémicas da doença. A abordagem mais frequente é o transplante pancreático-renal simultâneo, em que o pâncreas é geralmente posicionado intra-peritonealmente na região pélvica direita. Vários métodos de imagem são usados para a avaliação do enxerto parenquimatoso, a anatomia vascular e a drenagem entérica. A compreensão do procedimento cirúrgico, das técnicas utilizadas e da anatomia pós-procedimento é fundamental à medida que o número destes casos aumenta. O radiologista deve também conhecer as possíveis complicações associadas e a sua aparência imagiológica, com a finalidade de preservar a máxima função do enxerto.
Referências
Hampson F.A.; Freeman S.J.; Ertner J.; et al. - Pancreatic transplantation: surgical technique, normal radiological appearances and complications. Insights Imaging, 2010; 1: 339–347.
O'Malley R.B.; Moshiri M.; Osman S.; Menias C.O.; Katz D.S. - Imaging of Pancreas Transplantation and Its Complications. Radiol Clin North Am, 2016; 54(2):251-66.
Vandermeer F.Q.; Manning M.A.; Frazier A.A.; Wong-You-Cheong J.J. - Imaging of whole-organ pancreas transplants. Radiographics 2012; 32:411–435.
Oliver J.; Beidas A.K.; Bongu A.; et al. A comparison of long-term outcomes of portal versus systemic venous drainage in pancreatic transplantation: systematic review and meta-analysis. Clin Transplant 2015; 29(10):882–92.
Sandrasegaran K.; Lall C.; Berry W.A.; Hameed T.; Maglinte D.D.- Enteric drainage pancreas transplantation. Abdom Imaging, 2006, 31(5):588–595.
Freund M.C.; Steurer W.; Gassner E.M.; et al. - Spectrum of imaging findings after pancreas transplantation with enteric exocrine drainage: Part 1, posttransplantation anatomy. Am J Roentgenol, 2004 ; 182: 911–917.
Powell F.E.; Harper S.J.; et al. - Postoperative CT in pancreas transplantation Clin Radiol. 2015; 70(11):1220-8.
Tolat P.P.; Foley W.D.; Johnson C.; et al. - Pancreas transplant imaging: how I do it. Radiology 2015; 275:14–27
Heller M.T.; Bhargava P. - Imaging in pancreatic transplants. Indian J Radiol Imaging, 2014; 24(4):339–349.
Chen, J.L.; Lee R.C.; Shyr Y.M.; et al. - Imaging spectrum after pancreas transplantation with enteric drainage Korean J Radiol; 2014; 15 pp. 45–53.
Franca, M.; Certo, M.; Martins, L; et al. - Imaging of pancreas transplantation and its complications Insights Imaging. 2010;1:329–338.
Gimenez J.M.; Bluth E.I.; Simon A.; Troxclair L. - Evaluation of pancreatic allografts with sonography. J Ultrasound Med, 2012; 31:1041–1051.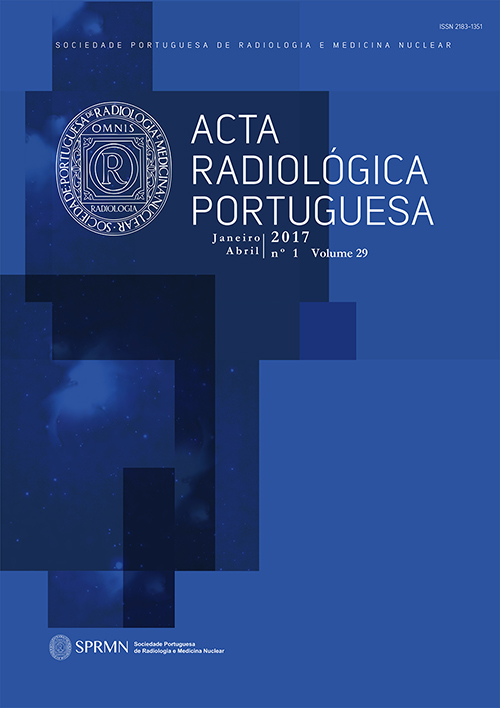 Downloads
Licença
Autor (es) (ou seu (s) empregador (es)) e ARP 2023. Reutilização permitida de acordo com CC BY-NC. Nenhuma reutilização comercial.