Assessment of chronic postoperative pain: methods and relevance
Palavras-chave:
dor crónica, dor pós-operatória, avaliação da dor, escalas de dor, dor neuropática, avaliação de resultados
Resumo
Background: Chronic pain affects up to 20% of the population in western industrialized countries, and surgery is one major cause. Patients with persistent postsurgical pain are in need for long-term rehabilitation and multidisciplinary treatments that acount with billions of dollars in anual medical expeditures. Efective pain management helps decreasing morbimortality in these patients, improving at the same time health related functions. Optimal pain assessement is the foundation for its management.  Despite many scientific breakthroughs in the understanding of pain and its neurophysiology, precisely assessing and diagnosing a patient's chronic pain problem is not yet straightforward or well-defined. Given the high clinical and economical impact of postoperative pain, methods of assessing chronic pain are of great deal of importance for the health care team in postsurgical context.
Objective: In this study, we aim to review the most recent literature about postoperative chronic pain, focusing on the different pain assessment tools and outcomes measures that should be evaluated.
Methods: This review was performed using the PubMed database, focusing on the literature of the last 13 years.
Results: There are several scales used to evaluate and study pain in chronic postoperative context. In addition to evaluate pain intensity, quality and temporal aspects of pain, other outcomes should be assessed. Emotional weel-being, sleep-related problems, fatigue and enjoyment of life were identified as the most affected outcomes for the patient. There are assessment tools targeting health related quality of life and emotional well-being. Also, some studies suggest the assessement of pain sensitivity by the means of Quantitative Sensory Testing as it may be relevant in evaluating and treating chronic pain patients.
Conclusions: There are several accepted tools for tracking pain-related treatment outcomes. These instruments range from quick, one-item assessments of pain intensity, to long surveys that tap into multiple dimensions of the pain experience and overall functioning. These results suggest the importance of assessing the patient with chronic pain and not just the pain. Emotional and social well being, physical function and pain interference with quality of life should be studied in these patients. Future studies should try to link Quantitative Sensory Testing and structural findings with functional assessments.
Downloads
Não há dados estatísticos.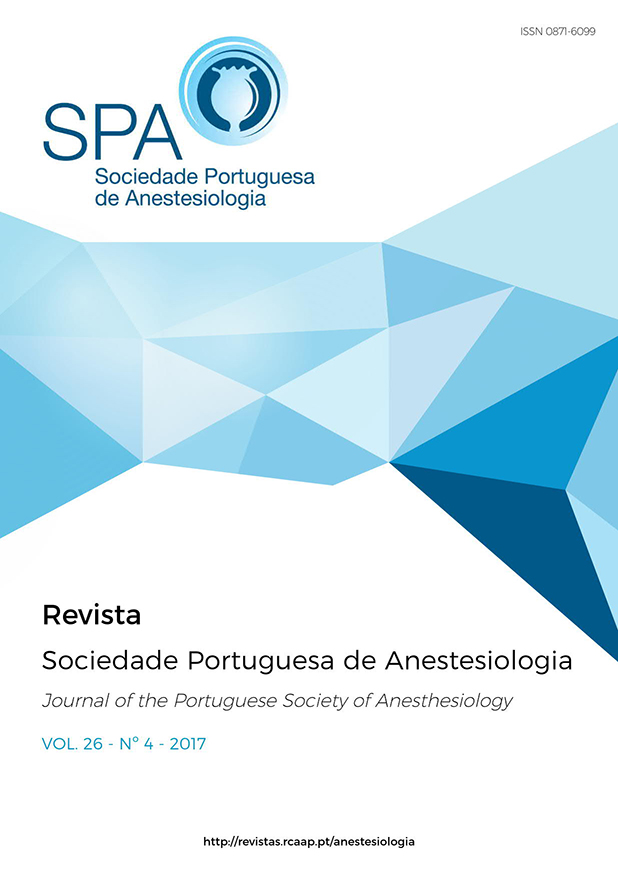 Como Citar
Costa e Silva, A. (2017). Assessment of chronic postoperative pain: methods and relevance. Revista Da Sociedade Portuguesa De Anestesiologia, 26(4). https://doi.org/10.25751/rspa.12020
Secção
Artigo de Revisão Narrativa
Licença
Os artigos estão livremente disponíveis para serem lidos, descarregados e partilhados a partir do momento da sua publicação.
A RSPA reserva-se o direito de comercialização do artigo enquanto parte integrante da revista (na elaboração de separatas, por exemplo). O autor deverá acompanhar a carta de submissão com a declaração de cedência de direitos de autor para fins comerciais.
Relativamente à utilização por terceiros a Revista da SPA rege-se pelos termos da licença Creative Commons "Atribuição – uso Não-Comercial (CC BY-NC).
Após publicação na RSPA, os autores ficam autorizados a disponibilizar os seus artigos em repositórios das suas instituições de origem, desde que mencionem sempre onde foram publicados.