Quality of Recovery in Elderly Cancer Patients
Palavras-chave:
Recovery, Quality of recovery, PQRS, Elderly, Neoplasm.
Resumo
Perioperative management of the elderly is an extensively debated issue. We aimed to determine the postoperative quality of recovery in very old patients submitted to neoplastic curative surgery.
An observational, prospective study was conducted including patients undergoing curative neoplastic surgery and admitted to the PACU. The Revised Cardiac Risk Index (RCRI) was applied. Very old patients (VOP) were considered for patients >80 years old. Vulnerability was evaluated using the Clinical Frailty Scale. Frailty was defined as a score≥4. The WHODAS 2.0 was used to assess preoperative disability, which was defined as a score≥25%. EuroQol5 dimensions (EQ-5D) was used to measure quality of life before surgery. The Postoperative Quality of Recovery Scale was used at baseline (up to 14 days before surgery) and after surgery at minute 15, 40 and days 1 and 3, evaluating recovery in several domains. Recovery was defined as return to baseline values in each domain (physiologic, nociceptive, emotional, functional and cognitive). The Mann-Whitney, Chi-square or Fisher's exact test were used for comparison.
Of 148 patients, 12% were VOP, who had higher ASA physical status (p=0.002) and higher RCRI scores (p<0.001).VOP presented more problems at mobility (p=0.005), self-care (p=0.002) and usual activities (p=0.004), with the majority presenting frailty (p=0.032) and disability (p=0.007). Recovery was similar at all time points in every domain, except in the nociceptive domain at day 1 (p=0.042).
VOP had higher RCRI scores and presented more often with frailty, disability and limitations in EQ-5D. Nonetheless, in this study, they presented complete recovery with a frequency comparable to the other patients.
Downloads
Não há dados estatísticos.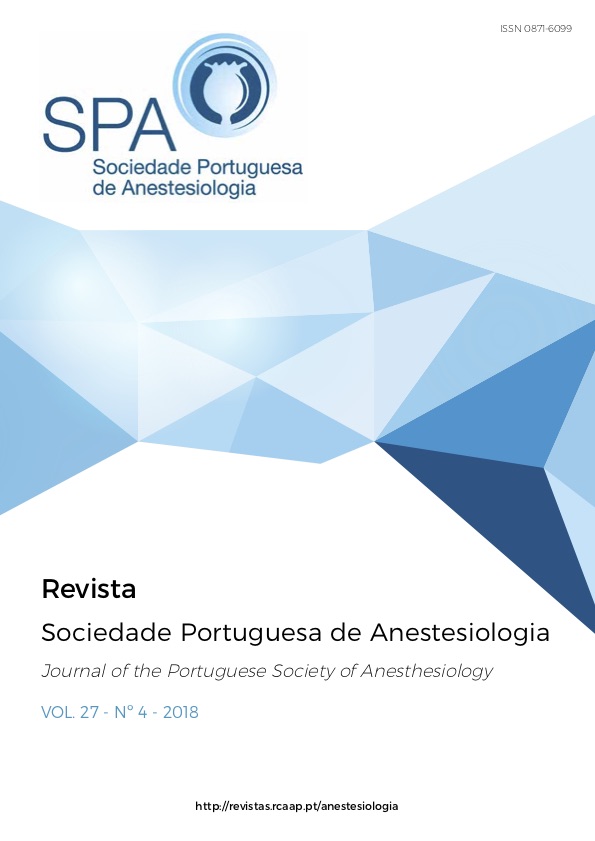 Downloads
Como Citar
Azevedo, J. G. (2018). Quality of Recovery in Elderly Cancer Patients. Revista Da Sociedade Portuguesa De Anestesiologia, 27(4), 62–68. https://doi.org/10.25751/rspa.14255
Licença
Os artigos estão livremente disponíveis para serem lidos, descarregados e partilhados a partir do momento da sua publicação.
A RSPA reserva-se o direito de comercialização do artigo enquanto parte integrante da revista (na elaboração de separatas, por exemplo). O autor deverá acompanhar a carta de submissão com a declaração de cedência de direitos de autor para fins comerciais.
Relativamente à utilização por terceiros a Revista da SPA rege-se pelos termos da licença Creative Commons "Atribuição – uso Não-Comercial (CC BY-NC).
Após publicação na RSPA, os autores ficam autorizados a disponibilizar os seus artigos em repositórios das suas instituições de origem, desde que mencionem sempre onde foram publicados.