Ecocardiografia Transtorácica e Transesofágica no Peri-operatório em Cirurgia Não Cardíaca
André Carrão

Interno de Formação Específica de Anestesiologia, Serviço de Anestesiologia do Hospital Beatriz Ângelo, Loures, Portugal

Sónia Pereira

Assistente Hospitalar Graduada de Anestesiologia, Serviço de Anestesiologia do Hospital Beatriz Ângelo, Loures, Portugal
Palavras-chave:
Avaliação de Risco; Doenças do Coração/complicações; Ecocardiografia; Ecocardiografia Transesofágica; Período Perioperatório
Resumo
As complicações cardiovasculares são responsáveis por grande parte da morbi-mortalidade peri-operatória. A avaliação cardíaca préoperatória é, por isso, fundamental. Este trabalho pretende determinar quais os doentes propostos para cirurgia não cardíaca que beneficiam da realização pré-operatória de ecocardiograma transtorácico para estratificação de risco e eventual otimização e quais os doentes que,
tendo em conta a sua patologia cardiovascular e o tipo de intervenção a que vão ser submetidos, devem ser monitorizados durante o período peri-operatório com ecocardiograma transesofágico.
Foi realizada uma pesquisa do PubMed de artigos datados de Janeiro de 1990 até Setembro de 2018 e com interesse para o tema deste trabalho. Os trabalhos selecionados incluem maioritariamente guidelines nacionais e internacionais, revisões sistemáticas e estudos randomizados com data de publicação posterior à das guidelines e que apresentam informação relevante.
Para além da história clínica, exame objetivo, scores de risco, avaliação laboratorial e electrocardiografia, o ecocardiograma, tanto em repouso como de stress, pode ser útil na estratificação do risco cardíaco em situações selecionadas, tendo em conta o impacto sobre a optimização do doente. Têm sido publicadas guidelines para a sua utilização em doentes propostos para cirurgia não cardíaca, sendo recomendado sobretudo em doentes propostos para cirurgia de elevado risco cardíaco ou doentes com patologia
cardíaca significativa (insuficiência cardíaca, cardiopatia isquémica,
valvulopatias) propostos para cirurgia de risco cardíaco intermédio
ou elevado. O recurso ao ecocardiograma transesofágico intraoperatório
em cirurgia não cardíaca não é recomendado por rotina,
estando reservado para a cirurgia vascular major ou nos doentes com
alterações hemodinâmicas graves e persistentes.
Downloads
Dados de downloads ainda não estão disponíveis.
Referências
1. De Hert S, Staender S, Fritsch G, Hinkelbein J, Afshari A, Bettelli G, et al. Preoperative evaluation of adults undergoing elective noncardiac surgery: Updated guideline from the European Society of Anesthesiology. Eur J
Anaesthesiol. 2018; 35:407-65. doi: 10.1097/EJA.0000000000000817.
2. Fleisher LA, Fleischmann KE, Auerbach AD, Barnason SA, Beckman JA, Bozkurt B, et al. 2014 ACC/AHA guideline on perioperative cardiovascular evaluation and management of patients undergoing noncardiac surgery: A report of the American College of Cardiology/American Heart Association Task Force on Practice Guidelines. Circulation. 2014; 130:278-333. doi: 10.1161/ CIR.0000000000000106.
3. Lee TH, Marcantonio ER, Mangione CM, Thomas EJ, Polanczyk CA, Cook EF, et al. Derivation and prospective validation of a simple index for prediction of cardiac risk of major noncardiac surgery. Circulation. 1999; 100:1043-9.
4. Wijeysundera DN, Duncan D, Nkonde-Price C, Virani SS, Washam JB, Fleischmann KE, et al. Perioperative betablockade in noncardiac surgery: a systematic review for the 2014 ACC/AHA guideline on perioperative cardiovascular evaluation and management of patients undergoing noncardiac surgery: A report of the American College of Cardiology/American Herat Association Task Force on Practice Guidelines.
Circulation. 2014; 130:2246-64. doi: 10.1161/CIR.0000000000000104.
5. Polanczyk CA, Marcantonio E, Goldman L, Rohde LE, Orav J, Mangione CM, et al. Impact of age on perioperative complications and length of stay in patients undergoing noncardiac surgery. Ann Inter Med. 2001; 134:637-43
6. Kristensen SD, Knuuti J, Saraste A, Anker S, Bøtker HE, Hert SD, et al. 2014 ESC/ESA Guidelines on non-cardiac surgery: cardiovascular assessment and management. Eur Heart J. 2014; 35:2383-431. doi: 10.1093/eurheartj/ehu282.
7. Wijeysundera DN, Beattie WS, Karkouti K, Neuman MD, Austin PC, Laupacis A. Association of echocardiography before major elective non-cardiac surgery with postoperative survival and length of hospital stay: population based cohort study. BMJ. 2011; 342:d3695
8. Foy AJ, Ting JG. The harms of an unnecessary preoperative echocardiogram: A teachable moment. JAMA Intern Med. 2014; 174:853-4. doi: 10.1001/ jamainternmed.2014.379.
9. Shim CY. Preoperative cardiac evaluation with transthoracic echocardiography before non-cardiac surgery. Korean J Anesthesiol. 2017; 70:390-7. doi: 10.4097/ kjae.2017.70.4.390.
10. Park SJ, Choi JH, Cho SJ, Chang SA, Choi JO, Lee SC, et al. Comparison of transthoracic echocardiography with N-terminal pro-brain natriuretic peptide as a tool for risk stratification of patients undergoing major noncardiac surgery. Korean Circ J. 2011; 41:505-11. oi: 10.4070/kcj.2011.41.9.505
11. British Society of Echocardiography. Clinical Indications for Echocardiography. [accessed 5 October 2018] Available at: https://www.bsecho.org/indicationsfor- echocardiography/.
12. National Institute for Health and Care Excellence (NICE). Routine preoperative tests for elective surgery. 2016 (NICE Guideline 45). [accessed 4 October 2018] Available at: https://www.nice.org.uk/guidance/ng45.
13. Halm EA, Browner WS, Tubau JF, Tateo IM, Mangano DT. Echocardiography for assessing cardiac risk in patients having noncardiac surgery. Ann Intern Med. 1996; 125:433-41.
14. Rohde LE, Polanczyk CG, Goldman L, Cook EF, Lee RT, Lee TH. Usefulness of transthoracic echocardiography as a tool for risk stratification of patients undergoing major noncardiac surgery. Am J Cardiol. 2001; 97:508-9.
15. Kertai MD, Boersma E, Bax JJ, Heijenbrok-Kal MH, Hunink MG, L'talien GJ, et al. A meta-analysis comparing the prognostic accuracy of six diagnostic tests for predicting perioperative cardiac risk in patients undergoing major vascular surgery. Heart. 2003; 89:1327-1334
16. Khouri SJ, Maly GT, Suh DD, Wlash TE. A practical approach to the echocardiographic evaluation of diastolic function. J Am Soc Echocardiogr. 2004: 17:290-7.
17. Marques AC, Caramelli B. O ecocardiograma na avaliação do risco perioperatório. Rev Bras Ecocardiogr. 2008; 21:45-9.
18. Woodward MN, Earnshaw JJ, Heather BP. The value of QTc dispersion in assessment of cardiac risk in elective aortic aneurysm surgery. Eur J Vasc Endovasc Surg. 1998; 15:267-9.
19. Klocke FJ, Baird MG, Lorell BH, Bateman TM, Messer JV, Berman DS, et al. ACC/ AHA/ASNC Guidelines for the clinical use of cardiac radionuclide imaging: A report of the American College of Cardiology/American Heart Association Task Force on Practice Guidelines. J Am Coll Cardiol. 2003; 42:1318-33.
20. Tan TC, Dudzinski DV, Hung J, Mehta V. Peri-operative assessment of right heart function: role of echocardiography. Eur J Clin Invest. 2015; 45:755-66. doi: 10.1111/eci.12462.
21. Kaw R, Pasupuleti V, Deshpande A, Hamieh T, Walker E, Minair OA. Pulmonary hypertension: an important predictor of outcomes in patients undergoing non-cardiac surgery. Respir Med. 2011; 105:619-24.
22. Morris CK, Ueshima K, Kawaguchi T. The prognostic value of exercise capacity: A review of the literature. Am Heart J. 1991; 122:1423-31.
23. Sicari R, Nihoyannopoulos P, Evangelista A, Kasprzak J, Lancellotti P, Poldermans D, et al. Stress echocardiography expert consensus statement: European Association of Echocardiography. Eur J Echocardiogr. 2008; 9:415-37. doi: 10.1093/ejechocard/jen175.
24. Bach DS, Curtis JL, Christensen PJ, Iannettoni MD, Whyte RI, Kazerooni EA, et al. Preoperative echocardiographic evaluation of patients referred for lung volume reduction surgery. Chest. 1998; 114: 972-80.
25. Bossone E, Martinez FJ, Whyte RI, Iannettoni MD, Armstrong WF, Bach DS. Dobutamine stress echocardiography for the preoperative evaluation of patients undergoing lung volume reduction surgery. J Thorac Cardiovasc Surg. 1999; 118:542-6.
26. Gualandro DM, Yu Pc, Caramelli B, Marques AC, Calderaro D, Fornari LS, et al. 3rd Guideline for perioperative cardiovascular evaluation of the Brazilian Society of Cardiology. Arq Bras Cardiol. 2017; 109:1-104. doi: 10.5935/abc.20170140.
27. Practice guidelines for perioperative transesophageal echocardiography: An updated report by the American Society of Anesthesiologists and the Society of Cardiovascular Anesthesiologists Task Force on Transesophageal
Echocardiography. Anesthesiology. 2010; 112:1084-96. doi: 10.1097/ ALN.0b013e3181c51e90.
28. Reeves ST, Finley AC, Skubas NJ , Swaminathan M, Whitley WS, Glas KE, et al. Basic perioperative transesophageal echocardiography examination: A consensus statement of the American Society of Echocardiography and the Society of Cardiovascular Anesthesiologists. Anesth Analg. 2013; 117:543-58.
doi: 10.1016/j.echo.2013.02.015.
29. Fayad A, Shillcutt SK. Perioperative transesophageal echocardiography for non-cardiac surgery. Can J Anesth. 2017; 65:381-98.
30. Nicoara A, Whitener G, Swaminathan M. Perioperative diastolic dysfunction: A comprehensive approach to assessment by transesophageal echocardiography. Semin Cardiothorac Vasc Anesth. 2013; 18:218-36.
31. McIlroy DR, Lin E, Durkin C. Intraoperative transesophageal echocardiography: A critical appraisal of its current role in assessment of diastolic dysfunction. J Cardiothorac Vasc Anesth. 2015; 29:1033-43. doi: 10.1053/j.jvca.2015.01.009
32. Salgado-Filho MF, Morhy SS, de Vasconcelos HD, Lineburger EB, Papa FV, Botelho ES, et al. Consenso sobre ecocardiografia transesofágica perioperatória da Sociedade Brasileira de Anestesiologia e do Departamento
de Imagem Cardiovascular da Sociedade Brasileira de Cardiologia. Rev Bras Anestesiol. 2018; 68:1-32.
33. Hauser ND, Swanevelder J. Transoesophageal echocardiography (TOE): contra-indications, complications and safety of perioperative TOE. Echo Res Pract. 2018; 5:R101-R113. doi: 10.1530/ERP-18-0047.
34. Rebel A, Klimkina O, Hassan ZU. Tranesophageal echocardiography for the noncardiac surgical patient. Int Surg. 2012; 97:43-55.
35. London MJ, Tubau JF, Wong MG, Layug E, Hollenberg M, Krupski WC, et al. The "natural history" of segmental wall motion abnormalities in patients undergoing noncardiac surgery. Anesthesiology. 1990; 73:644-55.
36. Schulmeyer C, Farías J, Rajdl E, de La Maza J, Labbé M. Utility of transesophageal echocardiography during severe hypotension in non-cardiac surgery. Rev Bras Anestesiol. 2010; 60:513-21.
37. Evans A, Dwarakanath S, Hogue C, Brady M, Poppers J, Miller S, et al. Intraoperative echocardiography for patients undergoing lung transplantation. Anesth Analg. 2014; 118:725-30. doi: 10.1213/ANE.0000000000000121.
38. Flachskampf FA, Wouters PF, Edvardsen T, Evangelista A, Habib G, Hoffman P, et al. Recommendations for transesophageal echocardiography: EACVI update 2014. Eur Heart J. 2014; 15:353-65. doi: 10.1093/ehjci/jeu015.
39. Mahmood F, Christie A, Matyal R. Transesophageal echocardiography and noncardiac surgery. Semin Cardiothorac Vasc Anesth. 2008; 12:265-89.
40. American Society of Anesthesiologists. Statement on transesophageal echocardiography 2015. [accessed 5 October 2018] Available at: http://www.asahq.org/quality-and-practice-management/standards-guidelines-andrelated-resources/statement-on-transesophageal-echocardiography.
41. Haskins SC, Vaz AM, Garvin S. Perioperative point-of-care ultrasound for the anesthesiologist. J Anesth Perioper Med. 2018; 5:92-6.
42. Ramsingh D, Fox JC, Wilson WC. Perioperative point-of-care ultrasonography: An emerging technology to be embraced by anesthesiologists. Anesth Analg. 2015; 120:990-2. doi: 10.1213/ANE.0000000000000702.
43. Spencer KT, Kimura BJ, Korcarz CE, Pellikka PA, Rahko PS, Siegel RJ. Focused cardiac ultrasound: Recommendations from the American Society of Echocardiography. J Am Soc Echocardiogr. 2013; 26:567-81. doi: 10.1016/j.echo.2013.04.001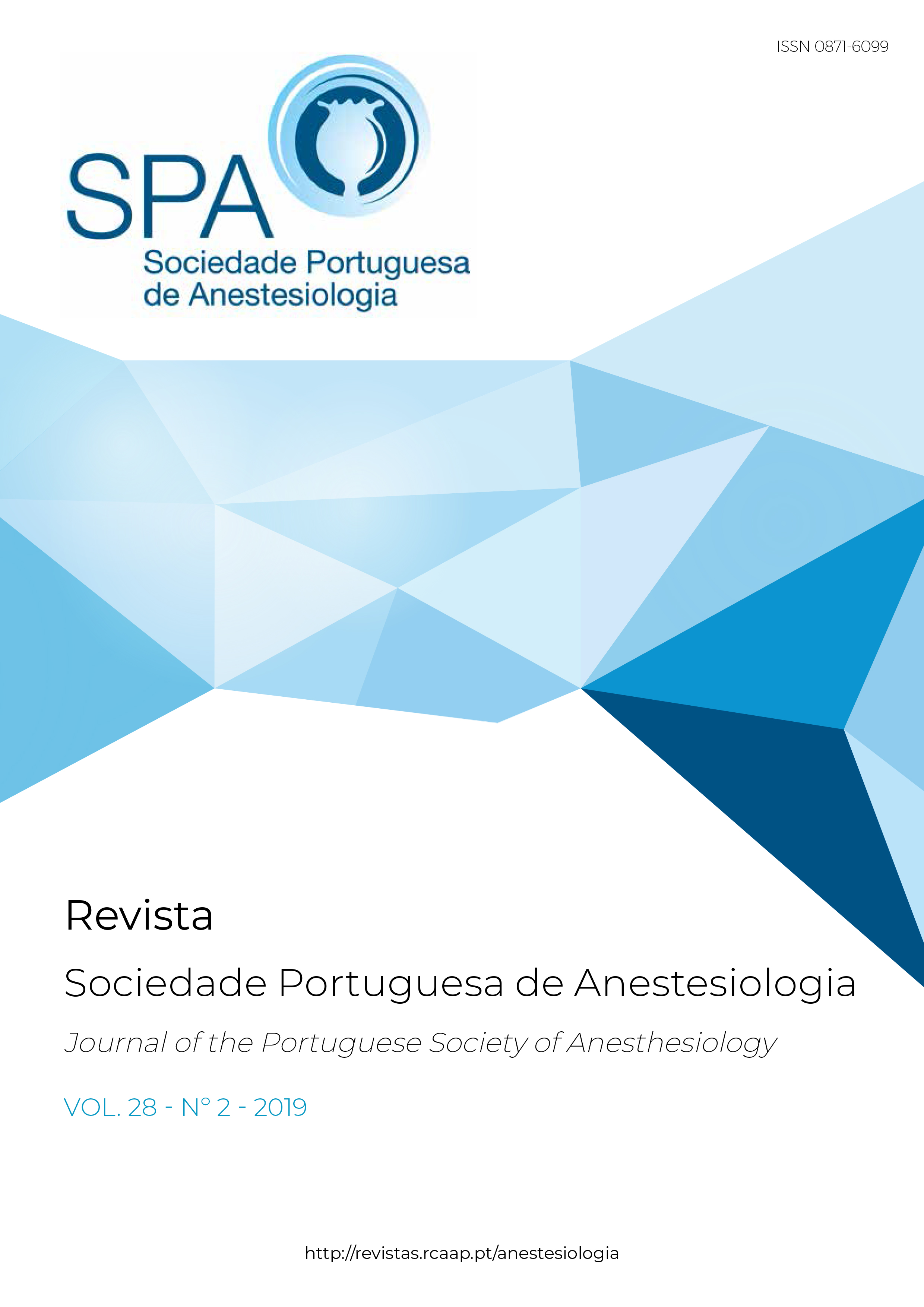 Como Citar
Carrão, A., & Pereira, S. (2019). Ecocardiografia Transtorácica e Transesofágica no Peri-operatório em Cirurgia Não Cardíaca. Revista Da Sociedade Portuguesa De Anestesiologia, 28(2), 110-118. https://doi.org/10.25751/rspa.17470
Secção
Artigo de Revisão Narrativa
Copyright
Quando o artigo é aceite para publicação é obrigatório a submissão de um documento digitalizado, assinado por todos os Autores, com a partilha dos direitos de autor entre autores e a RSPA, conforme minuta publicada em anexo:
Editor da Revista da Sociedade Portuguesa de Anestesiologia
O(s) Autor(es) certifica(m) que o manuscrito intitulado:
____________________________________________________________________ (ref.RSPA_________) é original, que todas as afirmações apresentadas como factos são baseados na investigação do(s) Autor(es), que o manuscrito, quer em parte quer no todo, não infringe nenhum copyright e não viola nenhum direito da privacidade, que não foi publicado em parte ou no todo e que não foi submetido para publicação, no todo ou em parte, noutra revista, e que os Autores têm o direito ao copyright.
Todos os Autores declaram ainda que participaram no trabalho, se responsabilizam por ele e que não existe, da parte de qualquer dos Autores conflito de interesses nas afirmações proferidas no trabalho.
Os Autores, ao submeterem o trabalho para publicação, partilham com a RSPA todos os direitos a interesses do copyright do artigo.
Todos os Autores devem assinar
Data:__________________________________________________
Nome (maiúsculas): _____________________________________________________________________
Assinatura: _____________________________________________________________________
_____________________________________________________________________
A RSPA reserva-se o direito de comercialização do artigo enquanto parte integrante da revista (na elaboração de separatas, por exemplo). O autor deverá acompanhar a carta de submissão com a declaração de cedência de direitos de autor para fins comerciais.
Relativamente à utilização por terceiros a Revista da SPA rege-se pelos termos da licença Creative Commons "Atribuição – uso Não-Comercial – Proibição de Realização de Obras derivadas (by-nc-nd)".
Após publicação na RSPA, os autores ficam autorizados a disponibilizar os seus artigos em repositórios das suas instituições de origem, desde que mencionem sempre onde foram publicados.