Precisão da gasometria na avaliação do ionograma
What is the difference between the gasometry and the laboratory in the measurement of electrolytes?
Palavras-chave:
Sódio, Potássio, Cloro, Gasometria e Ionograma sérico
Resumo
Introdução: O doseamento de sódio, potássio e cloro é frequentemente usado na prática clínica, podendo ser efetuado através de uma amostra sérica ou de gasometria. A facilidade de colheita e a rapidez no resultado tornariam a gasometria no método ideal, contudo, a literatura disponível não é consensual quanto à sua precisão. Este trabalho pretende estudar a precisão da avaliação do ionograma efetuada pela gasometria.
Métodos: Estudo observacional prospetivo de crianças com idades entre 28 dias e 17 anos submetidas a cirurgia eletiva num Serviço de Cirurgia Pediátrica, durante um ano. No peri-operatório foram realizadas 3 avaliações laboratoriais com análise de sódio, potássio e cloro numa amostra sérica e na gasometria e os respetivos resultados foram comparados.
Resultados: 65 crianças com idade mediana de 10 anos (IQR 3,6-15), 77% do sexo masculino. Obtiveram-se 161 determinações de sódio, 154 de potássio e 143 de cloro. Verificou-se uma diferença média na medição de sódio, potássio e cloro entre os dois métodos, respetivamente, de 1±1,89mmol/L, 0,3±0,19mmol/L e -5±1,81mmol/L (valor-p<0,001). Encontrou-se uma correlação forte nas medições de sódio (r=0,64) e cloro (r=0,78) e muito forte na de potássio (r=0,9). Para todos, foi possível estabelecer uma regressão linear e obter um fator de correção que permite a conversão entre os dois métodos.
Conclusões: Verificou-se uma forte correlação entre os dois métodos o que permite concluir que ambos podem ser usados na prática clínica, podendo ser utilizado um fator de correção quando utilizada a gasometria, particularmente na avaliação do potássio e cloro.
Downloads
Não há dados estatísticos.
Referências
Scott MG, LeGrys VA, Klutts JS. Electrolytes and blood gases. In: Tietz Textbook of Clinical Chemistry and Molecular Diagnostics. 4th edition. Edited by Burtis DE, Ashwood ER, Bruns DE. St Louis. Elsevier, 2006:983-1018.
Munger MA. New agents for managing hyponatremia in hospitalized patients. Am J Health-Syst Pharm. 2007;64:253-265.
Kapoor D, Srivastava M, Singh P. Point of care blood gases with electrolytes and lactates in adult emergencies. Int J Crit Illn Inj Sci. 2014;4:216-222.
Vos G, Engel M, Ramsay G, Van Waardenburg D. Point-of-care blood analyzer during the interhospital transport of critically ill children. Eur J Emerg Med. 2006;13:304-307.
Budak YU, Huysal K, Polat M. Use of a blood gas analyzer and a laboratory autoanalyzer in routine practice to measure electrolytes in intensive care unit patients. BMC Anesthesiol. 2012:12-17.
Walton HG, Boucher DM, Marroquin R. Comparison of blood gas and electrolyte test results from the Gem-Premier and the ABL-70 versus a conventional laboratory analyzer. JECT. 2003;35:24-27.
Nanda SK, Ray L, Dinakaran A. Agreement of arterial sodium and arterial potassium levels with venous sodium and venous potassium in patients admitted to intensive care unit. J Clin Diagnostic Res. 2015;9(2):BC28-BC30.
Zhang JB, Lin J, Zhao XD. Analysis of bias in measurements of potassium, sodium and hemoglobin by an emergency department-Based blood gas analyzer relative to hospital laboratory autoanalyzer results. PLoS One. 2015;10:1-11.
Jain A, Subhan I, Joshi M. Comparison of the point-of-care blood gas analyzer versus the laboratory auto-analyzer for the measurement of electrolytes. Int J Emerg Med. 2009;2(2):117-120.
Prakash S, Bihari S, Lim ZY, Verghese S, Kulkarni H, Bersten AD. Concordance between point-of-care blood gas analysis and laboratory autoanalyzer in measurement of hemoglobin and electrolytes in critically ill patients. J Clin Lab Anal. 2018;32:1-5.
Lum G, Gambino SR. A comparison of serum versus heparinized plasma for routine chemistry tests. Am J Clin Pathol. 1974;61:108-113.
Jacobs E, Ancy JJ, Smith M. Multi-site Performance Evaluation of pH, Blood Gas, Electrolyte, Glucose, and Lactate Determinations With the GEM Premier 3000 Critical Care Analyzer. Point Care J Near-Patient Test Technol. 2002;1:135-144.
Lima-Oliveira G, Lippi G, Salvagno GL, Montagnana M, Picheth G, Guidi GC. Different manufacturers of syringes: A new source of variability in blood gas, acid-base balance and related laboratory test?. Clin Biochem. 2012;45:683-687.
Baruah A, Goyal P, Sinha A, Ramesh KL, Datta R. Delay in specimen processing-major source of preanalytical variation in serum electrolytes. J Clin Diagnostic Res. 2014;8:CC01-CC03.
Ehrmeyer SS, Laessig RH, Leinweber JE, Oryall JJ. 1990 Medicare/CLIA final rules for proficiency testing: Minimum intralaboratory performance characteristics (CV and bias) needed to pass. Clin Chem. 1990;36:1736-1740.
Asirvatham JR, Moses V, Bjornson L. Errors in potassium measurement: A laboratory perspective for the clinician. N Am J Med Sci. 2013;5:255-259.
Sevastos N, Theodossiades G, Archimandritis AJ. Pseudohyperkalemia in serum: A new insight into an old phenomenon. Clin Med Res. 2008;6:30-32.
Rifkin SI. Pseudohyperkalemia in patients with chronic lymphocytic leukemia. Int J Nephrol. 2011:Article ID: 759749.
Polak R, Huisman A, Sikma MA, Kersting S. Spurious hypokalaemia and hypophosphataemia due to extreme hyperleukocytosis in a patient with a haematological malignancy. Ann Clin Biochem. 2010;47:179-181.
Sevastos N, Theodossiades G, Savvas SP, Tsilidis K, Efstathiou S, Archimandrite AJ. Pseudohyperkalemia in patients with increased cellular components of blood. Am J Med Sci. 2006;331:17-21.
Berend K, de Vries APJ, Gans ROB. Physiological Approach to Assessment of Acid–Base Disturbances. N Engl J Med. 2014;371:1434-1445.
Geerts N, Wlazlo N, Scharnhorst V. Between analyser differences in chloride measurements and thus anion gap cause different interpretations of the acid-base balance. Clin Chem Lab Med. 2016;54:e81-e84.
Goldsmith D, Gutteridge G. Comparison of point-of-care versus central laboratory measurement of electrolytes concentrations on calculations of the anion gap and the strong ion difference anesthesiology. 2003;5:1077-1084.
Makiishi T, Nishimura N, Yoshioka K, et al. Potential inaccuracies in chloride measurements in patients with severe metabolic acidosis. Int J Nephrol. 2012:Article ID: 768316.
Razavi S, Jafari A, Zaker H, Sadeghi A. Plasma and serum electrolyte levels correlation in the Pediatric ICU. Tanaffos. 2010;9:34-38.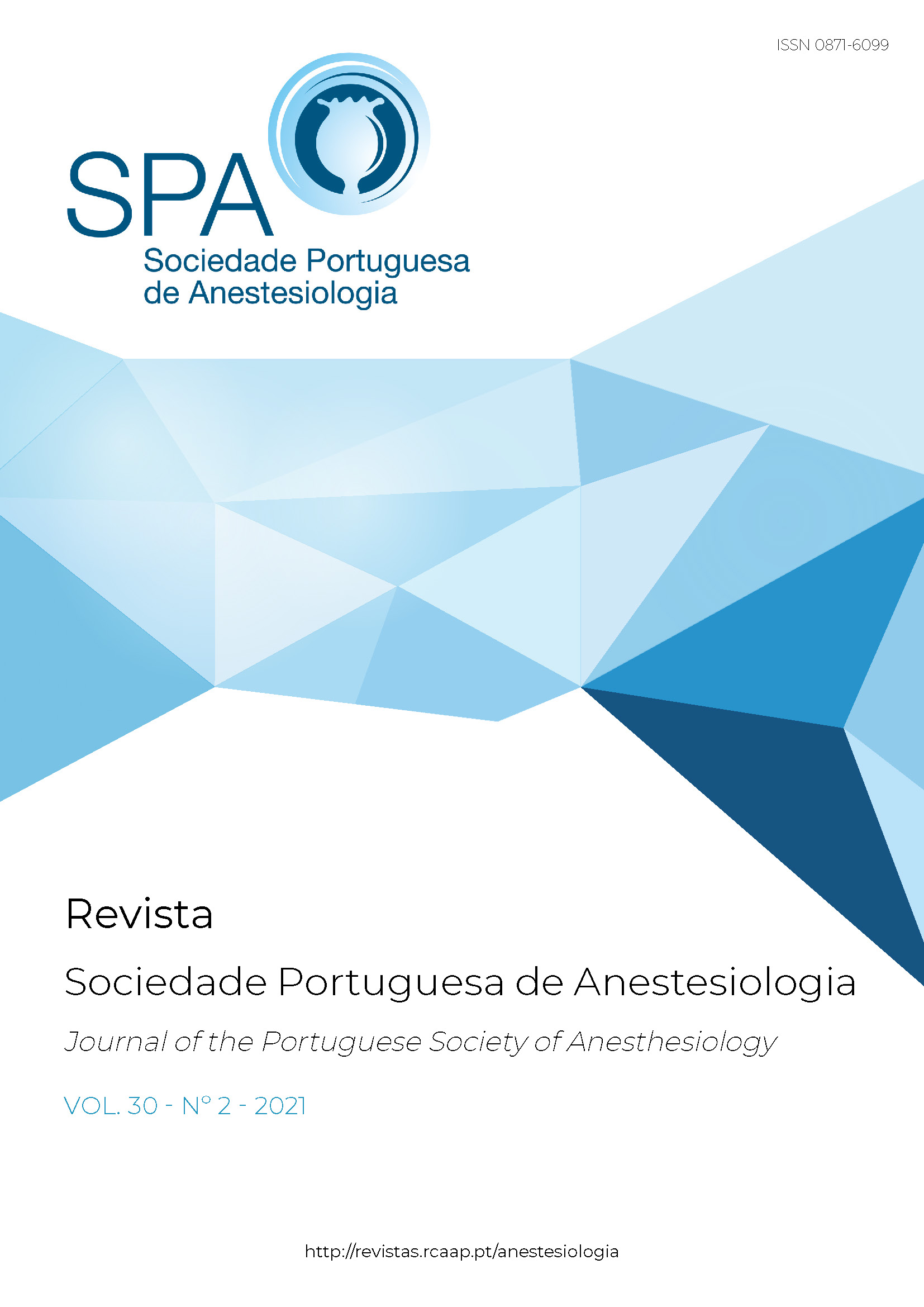 Downloads
Como Citar
Sousa, F. J. de, Cochito Sousa, S., Vaz, S. ., & Abecasis, F. (2021). Precisão da gasometria na avaliação do ionograma: What is the difference between the gasometry and the laboratory in the measurement of electrolytes?. Revista Da Sociedade Portuguesa De Anestesiologia, 30(2). https://doi.org/10.25751/rspa.23929
Licença
Direitos de Autor (c) 2021 Francisco José de Sousa, Sofia Cochito Sousa, Sara Vaz, Francisco Abecasis
Este trabalho encontra-se publicado com a Creative Commons Atribuição-NãoComercial 4.0.
Os artigos estão livremente disponíveis para serem lidos, descarregados e partilhados a partir do momento da sua publicação.
A RSPA reserva-se o direito de comercialização do artigo enquanto parte integrante da revista (na elaboração de separatas, por exemplo). O autor deverá acompanhar a carta de submissão com a declaração de cedência de direitos de autor para fins comerciais.
Relativamente à utilização por terceiros a Revista da SPA rege-se pelos termos da licença Creative Commons "Atribuição – uso Não-Comercial (CC BY-NC).
Após publicação na RSPA, os autores ficam autorizados a disponibilizar os seus artigos em repositórios das suas instituições de origem, desde que mencionem sempre onde foram publicados.