Dams and socio-urban transformation
A comparative analysis of the hydroelectric projects of Salto Grande and Yacyretá
Walter Fernando Brites

Instituto de Estudios Sociales y Humanos IESyH. Consejo Nacional de Investigaciones Científicas y Técnicas. CONICET-UNaM

Maria Rosa Catullo

Consejo Nacional de Investigaciones Científicas y Técnicas
Keywords:
hydroelectric dam, urban exchange, social effects, ressetlement, Santo Grande, Yacyretá
Abstract
La construcción de grandes proyectos hidroeléctricos producen una serie de consecuencias de diversa índole (demográficas, ecológicas, sociales, culturales) siendo una de ellas, la relocalización de población urbana. En este trabajo nos centramos en los procesos de relocalizaciones, generados por la construcción de las represas hidroeléctricas de Salto Grande (Argentina-Uruguay) y Yacyretá (Paraguay-Argentina). Analizando específicamente el cambio generado en las ciudades de Nueva Federación y Posadas (Argentina) y Encarnación (Paraguay). La presa de Salto Grande generóformó un lago de 30.000 hectáreas siendo casi el 70% de la vieja ciudad de Federación inundada y trasladada a la ciudad de Nueva Federación construida a 5 km del emplazamiento original. En el caso de las ciudades de Posadas-Encarnación el abordaje trata de redimensionar el estudio de las relocalizaciones, analizando como la población desplazada experimenta los efectos singulares del desplazamiento al serque acompañados de aquellos procesos de segregación socio-espacial. Sostenemos que no se pueden entender los procesos que se manifiestan en los conjuntos de población relocalizada desde una aproximación insular, sino que es necesario circunscribirlo al contexto más general de la transformación socio-urbana generada por las obras complementarias de estos proyectos.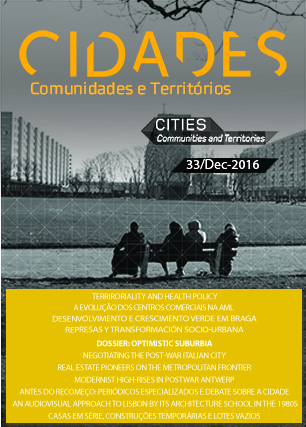 Copyright (c) 2017 Walter Fernando Brites
This work is licensed under a Creative Commons Attribution-NonCommercial-NoDerivatives 4.0 International License.
Cidades, Comunidades e Territórios by
DINÂMIA'CET-IUL
is licensed under a
Creative Commons Atribuição-Uso Não-Comercial-Proibição de realização de Obras Derivadas 4.0 Unported License
.
Permissions beyond the scope of this license may be available at
mailto:cidades.dinamiacet@iscte.pt
.