From São Paulo from Luanda to São Paulo from Macau. Foundation and consolidation of two Portuguese cities in the Portuguese overseas territories
Keywords:
Luanda, Macao, Military Architecture, Urban Morphology, Portuguese Colonial Empire
Abstract
This paper deals with the process of establishment and consolidation of the cities of Luanda and Macau, where the Portuguese settled in the late 16th Century. The study was carried out in the ambit of a multidisciplinary Research Project, but with the  specific purpose of historically contextualizing the territories in those cities on which two important architectural ensembles were developed in the second half of the 20th Century, by Fernão Lopes Simões de Carvalho (Luanda, 1929) and by Manuel Vicente (Lisbon, 1934 – 2013): namely, the Prenda Neigbourhood, in Luanda, and the Housing Block for Sociedade de Turismo e Diversões de Macau, in this town. The nature of this specific research thus provided autonomous scientific matter, of which this article yields. The a anteriori reconnaissance of their historical, political and territorial circumstances may be useful and pertinent for the - individual or crossed - penetration of those two contemporary metropoli, particularly regarding the radical set of changes they underwent across the last century.
Special attention was paid to the most important Religious, Military and Civil edifices in each settlement – which we have pinpointed on mapping bases from the first quarter of the 17th Century and the final quarter in the 19th Century - owing to the importance they held in the those towns' everyday life and governance.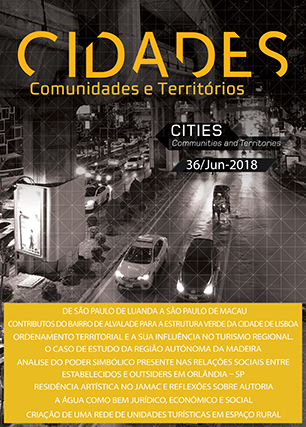 Downloads