The state of housing: introduction to the dossier
References
Alderman L. (2018) Portugal dared to cast aside austerity. It's having a major revival. The New York Times, 22 July. Available at http://www.nytimes.com/2018/07/22/business/portugal-economy-austerity.html.
Carreira, M. (2018), "Integração socioespacial dos bairros de habitação social na Àrea Metropolitana de Lisboa: Evidências de micro segregação", Finisterra, 107, pp. 67-85.
Di Giovanni, C.F. (2017). Uma história de Habita. Como se fez um colectivo activista. Le Monde Diplomatique – edição portuguesa, Dezembro.
Fahra L. (2017) Report of the Special Rapporteur on adequate housing as a component of the right to an adequate standard of living, and on the right to non-discrimination in this context Mission to Portugal, 2017. Available at http://ap.ohchr.org/documents/dpage_e.aspx?si=A/HRC/34/51/Add.2.
IHRU (2018), Levantamento nacional das necessidades de realojamento habitacional. Disponível em http://www.portaldahabitacao.pt.
Jones O. (2017) No alternative to austerity? That lie has now been nailed. The Guardian, 24 August. Available at https://www.theguardian.com/commentisfree/2017/aug/24/austerity-lie-deep-cuts-economy-portugal-socialist.
Lusa (2017), "António Costa elege políticas para habitação acessível como 'nova prioridade'", Público, 17 jun. Disponível em http://www.publico.pt/2017/06/17/politica/noticia/antonio-costa-elege-politicas-para-habitacao-acessivel-como-nova-prioridade-1776021.
Lusa (2018) OE2019: Secretária de Estado diz que habitação tem verba "suficiente". Diário de Notícias, 2 dezembro. https://www.dn.pt/lusa/interior/oe2019-secretaria-de-estado-diz-que-habitacao-tem-verba-suficiente--10266458.html.
Morais, L., Silva, R., Mendes, L. (2018), "Direito à Habitação em Portugal: Comentário crítico ao relatório apresentado às Nações Unidas 2017", Revista Movimentos Sociais e Dinâmicas Espaciais, 7(1), pp. 229-243.
Santos, A.C. (2019) A nova questão da habitação em Portugal: uma abordagem de economia política. Coimbra: Observatório sobre Crises e Alternativas.
Serra, N. (2002), Estado, Território e Estratégias de Habitação, Coimbra: Quarteto.
Silva, R. (2019), A Nova Geração de Políticas de Habitação não é nova e não defende a habitação. Habita!, 13 janeiro. http://www.habita.info/2019/01/a-nova-geracao-de-politicas-de.html#more.
Soares, R., Dinis, D. (2018) Deputados do PS pedem mais dinheiro ao Governo para a habitação. Público, 11 fevereiro. Disponível em: https://www.publico.pt/2018/02/11/economia/noticia/deputados-do-ps-pedem-mais-dinheiro-ao-governo-para-a-habitacao-1802720.
Teles N. (2018) The Portuguese illusion. Jacobin, 2 July. Available at https://jacobinmag.com/2018/07/portugal-left-bloc-eurozone-austerity-eu.
Tulumello, S., Ferreira, A.C., Colombo, A., Di Giovanni, C., Allegra, M. (2018), "Comparative planning and housing studies beyond taxonomy: A genealogy of the Special Programme for Rehousing (Portugal)", Transactions of the Association of European Schools of Planning, 2, pp. 32-46.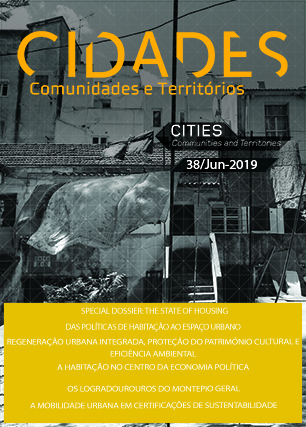 Downloads
Section
Dossier Editorial