Care's global crises, transnational migrations and remittances
Impacts in and from Latin America
Keywords:
care, transnational migrations, remittances, South America, contemporary economic history
Abstract
First of all, this article is set out to demonstrate the relationships that specific demographic and social conditions have with the global reorganization and regional reorientation of migratory flows of care, both in countries with a traditional profile of demand for paid care work and in other, countries, known for being on the supply side. Secondly, it proposes a characterization of the participation of South American countries, since the last quarter of the 20th century to the present, in the dynamics of global care chains. Finally, before a new stage of regressive economic contraction that restarted in 2015 in the region, in conjunction with the closing of borders of the traditional countries that receive this specific type of feminized care migration, it analyses the challenges that these conjunctures entail in the present and immediate future in countries of the southern Latin American cone.
The methodology of this work is based on the analysis and interpretation of databases and statistical information published by official sources, both from international organizations and from national public statistical systems in epistemological dialogue with theoretical contributions from the international reference literature on the subject.
References
Alba, A. (2000) La riqueza de las familias. Mujer y mercado de trabajo en la España democrática, Madrid: Editorial Ariel.
Banco Mundial (2008) Remesas de trabajadores y compensación de empleados, recibidas (% del PIB). DATABANK. Accesado en julio de 2019. Disponible en https://datos.bancomundial.org/indicador/BX.TRF.PWKR.DT.GD.ZS.
Becker, G. (1993) A treatise on the family, USA: Harvard University Press.
Benencia, R. (2012) Perfil migratorio de la Argentina. Elaborado para la Organización Internacional de las Migraciones, Buenos Aires: OIM.
Beneria, L. (2003) Gender, Development and Globalization, New York: Routledge.
Borderías, C. (2006) "Instituciones y Género en los mercados de trabajo industriales", en VII Jornades História del Treball i Génere, España: Universidad de Barcelona.
Carrasco, C. (2003) "La sostenibilidad de la vida humana ¿Un asunto de mujeres?" en León, M. (Comp.) Mujeres y Trabajo. Cambios impostergables, Brasil: OXFAM.
Carrasco, C., Borderías, C., Torns, T. (2019) El trabajo de cuidados. Historia, teoría y políticas, Madrid: Editorial Catarata.
Chesler, E. (1992) Women of Valor: Margaret Sanger and the Birth Control Movement in America, New York: Shimon & Shuster.
Comisión Económica para América Latina (2019) Panorama Social de América Latina 2018, Santiago de Chile: ONU-CEPAL.
Comisión Económica para América Latina (1996) Panorama social de América Latina 1995, Santiago de Chile: CEPAL.
Durán Heras, M.Á. (2016) "El futuro del Cuidado. Envejecimiento de la población y sus consecuencias", Pasajes. Revista de pensamiento contemporáneo, Número 50, pp. 114-127.
Durán Heras, M.Á. (Dir.) (2011) El trabajo de cuidado en América Latina y España, Madrid: Fundación Carolina-CeALCI.
Ferro, S.L. (2019a) "El cuidado como posibilidad de realización del paradigma de la universalidad y solidaridad en los sistemas de protección social. Una perspectiva histórica", Revista Interdisciplinaria de Estudios Sociales n.17, Bahía Blanca: CEISO, pp. 41-80.
Ferro, S.L. (2019b) "Aportes de la Economía del Cuidado para un sistema público de cuidados en América Latina" en Ferro, S.L, Thome, V.T.(Org.) Mulheres entre Fronteiras. Olhares Interdisciplinares desde o sul. Foz do Iguaçu: EDUNILA.
Guizardi, M., Lopez, E., Nazal, E., Valdebenito, F. (2017) "Género, fronteras y patriarcado. Discusiones teóricas para replantear el transnacionalismo migrante", Límite. Revista Interdisciplinaria de Filosofía y Psicología (en línea), 12, consultado: 31 de julio de 2019, disponible en http://www.redalyc.org/articulo.oa?id=83651038003.
Hobswaum, E. (2010) A era do capital.1848-1875, São Paulo: Editora Paz e Terra.
ILO (2013) Domestic workers across the world: Global and regional statistics and the extent of legal protection, Ginebra: International Labour Organization. Accesado en mayo de 2020.
INSTRAW (2005) Crossing Borders: Remittances, Gender and Development, http://www.un-instraw.org/en/publications/conceptualframework/crossing-borders-gender-remittances-anddevelopment/download.html
IOM (2018) World Migration Report, Switzerland: International Organization for Migration.
Jelin, E. (2010) Pan y afectos. La transformación de las familias. Buenos Aires: Fondo de Cultura Económica.
Martinez Bujan, R. (2010) Bienestar y cuidados: el oficio del cariño. Mujeres inmigrantes y mayores nativos, Madrid: CSIC.
Mesquita Samara, E., Santos De Matos, M. (1993) "Manos femeninas, trabajo y resistencia de las mujeres brasileñas (1890-1920)" en G. Duby y M. Perrot (Dir.) Historia de las Mujeres en Occidente, Vol. 5. Madrid: Editorial Taurus.
Minzer, J. (1962) "Labor force participation of married women: a study of labor supply" NBER Chapters, Aspects of Labor Economics, National Bureau of Economic Research, Inc, pp. 63-105.
Organización para la Cooperación y el Desarrollo Económico (2019) La migración mundial en cifras. Accesado en 31 de julio de 2019. Disponible en https://www.oecd.org/els/mig/SPANISH.pdf
Parella Rubio, S. (2005) "La maternidad a distancia de las empleadas domésticas latinoamericanas en España. La vulneración del derecho a la vida familiar en el contexto de la internacionalización de la reproducción" en J. Giró (ed.) El género quebrantado. Sobre la violencia, la libertad y los derechos de la mujer en el nuevo milénio, España: Universidad de la Rioja.
Parreñas, R. (2015) Servants of Globalization: Migration and Domestic Work, USA: Stanford University Press.
Pérez Orozco, A. (2006) "Amenaza tormenta: la crisis de los cuidados y la reorganización del sistema económico", Revista de Economía Crítica, nº. 5, pp. 7-37.
Picchio, A. (2009) "Condiciones de vida, perspectivas, análisis económico y políticas públicas", Revista de Economía Crítica, n.º 7, pp. 27-54.
Picchio, A. (2001) "Un enfoque macroeconómico «ampliado» de las condiciones de vida", Taller Internacional de Cuentas Nacionales, Salud y Género, Santiago de Chile: CEPAL.
Piscitelli, A. (2011) "Estereotipos, migración y casamiento: brasileñas en España", en F.J.G. Castano, N. Kressova (Coord.) Actas del I Congreso Internacional sobre Migraciones en Andalucía, Granada: Instituto de Migraciones, pp. 2223-2232.
Pizarro, J. M. (Ed.) (2011) Migración internacional en América Latina y el Caribe. Nuevas tendencias, nuevos enfoques, Santiago de Chile: CEPAL.
Rodriguez Enriquez, C. (2011) "Programas de transferencias condicionadas de ingreso e igualdad de género ¿Por dónde anda América Latina?", Serie Mujer y Desarrollo, No. 109, Santiago de Chile: CEPAL.
Romero, M. (2018) "Reflections on Globalized Care Chains and Migrant Women Workers", Critical Sociology, Vol. 44 (7-8), pp. 1179-1189.
Stefoni, C. (2011) "Migración, remesas y desarrollo. Estado del arte y perspectivas", Polis. Revista Latino-americana (En línea), 30, publicado el 04 abril 2012, consultado el 31 julio 2019. Disponible en http://journals.openedition.org/polis/2389
UN DESA (2017) World Population Prospects. The 2017 revision, New York: United Nation Department of Economics and Social Affairs.
UN DESA (2015) The World's Women 2015. Trends and Statistics, New York: United Nation Department of Economics and Social Affairs.
UNESCO (2019) Descifrar el código: La educación de las niñas y las mujeres en ciencias, tecnología, ingeniería y matemáticas (STEM). Paris: Organización de las Naciones Unidas para la Ciencia y la Cultura.
Villota, P. (2003) Economía y Género. Macroeconomía, política fiscal y liberalización. Análisis de su impacto sobre las mujeres, Barcelona: Editorial Icaria.
Williams, F. (2011) "Markets and migrants in the care economy: caring in the rich parts of the world is now an industry and one that is heavily dependent on low-paid workers from the global south", Soundings, no. 47, Gale Academic One File, disponible en https://link-gale.ez350.periodicos.capes.gov.br/apps/doc/A287518262/AONE?u=capes&sid=AONE&xid=c32cbc2c. Acceso 15 May 2020.
Zabala de Cosio, M. E. (1992) La transición demográfica en América Latina y en Europa, Santiago de Chile: CEPAL.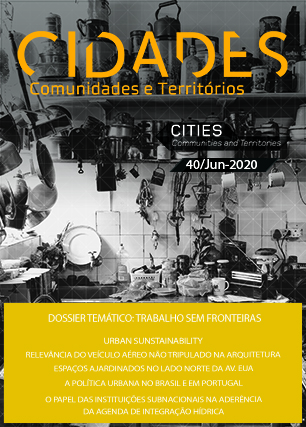 Downloads