Villa Sanhauá in João Pessoa (PB, Brazil)
Case study for the requalification of historic centers in Latin America
Keywords:
cultural heritage, urban renewal, dwelling, post use
Abstract
Intervening in historic centers has always proved to be a complex challenge, as several social and economic factors affect, in addition to the complexity of urban requalification of areas consolidated in the project's result.
The Northeast region of Brazil, the cradle of Portuguese colonization in the Americas and the main locus of the few cities built in the period, currently has the background of the remodeling of its historic centers to enhance leisure, tourism, trade / services and lastly dwellings. This picture is the result of the modernizing transformations that took place since the 20th century, where the introduction of new standardized constructions and that, therefore, do not respect the locality and the large investment in traffic infrastructure has mischaracterized them, driving away the original residents and draining their "historicity", identity and belonging.The theme proposed for this article will assess through technical visits and the analysis of the project carried out the occupation of historic buildings in the center of the city of João Pessoa, more precisely the newly Villa Sanhauá inaugurated - intervention by the city hall in eight ruined mansions located on Street João Suassuna, in the Varadouro inserted in the lower city, beginning of the Portuguese occupation in the region. Two analysis matrixes will take place with emphasis: the verification of a project in line with the urban requalification of the neighborhood, investigating the occurrence of the preservation of the cultural values of the nearby population and the architectural solutions that affected the technical and economic viability of the project in order to reinsert housing and shops to new residents and, thus, revitalize the center currently abandoned and disqualified.
References
CARTA DE LISBOA (1995), Disponível em:
https://www.culturanorte.pt/fotos/editor2/1995__carta_de_lisboa_sobre_a_reabilitacao_urbana_integrada-1%C2%BA_encontro_luso-brasileiro_de_reabilitacao_urbana.pdf. Acesso em 20/11/2019.
CENTURIÃO, Luis Ricardo Michaelsen (1998), "A cidade na América Espanhola aos tempos da conquista e colonização". Biblos, Revista do Instituto de Ciências Humanas e da Informação, v. 10, p. 127-135.
DE GRACIA, Francisco. (1992), Construir en lo construido: La arquitectura como modificación. Madrid: Editorial Nerea.
GODOY, Paulo R. (2011), "A cidade no Brasil – período colonial". Caminhos de Geografia, v.12 , n. 38.
GUTIÉRREZ, Ramòn. (1989), Arquitetura Latino Americana: textos para reflexão e polêmica. São Paulo: Studio Nobel.
HOLANDA, Sérgio Buarque de. (1963), Raízes do Brasil. Brasília: Editora da UnB.
IANNI, Octávio. (1988), "A questão nacional na América Latina". Estudos Avançados 2 (1), pp. 5-40.
JACQUES, Paola Berenstein. (2005), "Do especular ao espetacular". Vitruvius, ano 04, n. 042. Disponível em: https://www.vitruvius.com.br/revistas/read/resenhasonline/04.042/3156
LEMOS, Amalia Inés Geraiges de. (2008), "Cidades, território e memória na América Latina: um olhar através de suas metrópoles". PatryTer, Revista Latinoamericana e Caribenha de Geografia e Humanidades, 1 (2), pp. 13- 28.
MOURA FILHA, Maria Berthilde. (2010), "De Filipéia à Paraíba: uma cidade na estratégia de colonização do Brasil: Séculos XVI-XVIII". João Pessoa: IPHAN/Superintendência na Paraíba.
O´GORMAN, Edmundo. (1992), A invenção da América: reflexão da estrutura histórica do Novo Mundo e do sentido do seu devir. São Paulo: Editora da Universidade Estadual Paulista.
PIZZOLATO, Pier Paolo Bertuzzi. (2019), "Intervenção em centro histórico, avaliação de ocupação urbana – modalidade de moradia na américa latina". Artigo publicado no I Congresso internacional Pensamento e Pesquisa sobre a América Latina- III Simpósio Internacional Pensar e Repensar a América Latina (6 a 10 de maio de 2019). São Paulo. Faculdade de Filosofia, Letras e Ciências Humanas (FFLCH) da Universidade de São Paulo (USP).
PREFEITURA de JOÃO PESSOA. (2017), Edital de seleção nº 01/2017. João Pessoa.
VARAGNOLI, Claudio. (2002), "Edifici da Edifici: la ricezione del passato nell'architettura italiana, 1990-2000". L'industria delle costruzioni XXXVI, n. 368, nov./dic. 2002.
VETRONE, Mariana Lunardi. (2018), Diálogos com a preexistência: leitura crítica de projetos de intervenção no patrimônio cultural edificado em Coimbra nas últimas décadas. Coimbra: Dissertação de mestrado em reabilitação de edifícios.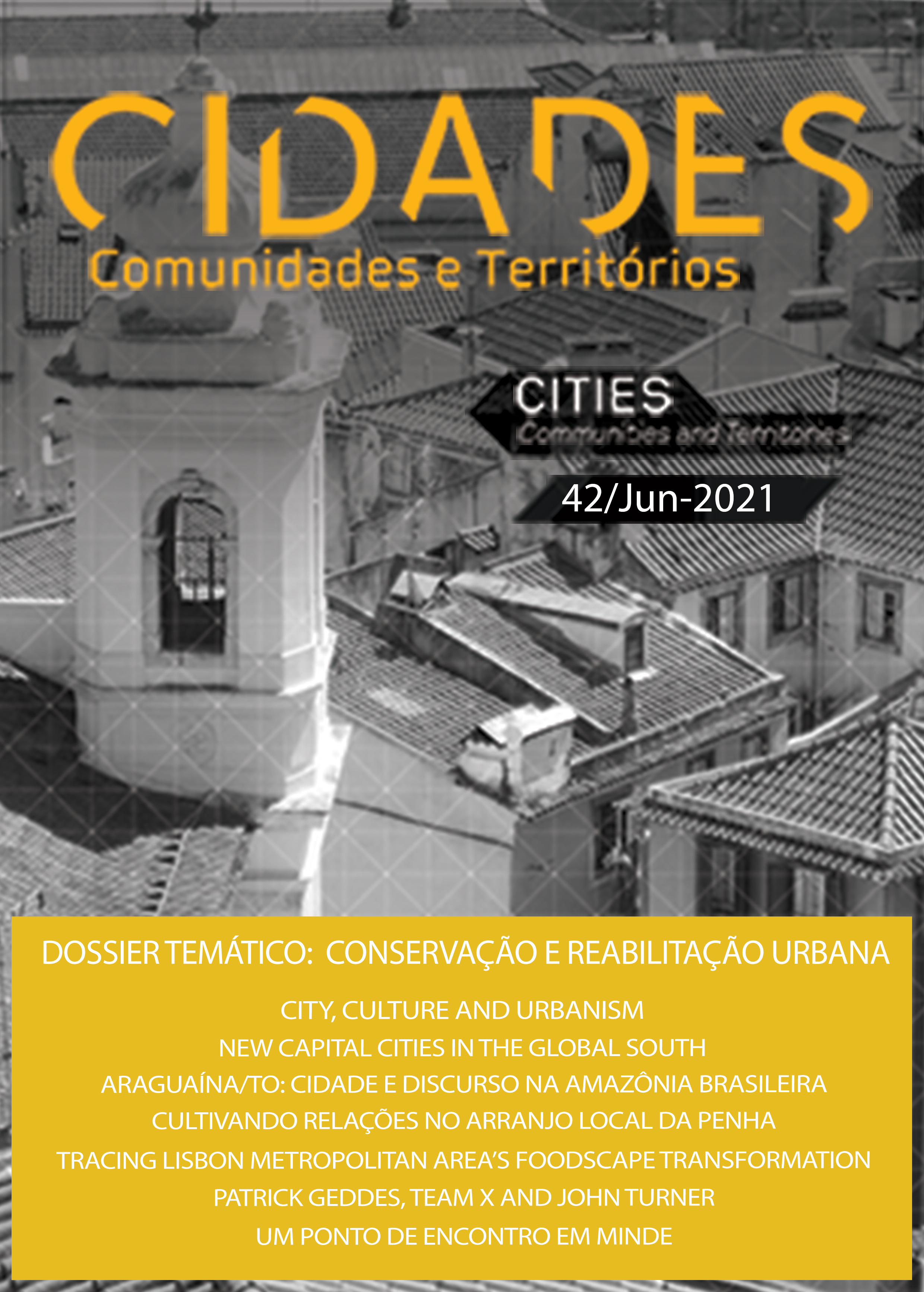 Downloads
License
Copyright (c) 2021 Pier Paolo Pizzolato
This work is licensed under a Creative Commons Attribution-NonCommercial-NoDerivatives 4.0 International License.
Cidades, Comunidades e Territórios by
DINÂMIA'CET-IUL
is licensed under a
Creative Commons Atribuição-Uso Não-Comercial-Proibição de realização de Obras Derivadas 4.0 Unported License
.
Permissions beyond the scope of this license may be available at
mailto:cidades.dinamiacet@iscte.pt
.