Living (in) a "precarious neighbourhood"
Questioning based on three housing trajectories
Keywords:
housing, housing trajectories, Cape-Verdean migrants, Cova da Moura, Amadora
Abstract
This article addresses the theme of housing for Afro-Portuguese populations, with a focus on Cova da Moura, a Lisbon neighbourhood often portrayed as an African migrant enclave and its housing precarity. It draws on three biographies that illustrate the life experiences of families with migrant trajectories that connect them to both Cape Verde and Portugal. The article aims to show the complexity of realities that are often simplistically considered as situations of linear poverty and disempowerment. In particular, it aims to contribute to more democratic ways of considering different issues regarding 'othered' neighbourhoods in the Lisbon Metropolitan Area and devising ways to address them.
References
Almada, F. (2020). Os discursos sobre a Cova da Moura: Uma análise crítica e exploratória a partir de alguns conceitos de Frantz Fanon. Dissertação de mestrado, Iscte - Instituto Universitário de Lisboa. http://hdl.handle.net/10071/21783
Alves, R. (2022). Quando Ninguém Podia Ficar. Racismo, Habitação e Território. Lisboa: Tigre de Papel.
Ascensão, E. (2013). Following engineers and architects through slums: the technoscience of slum inter- vention in the Portuguese-speaking landscape. Análise Social, 206 (XLVIII), 154-180. http://analisesocial.ics.ul.pt/documentos/AS_206_d04.pdf
Câmara Municipal da Amadora (2021). Estratégia Local de Habitação da Amadora – 1º Direito. Candidatura do Município da Amadora para o período 2021-25. Documento de Suporte.
Castela, T. L. (2011). A Liberal Space: A History of the Illegalized Working-Class Extensions of Lisbon. UC Berkeley. https://escholarship.org/uc/item/1fj0856h
Craveiro, T., et al. (1983). Caracterização do Bairro Alto da Cova da Moura. Amadora: Departamento de Urbanismo da Câmara Municipal da Amadora.
Fikes, K. (2009). Managing African Portugal: The Citizen-Migrant Distinction. Chapel Hill, NC, Duke University Press.
Gomes, A.R. (2019). Os Afrodescendentes e as fronteiras da identidade. Revista Migrações, Número temático Afrodescendentes em Portugal, 17-31. https://www.om.acm.gov.pt/documents/58428/183863/Revista+Migrações+16.pdf/d7e56cb0-7d04-4f2c-96a6-fb2c7ee8e9ff
Gonçalves, J., et al. (2015). Starting over: A focused vision for the old suburbs of Lisbon. Urban Des Int, 20, 130–143. https://doi.org/10.1057/udi.2014.7
Hibou, B. (2011). O ilegal na cidade moderna. In I. Raposo (Ed.) Relatório final do projecto de inves- tigação: PTDC/AUR/71721/2006 – Reconversão e reinserção urbana de bairros de génese ilegal. Avaliação socio-urbanística e soluções integradas de planeamento estratégico (pp. 81-103). Lisboa: CIAUD.
Horta, A. P. B. (2008). A Construção da Alteridade. Nacionalidade, Políticas de Imigração e Acção Colectiva Migrante na Sociedade Portuguesa Pós-Colonial, Lisboa: Fundação Calouste Gulbenkian e Fundação para a Ciência e Tecnologia
Jorge, S. (2022). A alavanca do 1º direito: um olhar sobre a primeira geração de estratégias locais de habitação. Finisterra, 57(119), 109–128. https://doi.org/10.18055/Finis25645
Jorge, S., Carolino, J. (2019). Um Lugar em Produção: O Caso da Cova da Moura. Forum Sociológico, 34, 19–30. https://journals.openedition.org/sociologico/4980?lang=fr
Lobo, A.S. (2012). Tão Longe Tão Perto – Famílias e "Movimentos"na Ilha da Boa Vista de Cabo Verde. Cidade da Praia: Edições Uni-CV.
Malheiros, J., Vala, F. (2004). Immigration and city change: The Lisbon metropolis at the turn of the twentieth century. Journal of Ethnic and Migration Studies, 30(6), 1065-1086. https://www.tandfonline.com/doi/abs/10.1080/1369183042000286250
Nunes, J.P. S. (2012). Crescimento urbano e experiência suburbana em Lisboa – o caso da Amadora (1960-1974). Crítica e Sociedade: revista de cultura política, 2(2), 1-21, consultado http://www.seer.ufu.br/index.php/criticasociedade/article/view/21937
Nunes, J.P.S. (s.d.). (Breve) aproximação ao processo de metropolização de Lisboa a partir da história de um edifício de habitação situado na sua periferia (Reboleira, 1972-2002). Actas dos ateliers do VºCongresso Português de Sociologia Sociedades Contemporâneas: Reflexividade e Acção Atelier: Cidades, Campos e Territórios. https://aps.pt/wp-content/uploads/2017/08/DPR460f96aed94ab_1.pdf
Raposo, I. (2010). Intervenção pública num bairro 'crítico', o Alto da Cova da Moura. Cadernos da Faculdade de Arquitectura da Universidade Técnica de Lisboa, 7, Lisboa: Faculdade de Arquitectura da Universidade Técnica de Lisboa, pp. 97-103 (resultante de comunicação em conferência de Julho 2009).
Salgueiro, T. B. (2007). Lisbonne: De la Ville-Capitale à la Région Métropolitaine. Sud-Ouest Européen, 24 (1): 17–26.
Roy, A. (2005). Urban Informality. Toward an Epistemology of Planning. Journal of the American Planning Association, 71(2), 147-158
Taviani, E. (2019). Das políticas de habitação ao espaço urbano. CIDADES, Comunidades e Territórios, 38. https://revistas.rcaap.pt/cct/article/view/16087
Weeks, S. (2013). A Socio-Economy of Cape Verdeans' Mutual-Help Circulation on the Lisbon Periphery Paper apresentado na 5th European Conference on African Studies African Dynamics in a Multipolar World. Centro de Estudos Internacionais do Instituto Universitário de Lisboa (ISCTE-IUL). https://repositorio.iscte-iul.pt/bitstream/10071/7533/1/Weeks_Samuel_ECAS_2013.pdf
Wildemeersch, D. e Lages, J.P. (2018). The right to the city: The struggle for survival of Cova da Moura. European Journal for Research on the Education and Learning of Adults, 9, 193-210. https://rela.ep.liu.se/article/view/205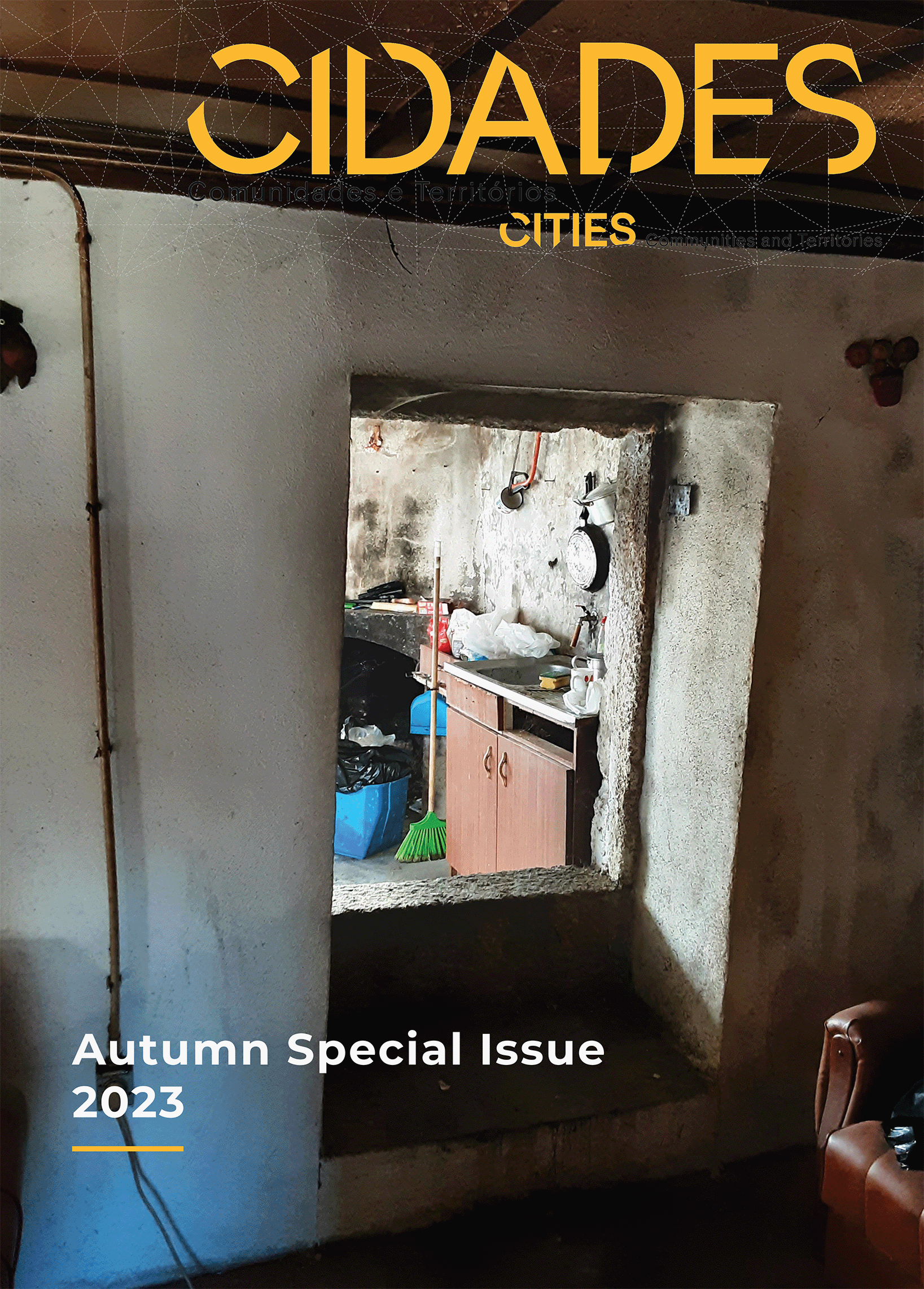 Downloads
License
Copyright (c) 2023 Júlia Carolino
This work is licensed under a Creative Commons Attribution-NonCommercial-NoDerivatives 4.0 International License.
Cidades, Comunidades e Territórios by
DINÂMIA'CET-IUL
is licensed under a
Creative Commons Atribuição-Uso Não-Comercial-Proibição de realização de Obras Derivadas 4.0 Unported License
.
Permissions beyond the scope of this license may be available at
mailto:cidades.dinamiacet@iscte.pt
.