Religious Roots of the Casamance Conflict and Finding a Path Towards its Resolution
Resumo
This article examines the root causes of the Casamance conflict, focusing on issues related to the religious significance of the land. Understanding this dimension of the conflict is essential for the achievement of a peaceful settlement. It begins with a brief discussion of geographical, historical, cultural, and political factors. While rejecting a sectarian approach to religious aspects of Diola secessionism, I examine religious dimensions of land, property rights, and conflicts over the land. These became particularly intense after the abrogation of Diola property law in 1978 and the nationalization of land throughout Senegal. This threatened a sense of Diola autonomy as well the religious basis of understanding Diola property law and conflict resolution. The article concludes with a discussion of some of the difficulties of incorporating Diola land law into a local Casamance legal process.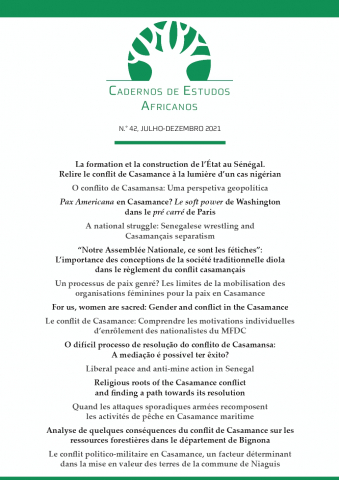 Ficheiros Adicionais
Licença
Este trabalho encontra-se publicado com a Licença Internacional Creative Commons Atribuição-NãoComercial-CompartilhaIgual 4.0.
Autorizo a publicação do artigo/recensão submetido do qual sou autor.
Declaro ainda que o presente artigo é original, que não foi objecto de qualquer tipo de publicação, e cedo em exclusivo os direitos de publicação à revista Cadernos de Estudos Africanos. A reprodução do artigo, no todo ou em parte, noutras publicações ou noutros suportes depende de autorização prévia da editora Centro de Estudos Internacionais do ISCTE - Instituto Universitário de Lisboa.