Natural tourism development strategy in Murung Raya Regency, Central Kalimantan
Palavras-chave:
Development strategy, Nature tourism
Resumo
Tourism is one of the sectors that contribute greatly to the Indonesian economy, it will be beneficial for us if we can use all the existing tourism potentials to the fullest. Murung Raya has a very rich nature, making it a great natural tourism potential. This great resource will be useful if we know how to develop it in such a way as to benefit the region. The purpose of this study was to describe the strategy for developing nature tourism in Murung Raya Regency. This research uses a qualitative approach with case study research, data collection methods through interviews, observation, and secondary data. This research involves Penta helix informants from the government, community, business actors, media, and academia. The results of the findings of this study produce short-term, medium-term, and long-term strategies.
Referências
Ali, M. H. (2020), Penerapan etika bisnis dan strategi manajemen saat pandemi covid-19 bagi UMKM. Journal of Eco-Entrepreneurship, 6(1), 34-42.
Arifin, Muhammad. (2017). Strategi manajemen perubahan dalam meningkatkan disiplin di perguruan tinggi. Jurnal EduTech, 3(1), 117-132.
Ariwibowo, H., Wirapraja, A., & Putra, Y. D. (2018). Implementasi kolaborasi model Pentahelix dalam rangka mengembangkan potensi pariwisata di Jawa timur serta meningkatan perekonomian domestik. Jurnal Manajemen dan Bisnis, 3(1), 31-38.
Chen, J. S., & Prebensen, N. K. (2017). Nature tourism: Cotemporary geographies of leisure, tourism and mobility (1st ed). London: Rouletge.
Cornelis, C. A. E., Fanggidae, A. H. J., & Timuneno, T. (2019). Strategi pengembangan objek wisata alam Gunung Fatuelu. Journal of Management, 8(1), 117-132. Available at https://core.ac.uk/download/pdf/228881757.pdf.
David, Fred. R. (2016). Strategic management: Concepts and cases (13thed.). Florence, South Carolina: Prentice Hall.
Farrah. (2017). Pola pengembangan wisata alam di kabupaten Bogor. Jurnal Hospitality dan Pariwisata, 3(1), 285-293.
Hadi, S. (2016). Penelitian keabsahan data penelitian kualitatif pada skripsi. Jurnal Ilmu Pendidikan, 22(1), 74-75. Available at https://media.neliti.com/media/publications/109874-ID-pemeriksaan-keabsahan-data-penelitian-ku.pdf.
Kamaru, B., Sambiran, S., & Rondonuwu, A. (2017). Strategi pemerintah daerah dalam mengembangkan wisata di kabupaten Bolaang Mongodow utara. Jurnal Jurusan Ilmu Pemerintahan, 2(2). Available at https://ejournal.unsrat.ac.id/index.php/jurnaleksekutif/article/view/18364.
Nur'aini, R. D. (2020). Penerapan metode studi kasus Yin dalam penelitian arsitektur dan perilaku. Jurnal Teknik Sipil dan Arsitektur, 16(1), 93-104. Available at https://journal.uny.ac.id/index.php/inersia/article/view/31319/13436.
Octora, M. (2016). Problematika pengembangan pariwisata daerah di Murung Raya, Kalimantan Tengah. Jurnal Sosiologi, 1(1), 43-52.
Prihatsanti, U., Suryanto, & Hendrian, W. (2018). Menggunakan studi kasus sebagai metode ilmiah dalam psikologi. Buletin Psikologi, 26(2), 126-136. Available at https://jurnal.ugm.ac.id/buletinpsikologi/article/view/38895/pdf.
Santoso, H. N., Widyawaty, C., & Adityaji, R. (2021). The role of the promotional video "Wonderful Indonesia: A visual journey" on brand image and tourist visiting interest to Wakatobi. Journal of Tourism, Culinary, and Entrepreneurship, 1(1), 48-60.
Septiwirawan, R., Arifin, M. Z., & Zulfiani, D. (2020). upaya pengembangan wisata bahari di pulau Maratua oleh dinas kebudayaan dan pariwisata kabupaten Berau. Jurnal Administrasi Publik, 8(3), 9290-9302. Available at https://ejournal.ap.fisip-unmul.ac.id/site/wp-content/uploads/2020/08/01_format_artikel_ejournal_mulai_hlm_Genap%20(08-02-20-10-32-36).pdf.
Simamora, R. K., & Sinaga, R. S. (2016). Peran Pemerintah Daerah dalam Pengembangan Pariwisata Alam dan Budaya di Kabupaten Tapanuli Utara. Jurnal Ilmu Pemerintahan dan Sosial Politik, 4(1), 79-96. Available at https://core.ac.uk/download/pdf/326037036.pdf
Wilopo, K. K., & Hakim, L. (2017). Strategi pengembangan destinasi pariwisata budaya (studi kasus pada Kawasan Situs Trowulan sebagai pariwisata budaya unggulan di Kabupaten Mojokerto). Jurnal Administrasi Bisnis, 41(1), 56-65. Available at https://media.neliti.com/media/publications/87665-ID-strategi-pengembangan-destinasi-pariwisa.pdf.
World Travel & Tourism Council. (2018). Travel & tourism power and performance report. Diakses pada 27 Febuari 2021. Available at https://lopezdoriga.com/wp-content/uploads/2018/09/power-and-performance-rankings-2018.pdf.
Wulandari, D. O., & Rahaju, T. (2019). Implementasi kepariwisataan berbasis kearifan lokal, seni, dan Budaya Dayak (studi Festival Budaya "Tira Tangak Balang di kabupaten Murung Raya). Jurnal Publika, 7(12). Available at https://jurnalmahasiswa.unesa.ac.id/index.php/publika/article/view/27065.
Yunus, Eddy. (2016). Manajemen strategis. Penerbit Andi: Yogyakarta.
Yustinaningrum, Diah. (2017). Pengembangan wisata bahari di Taman Wisata Perairan Pulau Pieh dan Laut Sekitarnya. Program Pascasarjana, Universitas Brawijaya, 11(1), 96-111.
Zaluchu, S. E. (2020). Strategi penelitian kualitatif dan kuantitatif di dalam penelitian agama. Jurnal Teologi Injili dan Pembinaan Warga Jemaat, 4(1), 28-38.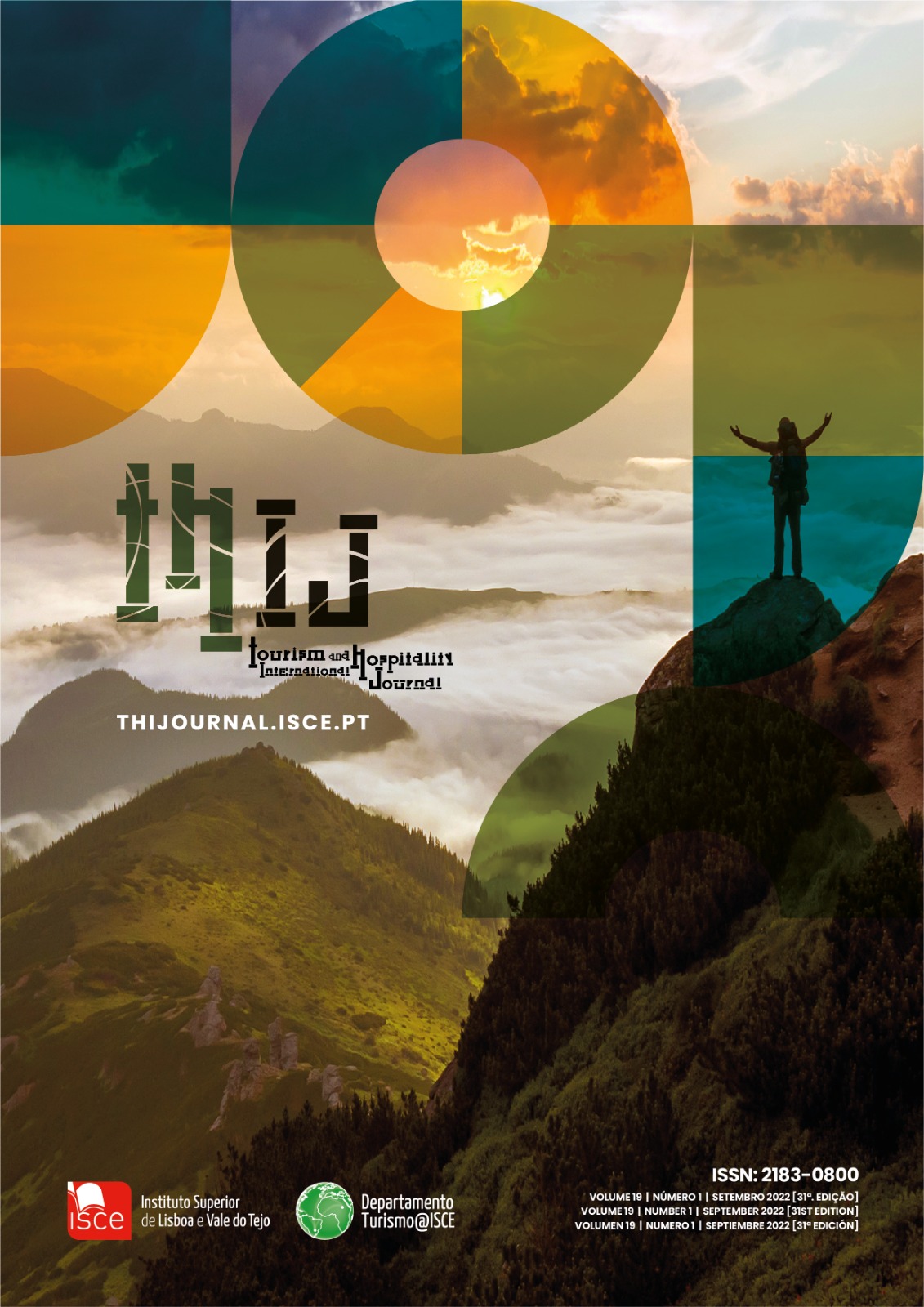 Downloads
Como Citar
I Dewa Gde Satrya, & Joesarues. (2022). Natural tourism development strategy in Murung Raya Regency, Central Kalimantan. Tourism and Hospitality International Journal, 19(1), 77–89. https://doi.org/10.57883/thij.%y.29748
Licença
Direitos de Autor (c) 2022 This work is licensed under a Creative Commons - Attribution 4.0 International (CC BY 4.0)
Este trabalho encontra-se publicado com a Licença Internacional Creative Commons Atribuição 4.0.